Review: THREE TALL WOMEN at The Stratford Festival Offers a Memorable and Introspective day at the Theatre
Martha Henry is Captivating in the Acclaimed Edward Albee Play
After over a year and a half of wanting to once again have that experience of walking out of a theatre to the chatter of other patrons commenting on a play, it is ironic that the first time Stratford Festival audiences have the opportunity to do this, they do so in an almost stunned silence after watching a powerful and devastating production of Edward Albee's THREE TALL WOMEN. The small company is stellar in this existential exploration of living, dying, and everything in between. Memories of Martha Henry's performance will linger for days after the cast takes their final bow.
THREE TALL WOMEN is a play that Edward Albee wrote about his mother - a woman he was estranged from for most of his adult life. When the play begins, we meet three women, simply named A, B, and C (played by Martha Henry, Lucy Peacock, and Mamie Zwettler respectively). In the first act of the play, these women are all seemingly different people and in the second Act, they are all representations of Albee's mother at different stages in her life.
Act I opens with 'A' announcing that she is 91 while 'C' - someone from her lawyer's office who has come to see her about some unsigned paperwork - repeatedly tries to correct her by stating that her records show she is actually 92. A's support worker, 'B' tries to move them along from what she feels is a pointless debate. In these first few moments, we already see some key stereotypical elements of generational divides as C is in her twenties and B is in her fifties. This continues throughout the first act. C frequently corrects and clarifies things regardless of importance (a habit often attributed to members of the younger generation) and B tries to maintain the peace while her allegiances seem to shift between the other two women from one subject to the next. At one point, both A and B use bigoted language - the former to represent the anti-Semitic and racist thoughts that she actually has, and the latter allegedly to try to dismiss them as just words. In this instance, when C speaks up, it seems incredibly important that she does so, as this is about something far less trivial than a lady's age. C's protests are short-lived though, and seemingly successfully dismissed by B's statement that this is just the way A learned things. It is an uncomfortable moment, and it is not even clear if Albee's intent is to have C be the voice of reason or if he is portraying her outrage as another example of her character's youth. There is a powerful note on this scene written by actor E.B. Smith in the digital House Program. It reflects on the impact of this language - both on the groups it is targeting and on marginalized members of the audience watching this scene. Even though the characters in the play don't further examine the impact of this language, it does not mean that we shouldn't.
The entirety of Act II is made up of the 91 (or 92), 52, and 26 year old versions of the same woman gossiping with, debating, and enlightening one another about regrets, hopes and dreams, shifting perspectives, etc. They often disagree and challenge each other, and of course the only one who fully embraces that they are all the same person in the end, is the woman who has at some point been all of them. This is a fascinating exploration of a person and all three actresses do well to distinguish themselves in their unique identities whilst also capturing some similarities between them. Everyone has their moment to shine as they essentially present the audience with vignettes of how this character evolves into A - allowing us to fill in the blanks.
The nature of life and the fact that we are all dying is deeply explored in this play. As B points out, it is true for all of us that life is just a breath. It begins with an inhale and ends with an exhale. Each character has a different perspective on what is the best part of her life and although A understandably gets the last word, it is interesting that it is perhaps not the wisest - then again, what authority do I really have to say this as I am, after all, not yet the 'A' version of myself.
This play was part of the 2020 season that never was, and so Director Diana Leblanc, and the three leads have been living with this play since spring of 2020. For a play that explores perspectives and how they shift as life goes on, it is interesting to think about how this tumultuous year has affected their own visions for this play and these characters. Designer Francesca Callow must have really had her work cut out for her, as she began this project designing for an indoor stage at the Studio Theatre, then after the pandemic-induced pause, was told to plan was for this show to be outdoors under a canopy, only for it to be moved back to the Studio Theatre. I think it is fair to say that her process for designing this production is unlike any other. She mentions in the Festival's 'Showstarters' online interview that she ended up incorporating ideas from both designs she had been working on. The end result works very well. In the first Act, we are introduced to Henry's 'A' as she sits in her chair in the centre of her lavish home. In the second Act, we see a representation of A in a hospital bed above the stage while the stage below is now made to look more like a garden, perhaps on another plane of existence entirely given the supernatural element of these three women conversing with one another. The stage design in Act II highlights nature and has more of an ethereal feel. Considering this entire play explores the inevitability of the passage of time, and there is no better depiction of that than what is found the outside world surrounding us, it feels fitting that the audience be reminded of this through the use of nature.
Rounding out the cast is Andrew Iles as The Boy - the estranged son (Albee himself) who returns to his mother on her deathbed. Peacock delivers a heart shattering performance when faced with the knowledge that her son returns in any capacity and that A is not nearly as upset with him at 92 as she is in her present day. The anger toward her son and toward her future self is palpable. Zwettler's C is understandably overwhelmed throughout Act II. She is seeing a future for herself that she doesn't like, or at least doesn't understand and she is fighting against what appears to be inevitable. Zwettler brilliantly portrays this conflicting and simultaneous youthful optimism and existential dread. It is Martha Henry's performance as A that is impossible to forget though. Whether she is wailing in dementia-induced confusion and pain in Act I, or speaking of her final days with a knowing twinkle in her eye in Act II, she is utterly captivating.
This is a play in two Acts, with each Act being roughly an hour. In order to follow COVID protocols which do not allow for an intermission, these two Acts are essentially two separate performances with a 3 hour break in between. This works well for this play but must be emotionally grueling for the performers, particularly Henry. Their efforts are much appreciated though, as this production promises a memorable day at the theatre.
THREE TALL WOMEN continues at the Studio Theatre until October 9th
Photo Credit: V. Tony Hauser
Based out of Stratford, Ontario, Lauren is an Occupational Therapist working in mental health by day and a BWW Contributor by night (or by matinee). Lauren enjoys daring new productions, classic pl... (read more about this author)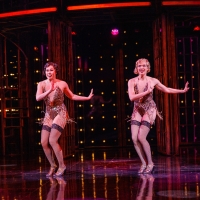 BWW Feature: An Interview with Velma and Roxie from the Stratford Festival Production of CHICAGO

October 11, 2022

After a fully cancelled 2020 season and an out-door-under-a-tent 2021 season, the main stages at the Stratford Festival have finally seen some action this year. Over at the Festival Theatre, the Donna Feore choreographed and directed production of CHICAGO is a huge hit! Two major reasons for this are the phenomenal performances by the two leads. BWW had the opportunity to chat with Roxie and Velma themselves - Chelsea Preston and Jennifer Rider-Shaw, to find out what it has been like to finally do the show they had been waiting two years to mount.
---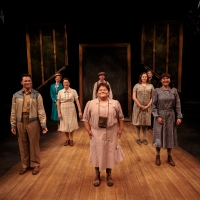 BWW Review: The World Premiere of 1939 at the Stratford Festival is a Moving and Powerful 'Must-See' Play

September 19, 2022

If you live in Stratford, Ontario, you may have heard the buzz around town about a new play at the Stratford Festival's Studio Theatre. Written by Jani Lauzon and Kaitlyn Riordan, 1939 had its world premiere last week and audiences sprung to their feet to show just how moved they were by this beautiful, powerful, and witty piece of new work.
---
BWW Review: THE MISER at Stratford Festival is Rich with Laughter

September 18, 2022

Originally scheduled for the 2020 season, THE MISER, starring Colm Feore and directed by Antoni Cimolino, is currently playing at the Stratford Festival's Festival Theatre stage. This Moliere comedy of manners fits right into current times, and this new adaptation by Ranjit Bolt is filled with pop culture references that elicit many a chuckle and belly laugh from the audience. The deliciously funny cast is in fine form and Feore appears to be having the time of his life.
---
BWW Feature: Friday Night Comedy at the Stratford Festival

August 31, 2022

Friday Sept. 9th marks the final 'Funny Forum Friday' - A comedy series programmed by Mark Selby, showcasing top comedy talent at the Tom Patterson Theatre's Lazaridis Hall. After a successful 4 weeks of some of the best comedians the world has to offer, the series is being closed out by the hilarious comedy sister duo, Flo & Joan, who will be coming to Stratford directly from the Edinburgh Comedy Festival. Opening for Flo & Joan is the hilarious Patrick Haye.
---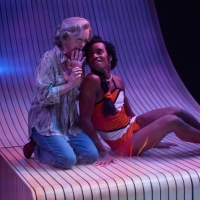 BWW Review: EVERY LITTLE NOOKIE at Stratford Festival has Humour and Heart

August 4, 2022

If you are a theatre-goer looking to venture outside your comfort zone, or if you often don't feel seen or represented by the societal norms typically presented in modern theatre pieces – then Sunny Drake's new play EVERY LITTLE NOOKIE might be exactly what you are looking for. That's not to say that folks who don't identify with either statement won't also enjoy this play though. To read the production synopsis, you might expect an awkward comedy with hijinks galore, but what you will actually get (beyond it indeed being very funny), is a proudly queer play about human connection, found family, sexual awakenings, and very real and relatable struggles like co-parenting, illness and aging, and affordable housing. You will also witness delightful performances by this small yet mighty cast.
---