Lauren Gienow - Page 4

Based out of Stratford, Ontario, Lauren is an Occupational Therapist working in mental health by day and a BWW Contributor by night (or by matinee). Lauren enjoys daring new productions, classic plays, and everything in between. She is particularly fond of Musical Theatre but also has a soft spot for Shakespeare - which she studied at the University level. Lauren holds a BA in Psychology and an MSc. in Occupational Therapy. She is a strong advocate for the benefits the Arts have on Mental Health. As much as she loves to perform (she is an alto sax player, and spent her youth working as a mascot), she takes great pleasure in sitting back and enjoying a good performance. Lauren has been a contributor for Broadwayworld since 2012, mainly covering the works performed at the prestigious Stratford Festival. She is very excited to share a variety of reviews and features with BWW readers. Follow her on Twitter and Instagram at @whatlaurenthinx
MOST POPULAR ARTICLES
LAST 365 DAYS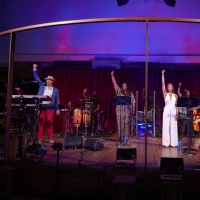 BWW Review: The FREEDOM CABARET at the Stratford Festival is a Stunning and Poignant Celebration of Black Music
Posted: Aug. 24, 2021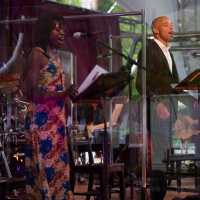 BWW Review: The Stratford Festival Explores WHY WE TELL THE STORY on its Instantly Classic Opening Night
Posted: Jul. 14, 2021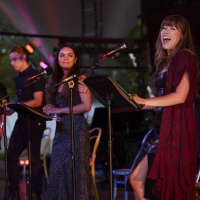 BWW Review: The Stratford Festival's PLAY ON! Cabaret is an Exhilarating Rock Concert with the Bard
Posted: Aug. 1, 2021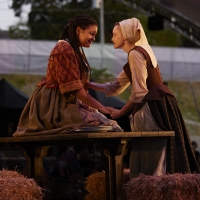 BWW Review: I AM WILLIAM at the Stratford Festival is a Thoughtful, Funny, and Important Re-Telling of History
Posted: Aug. 17, 2021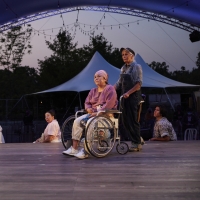 BWW Review: The Stratford Festival's THE REZ SISTERS Is a Poignant Exploration of Humanity and Grief
Posted: Jul. 30, 2021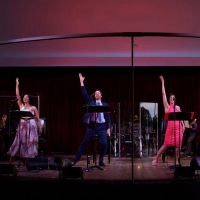 BWW Review: The Stratford Festival's YOU CAN'T STOP THE BEAT Cabaret Celebrates the Joy of Musical Theatre
Posted: Jul. 20, 2021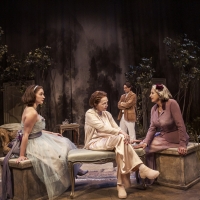 BWW Review: THREE TALL WOMEN at The Stratford Festival Offers a Memorable and Introspective day at the Theatre
Posted: Sep. 2, 2021


BWW Interview: The Star of Stratford Festival's TIMON OF ATHENS on the Play's Upcoming Cinematic Release

April 21, 2018

This Sunday, April 22nd, will mark the cinematic release of the 2017 Stratford Festival production of TIMON OF ATHENS - One of Shakespeare's later plays, for which productions are not nearly as common as some of Shakespeare's other stories. Directed for the stage by Stephen Ouimette, and directed for the screen by Barry Avrich, TIMON OF ATHENS is a story of a man who gives generously but does not pay close enough attention to his own debt. When the collectors come calling, Timon's friends do not show up for him like he did for them. This betrayal drastically changes his worldview and sends him into a tragic, reclusive life. Joseph Ziegler, who portrayed Timon in the production, was kind enough to chat with Broadway World about bringing this play to the big screen.
---
BWW Interview: The Stars of Stratford Festival's ROMEO AND JULIET Discuss Their Show's Jump to the Big Screen

February 26, 2018

In 2015, the Stratford Festival of Canada, under the leadership of Artistic Director Antoni Cimolino and Executive Director Anita Gaffney, committed to capturing the entire Shakespeare canon in HD. Several stage productions have been filmed and released in cinemas and on DVD in the past few years, and this past season, it was ROMEO AND JULIET's turn. One performance of this much lauded production, starring Sara Farb as Juliet and Antoine Yared as Romeo, was filmed late in the 2017 season. Its cinematic release is now upon us. It will be coming to select Cineplex theatres nationwide on March 3rd. Broadway World had the opportunity to chat with Ms. Farb and Mr. Yared about their experience playing these characters and what this jump to the big screen means to them.
---
BWW Review: Go Go Go See JOSEPH AND THE AMAZING TECHNICOLOR DREAMCOAT at Theatre Aquarius

December 6, 2017

This holiday season, a delightful production of JOSEPH AND THE AMAZING TECHNICOLOR DREAMCOAT is on stage at Hamilton's Theatre Aquarius. This production is loads of fun for the entire family, and makes for the perfect holiday excursion.
---
BWW Review: INNERchamber's Production of DRACULA A CHAMBER MUSICAL is Hauntingly Beautiful

November 8, 2017

A few weeks ago, Broadway World reported that an exciting in-concert production of DRACULA: A CHAMBER MUSICAL would be presented one night only at Knox Presbyterian Church in Stratford, Ontario. The concert took place last week in front of a packed church, and it certainly did not disappoint.
---
BWW Exclusive: DRACULA: A CHAMBER MUSICAL is Coming to Stratford for One Night Only via INNERchamber

October 21, 2017

In 1999 an original Canadian musical production based on the Bram Stoker classic, Dracula graced the stage at the Stratford Festival's Avon Theatre. On October 30th, a concert version of that same haunting and beautiful musical is returning to Stratford as part of INNERchamber's 8th season. The INNERchamber ensemble treats music fans in Stratford to a variety of events each season. Their home base is typically Factory 163, but for several reasons, this particular production will be held at Knox Presbyterian Church.
---
BWW Recap: Classic GREY'S ANATOMY Returns in Back-to-Back Season Premiere Episodes

September 29, 2017

The 14th season of GREY'S ANATOMY premiered with 2 jam-packed episodes last night. After what many would consider a lackluster season 13, it is clear that the writers are ready to tear down what they created last season and start over. Some drawn out storylines are quickly resolved, others finally have their dilemmas clearly laid out, and in one instance, some retroactive continuity helped explain away the odd and quite frankly, out of character behavior exhibited last year by one of Grey Sloan Memorial's doctors. The first of the two episodes was titled 'Break Down The House' and that is exactly what this season-opener did. After watching these first two-episodes, I can't wait to see how they continue to rebuild!
---
BWW Review: THE BREATHING HOLE at the Stratford Festival Offers Beautiful Design and Compelling Storytelling

September 23, 2017

Marking its world premiere, the Stratford Festival Commissioned production of Colleen Murphy's THE BREATHING HOLE is an incredible piece of theatre that is both groundbreaking and deeply moving. Directed by Reneltta Arluk, this production boasts a fantastic cast, beautiful design, and marvellous and endearing polar bear puppets. Tickets are hard to come by, but if you can see this production, you MUST.
---
BWW Review: The Story of THE KOMAGATA MARU INCIDENT Gets Lost in this Underwhelming Production at the Stratford Festival

September 20, 2017

In 1914, hundreds of British subjects of the Sikh faith were not allowed off of the boat they traveled to Canada on, and denied entry at the Vancouver harbour based on xenophobia and racist immigration policies. This story of the people aboard the Komagata Maru is an important part of Canadian history to be remembered and an important story to tell. The story is told on stage this season at the Stratford Festival in THE KOMAGATA MARU INCIDENT written by Sharon Pollock and directed by Keira Loughran. Unfortunately, the choices made in the way the story is told, cause the power of its message to not resonate nearly as much as it should be resonating at a time when it is so incredibly relevant in society.
---
BWW Review: THE MADWOMAN OF CHAILLOT at the Stratford Festival is Unsettlingly Exhilarating

September 16, 2017

The very last production to ever open at the current incarnation of the Stratford Festival's Tom Patterson Theatre was David Edney's translation of Jean Giraudoux's THE MADWOMAN OF CHAILLOT. Directed by Donna Feore, this was the world premiere of this translation. It boasts an excellent company and it explores themes and issues that are certainly relevant today.
---
BWW Review: The Stratford Festival's Production of TARTUFFE is Hilarious, Clever, and Frighteningly Relevant

August 26, 2017

The Stratford Festival midseason openings are upon us, and first up was Director Chris Abraham's much anticipated production of Moliere's TARTUFFE at the Festival Theatre. The translation by Ranjit Bolt (with some updates to reflect current politics) finds the perfect tone and allows a French satire from 1664 to feel incredibly (almost frighteningly) relevant right now. An excellent company, led by the fantastic Tom Rooney had the audience absolutely howling. This is definitely one to see!
---
BWW Review: THE NEW CABARET Is a Splendid Addition to 'Night Music' Series at Stratford Festival's Forum

August 2, 2017

With the 2017 season of the Stratford Festival in full swing, and locals and visitors alike enjoying the glorious theatrical productions on stage at the Festival, Avon, Tom Patterson and Studio Theatres. It is important to note that there is far more than just theatre for audiences to enjoy at the Festival. 'The Forum', now in its 5th year, provides additional interactive programming of talks, panels, lunches, musical performances, and behind the scenes glimpses into the Festival's 65th season.
---
Enjoy Some BROADWAY ON THE BEACH on August 2nd in Grand Bend

August 1, 2017

On Wednesday evening at the beach in Grand Bend, four fantastic Canadian musical theatre performers will be serenading beach-goers with some popular Broadway tunes.The event is pay-what-you-can and is part of the 'Wednesdays Familiar Favourites' concert series. Check out the press release below for more information on the evening and the four performers involved!
---
BWW Review: Sharron Matthews Was ON THE LOOSE at the Stratford Summer Music Festival. And We Loved it.

July 30, 2017

On Friday evening, as part of the Stratford Summer Music Festival's cabaret series at Revival House, the incomparable Sharron Matthews hit the stage for delightful and moving show that had the audience captivated from start to finish.
---
BWW Review: THE VIRGIN TRIAL is an Engrossing Treat at the Stratford Festival

July 28, 2017

The second part of a trilogy of plays penned by Kate Hennig is currently engrossing audiences at the Stratford Festival's Studio Theatre. THE VIRGIN TRIAL is a companion to 2015's THE LAST WIFE, which also had its world premiere at the Studio Theatre. This play is set during Elizabeth I's teenage years, when she was the subject of a scandal involving her relationship with her uncle/step-father. Like, THE LAST WIFE, this play takes liberties in terms of historical accuracy, because, quite frankly, we don't actually know exactly what happened behind closed doors. Also like the first play, this one is from the perspective of the women. The performances are brilliant and the writing is clever and witty. This production should not be missed!
---
BWW Review: BAKKHAI at the Stratford Festival is Chilling and Exhilarating

July 29, 2017

This season at the Stratford Festival is the final season for the Tom Patterson Theatre as it currently stands. It will be entirely rebuilt, starting this fall. The current space is going out with a bang, however, in terms of the diverse and exciting productions that can be seen on its stage this season. Each production is excellent, but the most exciting of all may well be Jillian Keiley's production of BAKKHAI. This play may not be for everyone, but if you appreciate good, exciting, and inventive theatre, and don't blush too easily at eroticism on stage, then I highly suggest you get your tickets immediately.
---
The Stratford Festival Celebrates its 65th Season with a ROMEO AND JULIET Reunion!

July 13, 2017

Audience members at today's production of ROMEO AND JULIET at the Stratford Festival were in for a real treat...And some of them had no idea!  There was a delightful murmur of excitement from the crowd when Artistic Director (and 1992 Romeo) Antoni Cimolino came onstage to announce that in celebration of the Festival's 65th season, a group of former Romeos and Juliets were in attendance!
---
BWW Review: MADDIE'S KARAOKE BIRTHDAY PARTY at the Toronto Fringe Festival is a Party Not to be Missed!

July 10, 2017

If you are looking for an original musical to see at the Toronto Fringe Festival, look no further than MADDIE'S KARAOKE BIRTHDAY PARTY over at the Monarch Tavern. Written by Barbara Johnston and Suzy Wilde, and Directed by Byron Laviolette, this semi-immersive musical is clever and funny, and the performances are excellent. One might think based on the title that the performers would be singing popular karaoke songs, but in fact, everything is original music (either that, or I'm just really out of the loop on what music is popular with the kids these days!) Between the bountiful balloons, packed house, and pumping music, this really does feel like a party! The story also provides a touching display of the good the bad, the ugly…and the beautiful, of millennial friendships. This one shouldn't be missed!
---
BWW Review: CONFIDENTIAL MUSICAL THEATRE PROJECT is a 'Must do' Experience at the Toronto Fringe Festival

July 10, 2017

If you are taking in some shows at the Toronto Fringe Festival, make sure to catch at least one performance of CONFIDENTIAL MUSICAL THEATRE PROJECT! On stage at the Al Green Theatre, this musical experience is a delightful adventure for the audience and performers alike.
---
BWW Review: AM I PRETTY NOW at the Toronto Fringe Festival Brings Humour and Charm to the Topic of Plastic Surgery

July 9, 2017

The Toronto Fringe Festival is in full swing and last night, this reviewer had the pleasure to take in a fun and touching production at the Al Green Theatre. AM I PRETTY NOW: A MUSICAL ROMP THROUGH PLASTIC SURGERY written and performed by Stephanie Herrera is described as 'the first plastic surgery musical'. It is poignant and funny, and relatable-even to those who have not gone under the knife. The best comedy comes from a place of vulnerability, and Herrerra does this beautifully with this autobiographical story.
---
BWW Review: THE CHANGELING at the Stratford Festival is Disturbing and Exhilarating

July 4, 2017

This season at the Stratford Festival has proven to be a stellar one, and Jackie Maxwell's production of Thomas Middleton and William Rowley's THE CHANGELING on the Tom Patterson Theatre stage is no exception. The questionable morals and values of the characters, and the intense relationships between certain characters leave the audience feeling uncomfortable (as was likely intended by the playwrights) but the performances by the members of the company and the overall impact of the production itself, leaves the audience feeling exhilarated.
---