Review: SELF PORTRAITS Performs a Different Show Every Night in East Austin, TX
Venturing into East Austin as a theatre- goer is bound to deliver the more experimental artists and their creations within Austin's theatre community. Blurring the lines between performance and therapy/social commentary, Bottle Alley Theatre Company present SELF PORTRAITS. An ensemble-driven collection of scenes (for lack of a better term) that present more like improvisation, or an open mic variety show but with a little more rehearsal. With the content developed by the performers, monologues are the consistent pulse through the show, allowing the actors the opportunities to share their personal and sometimes traumatizing stories. With soliloquies ranging from terminally ill family to intense personal reflection, the collection of artists sharing their tales show bravery and clearly display the therapeutic nature art and more specifically performance art, can provide to survivors and victims alike. Peppered throughout the emotional feast are quick dances breaks, funny skits and political sentiment of a younger generation fed up with the current system. These young people have found passion in their expression, passion both upbeat and completely devastating.
Though the overall concept of SELF PORTRAITS is extremely creative coming from East Austin echoing the artistic expression of the East Village, the format of this show presents 30 scenes listed high above the stage for the audience to determine what is to be performed next. With wires hanging loosely, props strewn about, this type of avant-garde theatre is unapologetic and adds an element of spontaneity - depending on the audience to determine the order of the show. Creative as this concept is, the shows format was sustainable until the hard hitting pieces collided with the presumably funnier subject matter. Adapting this quickly proved difficult for audience members who were resonating with the previous performance, no longer interested in a man-spreading dialogue after hearing the traumas endured and overcome by the last performer. There is a place for both in this show as the fun dance breaks and text dissection were a big hit along with many others. However, the scenes prepared for SELF PORTRAITS shared equal with explosive material and duds that could have been cut in rehearsal to help elevate the performance expectation.
As ensemble driven as SELF PORTRAITS presents itself, written and performed by over ten artists including directors Chris Fontanes and Dani Stetka, there were a few stand-out contributors who's pieces were highlights onstage. Rachel Holderbach performed the best written piece over a flower pot, reminiscing her father's passing while using her props effectively and efficiently. Holderbach provided an excellent example of self written work being performed, rather than recited. Marci Blackwell, in addition to Rachel Holderbach, acted as great comic reliefs throughout the show utilizing their comedic timing finding the truth in their comedy - allowing their pieces and jokes to land through living behavior, rather than cited gags. Mick Primmer, new to the Austin theatre scene, was a consistent funny presence on stage serving as the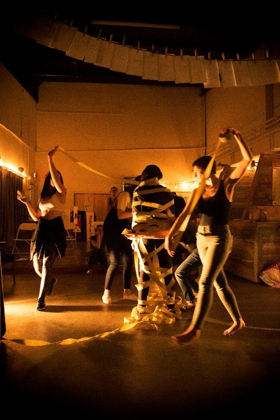 best scene partner within this ensemble of players. Primmer's ability to add context or humor to a scene without detracting from the main attention made him a very valuable player in the sequences he contributed to.
Turning the attention to the hard-hitting emotionally revealing monologues, Amanda Aguirre's performance in her piece Bare was soul touching. Although a bit shaky, and rightly so, her words echoed that of many women's experiences and her honest story she bravely shared was a show stopper. The piece Bare is Aguirre's story to tell, (no details of her harrowing story will be revealed here) however audiences should know there is nudity involved in her piece. This artistic expression was used tastefully and artistically elevating her impactful performance. Further analyzing the other performers emotionally driven monologues, a heightened performance was unfortunately missing. Providing the performer with specific blocking and insisting a script be performed would have elevated most of these performances from emoting to a performance ready piece. Directors and writers are necessary and in most of the individual pieces, the artists clearly cross the line of performance into wandering story-telling. No doubt the sentiment and spontaneous nature is entertaining, however there needed to be more direction from Chris Fontanes and Dani Stetka. As Sanford Meisner says, "Acting is living truthfully under given imaginary circumstances" truthfulness in the performance was unparalleled, shaping the content into manageable scenes was skewed for some monologues with little elevation in performance provided other than the subject matter.
For a taste of something different, spontaneous and heartfelt, SELF PORTRAITS is the show for you. Wandering east of our cities dividing interstate will open the key to Austins experimental theatre scene. With a wide variety of material to perform, SELF PORTRAITS provide elements that will surely resonate with an individual's experience. Taking time to honor the strength and bravery this collection of performers display, but also the humorous outlook necessary to make it through this life as not only an artist, but a citizen of the world. Get ready to cry one minute and hit the dance floor the next.
SELF PORTRAITS
BOTTLE Alley Theatre COMPANY
THE BACKPACK THEATRE
For more information please follow the link below:
https://do512.com/events/2018/4/5/self-portraits
Photo Credit: Mick Primmer