BWW Review: ENRON Engaging and Thought Provoking High Tech Entertainment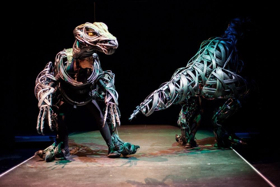 ENRON is a 2009 play by British playwright Lucy Prebble. The play is based on the financial scandal and eventual collapse of the American energy corporation, Enron, based in Houston,Texas. Enron executive Jeffrey Skilling (Annemarie Alaniz) and his boss Ken Lay (Kayla Johnson) are the main characters along with Skilling's protege Andy Fastow (Caroline Beagles), who rises to become the chief financial officer.

Prebble's play is a heady mix of multimedia razzle dazzle, morality play and political satire. To avoid being dry as dust, Prebble has taken complex financial concepts and framed them in terms of the entertainment world: market analysts become a boy band, the Lehman Brothers are presented as Siamese twins, Arthur Anderson is a ventriloquist act, to name just a few. Capitalism is, in general, presented as the tricks and illusions of the sideshow con man. Spanning the years between 1992 and the present, Prebble's play does take some dramatic license. Prebble makes Jeffrey Skilling, Enron's top executive, the main villain, instead of founder Kenneth Lay. Skilling gets the top job because of his vision of the future: Enron won't just provide natural gas; it will trade in energy, the internet, video streaming and even the weather. Skilling makes Andy Fastow the chief financial officer when he comes up with the plan to create shadow companies to disquise Enron's escalating debts as assets. Eventually, the whole corrupt bubble bursts.

While this is a true story about one of the largest financial scandals in history, Prebble has fashioned the tale as an epic myth that takes the audience through various twists and turns of capitalism, and, along the way, exposes the glamour of greed and the toxic masculine adrenaline of success. The piece also veers into the realm of science fiction as the story progresses and even features a barrage of multimedia that, in addition to helping tell the story dramatically, firmly sets the time and place of this decidedly American tale. While this is a drama, it also has moments of great humor as well.

Director Hannah Wolf has cast this examination of toxic masculinity with a company of twenty all female and trans actors, which, as it turns out, is a brilliant way to present this frenetic piece of American history. Wolf's production is visually arresting, full of moments of striking staging containing visual imagery that will remain with you long after the performance. Wolf has, along with the cadre of designers for ENRON, used Prebble's script to present Enron as an epic fantasy in which everyone was complicit. Considering the rampant complicities of our current political climate, this message could not be more timely.

The tech in this production is frankly astonishing and while it features everything but the kitchen sink, it manages to never become a distraction or go over the top. The scenic design of Roxy Mojica is a multilevel marbled marvel that, in ways, echoes the type of staging one would expect in a Shakespearean tragedy. Staged in a thrust configuration, there really isn't a bad seat in the house, thanks entirely to Mojica's set and Wolf's blocking. Robert Mallin's projection designs are marvelous, setting time and place perfectly. While the projections feature a barrage of information for the audience to absorb, operating on around twenty overhead screens, Mallin even often has competing information going on and yet manages to still ensure that the audience gets the most important information out of the sensory overload that is presented. The visual work here clearly functions as a character, as does so brilliantly.

Cait Graham's costume designs are period perfect. Her three raptor costumes are exceptional pieces of design that feature neon tubing and flashing LEDs to stunning effect. Aaron Curry has done a great job lighting the piece, creating great atmosphere throughout. I was especially impressed by his use of gobos to merge rock concert style effects with dramatic conventions. Sam Lipman has composed some original music for the piece that is so seemless that I was only aware of it once. Kudos to Malyssa Quiles sound design, especially in the use of club dance music of the period, which works so perfectly in aid of time and place.

The performances here are all good, and these twenty actors work together as a true ensemble. However, a couple of them are worthy of special notice; especially Caroline Beagles as Andy Fastow. Her characterization is wonderfully endearing, with physical mannerisms that belie the fact that she is female. It is a performance that is both deliciously presentational and yet quietly contained at the same time. I was also very impressed by the highly entertaining vaudevillian performance of Jill Young as Arthur Anderson. I was also highly impressed by Natasha Cosme Batista, Sarah Maggard and Francis Rodriguez and their silent physical work as the three raptors. Each maneuved the large costumes while managing to impart individual characters and characteristics.

ENRON is a terrifically entertaining and thought provoking piece of work that infuses history with a tautly contained circus sideshow energy to create an immensely engaging evening of theatre. I highly recommend ENRON as an evening of theatre well worth your time


ENRON By Lucy Prebble

Running Time: Approximately Two and a Half Hours, including intermission. Please be aware that fog and loud sound effects are used in this production.

ENRON produced by the University of Texas Theatre & Dance, in the Oscar G. Brockett Theatre at the University of Texas at Austin, in the F. Loren Winship building (300 East 23rd Street, Austin, TX, 78712).

Performances: Tuesdays-Sundays, February 21 - March 04, 2018 at 7:30 PM. Additional Performances February 24-25, March 4 at 2:00 PM.