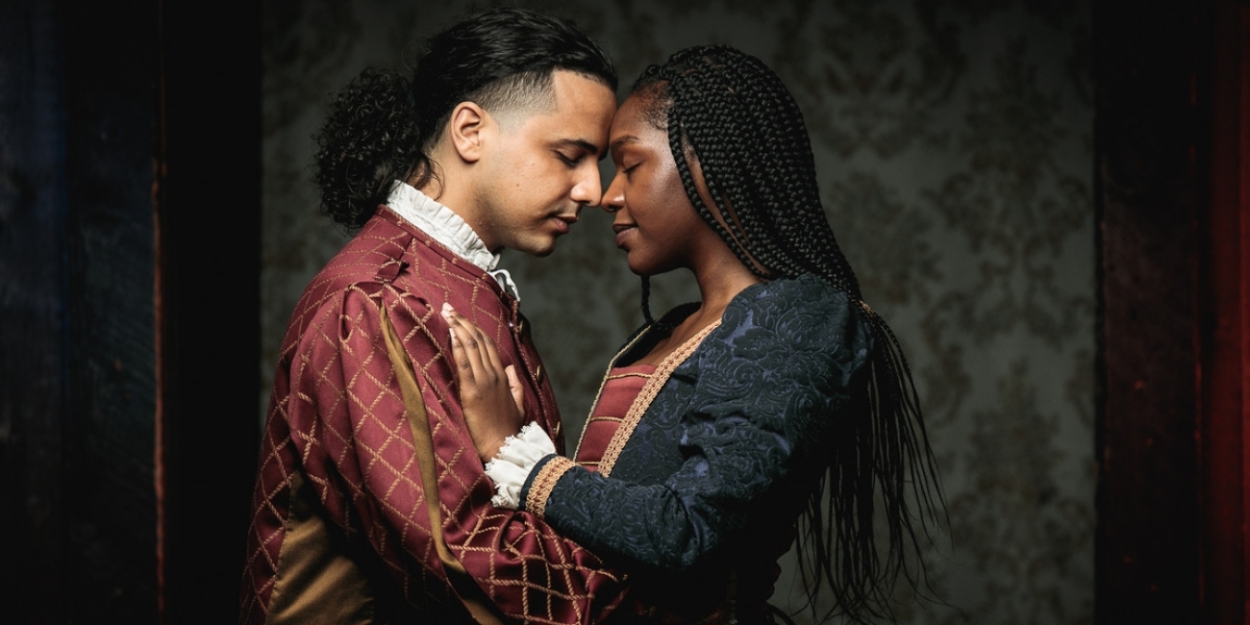 The Atlanta Shakespeare Company to Present ROMEO AND JULIET Next Month
Performances run from February 2nd through March 4th.
The Atlanta Shakespeare Company at The Shakespeare Tavern Playhouse will present Romeo and Juliet directed by J.L. Reed from February 2nd through March 4th. There will be a $15 General Admission Preview Thursday February 2, 2023, and a $20 General Admission Preview Friday February 3, 2023. Performances run February 4-March 4, with a bonus performance Tuesday, February 14, 2023. There will be a a post-show Q&A on Sunday February 12, 2023.
In a violent and broken community, can love still exist, thrive and survive? After a brawl between the rival families of Montague and Capulet, the Prince threatens with death anyone who "disturbs our streets again." Romeo, Montague's heir, masked at a Capulet dance, becomes infatuated with Capulet's daughter, Juliet. From the garden he overhears her avowal as she stands on her balcony and their love scene follows. Next afternoon Friar Lawrence marries them in secret.
When Romeo refuses to fight with Tybalt, a passionate Capulet (who is now his cousin by marriage), the gallant Mercutio takes the challenge himself. He is killed by mischance, and Romeo, enraged, kills Tybalt. In his absence the Prince banishes him; the Friar tells him to stay the night with Juliet and then wait in Mantua until recall is possible. When Juliet's father insists that she shall marry a young nobleman, Paris, and she gets no aid from either her mother or her nurse, the Friar gives her an opiate (to take on the following night) that will put her in a death-like trance for "two-and-forty hours." She will be laid in the Capulet vault; when she wakes, Romeo will be there.
Juliet is duly placed in the vault as dead, but the Friar's messenger to Mantua miscarries; hearing only of Juliet's "death", Romeo hastens to the tomb at night and is surprised by Paris whom he kills; in the vault he drinks poison he has bought from a Mantuan apothecary, and dies by Juliet's side. She wakes as the desperate Friar enters, and on seeing Romeo dead, stabs herself. The Prince and the heads of the families are roused; over the bodies of their children Capulet and Montague are reconciled.
Crew
Directed by J.L. Reed
Costume Design and Construction - Anne' Carole Butler and Clint Horne
Stage Manager- Tyra Watkins
Assistant Stage Manager- Gabi Anderson
Lighting Design- Mary Ruth Ralston
Assistant Lighting Designer- Anna Holland
Music Director- Rivka Levin
Music Composer - Bo Gaiason
Intimacy Choreographer- Kati Grace Brown
Fight Choreographer- David Sterritt
Dance Choreographer - T'Shauna Henry
Cast
Juliet - Destiny Danielle Freeman
Romeo - Sariel Toribio
Mercutio - Sean Kelley
Benvolio - Anna Holland
Tybalt - Benedetto Robinson
Friar Lawrence - Kenneth Wigley
Friar John - Kelly Clare Toland
Lord Capulet - O'Neil Delapenha
Lady Capulet - Amanda Lindsey McDonald
Prince - Daryel T Monson
Lord Montague - Kelly Clare Toland
Peter Potpan - Charlie T. Thomas
Paris - Adam King
Nurse - Jasmine Renee Ellis
Apothecary - Benedetto Robinson
Abraham - Sarah Hack
Gregory - Charlie Thomas
Sampson - Sean Kelley
Balthasar - Sarah Hack
Paris' Page - Amanda Lindsey McDonald
Tybalt's Page - Sarah Hack
Rosaline - Sarah Hack
The Watch - Charlie T. Thomas, Anna Holland, Sean Kelley
Musicians - Kelly Clare Toland, Daryel T Monson, Sean Kelley, Anna Holland
Performance days & times:
Thursdays, Fridays and Saturdays at 7:30 PM, and Sundays at 2:30pm.
Ticket Prices:
Seating areas: Main Floor Seats, Box Seats (on floor) and Balcony Seats
Regular Adult Ticket Prices range from $24-$45 depending on the day of the show, ticket availability and the seating area.
Discount Ticket Options:
$15 for Thursday Previews (See online calendar for specific dates)
$20 for Friday Previews (See online calendar for specific dates)
Student ticket prices: $15 General Admission Tickets on Thursdays / $20 Balcony tickets on Fridays & Sundays. $5 off Floor & Box tickets on Fridays & Sundays (No student discounts on Saturdays)
Educator prices: $5 off per adult price level per night (Not valid on Saturday nights.)
Military, EMS/Police/Firefighter Discount: $3 off adult ticket price
Senior Discount: $3 off adult ticket price
Group Discount (Parties of 10 or more): $3 off adult ticket price
Purchase Tickets Online for most performances at www.shakespearetavern.com
Accessibility and The Shakespeare Tavern Playhouse: The Shakespeare Tavern Playhouse is handicapped accessible. Please let the box office know if you have any special needs that we should be aware of in order to make your Shakespeare Tavern Playhouse experience the very best we can. Our handicapped entrance ramp/parking is located directly behind our building. Once you turn onto Renaissance Parkway from Peachtree Street, you will turn right onto Courtland Street. The Tavern's back entrance will be immediately on your right once you clear the building on the corner and the traffic poles. The turn comes up quickly, so please drive slowly. Handicapped parking is directly in front of the ramp, behind our building, and anywhere spaces are available.
Location: The Shakespeare Tavern Playhouse is located at 499 Peachtree Street NE, just four blocks south of The Fox Theater and directly across the street from Emory University Hospital Midtown.
Land Rights: We acknowledge that the location of The Shakespeare Tavern Playhouse is on the traditional tribal lands of the Muscogee Creek, colonially referred to as Atlanta.
Parking: We recommend parking in the Emory University Hospital Midtown Parking Deck located directly across the street from the front doors of The Shakespeare Tavern Playhouse on Peachtree Street. Regular parking price is $5.
Food and Beverage Service: The Tavern opens one hour and fifteen minutes before the performance for food and beverage service. Chef for a Night Catering provides a British-pub-style menu for dinner. The Tavern has beer, wine, coffee, tea, soft drinks, bottle beer and draft beers on tap.
Seating and Box Office: Seating is done on a "first come, first served" basis within each designated section (Main Floor, Box Seats, Balcony). Table seating is limited however all seats can accommodate food and beverages. For tickets or more information, call or email The Tavern Box Office at 404.874.5299 x 0 or boxoffice@shakespearetavern.com or buy tickets online at www.shakespearetavern.com
The Shakespeare Tavern Playhouse is a registered 501 ( C ) 3 non-profit organization.