Springer Opera House Will Announce 2023-24 Season This Week
The annual showcase is scheduled to begin at 7 PM on Thursday, March 9.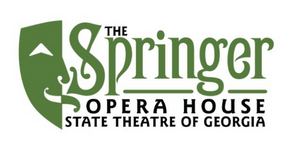 Brand new Broadway productions, classic literature, hilarious comedy, and spectacular musicals are set to shine under the spotlight as the Springer Opera House Theatre announces its performance lineup for its 2023-24 season. The building will become a multi-level part of the celebration as each floor converts into staged locations for live performances from well-loved shows such as The Bodyguard and the next Mainstage production, Guys and Dolls. The annual showcase is scheduled to begin at 7 PM on Thursday, March 9.
"We've made several big announcements this year as we all collectively continue to recover from post-Covid isolation, but we're extremely excited about the new season," said Artistic Director Paul Pierce. "For more than 150 years, the Springer has maintained a reputation of setting the theatrical production bar high by delivering quality entertainment to our community. For our 152nd season, the bar has been elevated even higher. We couldn't be more excited about what we've planned. There may be a favorite in the lineup, but there will definitely be productions that are not only new to the local area but also to American theater."
The season announcement is an annual event to express appreciation to season ticket holders, patrons, and donors for their ongoing support. "We couldn't do any of this without the support we receive from our community," says Managing Director Danielle Varner. "By providing a preview of the season before the public announcement, our supporters also have first pick of the best seats in the house. Although there isn't a bad seat in the house, for the 2023-24 season, everyone will want to be front row, center."
In addition to naming the production lineup, a new star on the Springer Walk of Fame will honor an individual who has been instrumental to the theater's operations. The first star on the Walk of Fame was dedicated in 1998. Since then, more than a dozen additional individuals, including volunteers, donors and community members, have been recognized with a star embedded in the sidewalks on Tenth Street and First Avenue adjacent to the theater. This year's honoree will be announced just prior to the live program.

The Springer Opera House produces productions that are categorized into four series: Mainstage, Series II, Children's Theater and Theater for the Very Young. Thirteen shows will be produced for the 2023-24 season. Season tickets go on sale March 9 immediately after the announcement event at springeroperahouse.org. Single ticket sales begin in July. Information about discounts and group rates are available by contacting the box office at (706) 256-3714.