Kennesaw State Department Of Dance Will Screen Two Iconic Films By Hofesh Schechter
Learn more about the lineup here!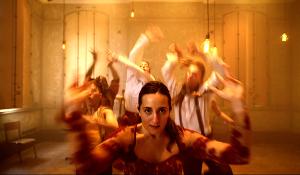 Kennesaw State University Department of Dance will screen two iconic films, "Clowns" and "Political Mother: The Final Cut" by Israeli-born Hofesh Schechter on March 17-18 at the KSU Dance Theater on the Marietta campus. The screenings are a unique opportunity to see Schechter's work in the United States.
First broadcast in 2018 by the BBC, "Clowns" is a dance film that plays out a macabre comedy of murder and desire, asking how far we will go in the name of entertainment. Directed, choreographed, and composed by London-based Schechter, and performed by Hofesh Schechter Company, it combines bold, exhilarating, and tribal movement by ten dancers with a percussive, cinematic score. The film's run time is about 30 minutes.
"Political Mother: The Final Cut" is a stage work that explodes onto the screen as an unplugged, unapologetic, and exhilarating short film. From behind the lens, Schechter brings imposing architecture and intimate spaces of Battersea Arts Centre in London to the center stage, immersing audiences within a fragile world of raw emotions as a group of individuals struggle against the complex structures that define their world, and ours.
In a little over 30 minutes, the film brings a fresh, new dance energy to the screen-set against a backdrop of Shay Hamias' animation and Schechter's cinematic score-and is simply a film not to be missed. The Times (London) called Schechter "the mighty contemporary choreographer-a combination of dance-maker and rock-star, but with film director sensibilities." His work is about instinctive, emotional reactions, and the enjoyment of dance and music. Patrons interested in dance, theatre, music, film, and the visual arts will be empowered to create their own, personal interpretation of what they experience.
The powerful films are made for the big screen, ideal for the KSU Dance Theater, which was custom designed with a state-of-the-art sound system. Marsha Barsky, chair of the Department of Dance, says, "The Hofesch Schechter Company is a world-renowned company, so bringing these films to campus is a great way for our students and patrons to see their work as a visceral experience. Our intention is to help students understand the strength in this medium, and to experience it fully." The films also complement the Dance Filmmaking class offered to KSU dance students.
Digitally savvy fans have created their own Schechter fan clubs on YouTube, often imitating the doable movements, including the little hand gestures, explains Lisa K. Lock, associate professor, and artistic director for the Department of Dance. Schecter's films are bursting with energy, with a mixture of driving beats, club-inspired moves and high-quality digital animation technology, an ideal outlet for highly active, diverse, and social patrons who enjoy the arts.
Schechter is recognized as one of the most exciting artists, making work for both stage and film. His ability in both disciplines defies traditional expectations. In addition, he is renowned for composing atmospheric musical scores that complement the unique physicality of his much-celebrated work. Lock adds, "The work is outstanding; it's so powerful, and it's an experience worth seeing."