BWW Interview: Rebeca Robles of BLACKBIRD at 7 Stages Theatre
David Harrower's celebrated 2005 play, Blackbird, is coming to 7 Stages Theatre. The play, which The New York Times lauded for its powerful "emotional nakedness," tells the story of Una, a young woman, who shows up at the office of Ray, her former lover, who, after having been imprisoned at the age of 40 for his illicit relationship with the 12-year-old Una, has tried to make a new life for himself. A new name. A new relationship. Needless to say, Ray's not that excited when Una pops up 15 years later to rehash the details of their former love affair after seeing his picture in a trade magazine. BWW recently caught up with Rebeca Robles to chat about her turn as Una in the self-produced run.
BWW: How's it going?
Rebeca Robles: You know, it's going well. It's been kind of a whirlwind process. A very short rehearsal process, but it's going. It's going.
BWW: You're playing Una, and you're also the producer, right?
Robles: Yeah, I'm kind of self-producing it. I saw the show about a year and a half ago on Broadway, and I said, "I want to do that show." So, that's kind of why I'm doing it.
BWW: I saw the show on Broadway, and I thought it was really powerful.
Robles: Did you see it with Michelle Williams, or...
BWW: I sure did.
Robles: Yeah. Me, too.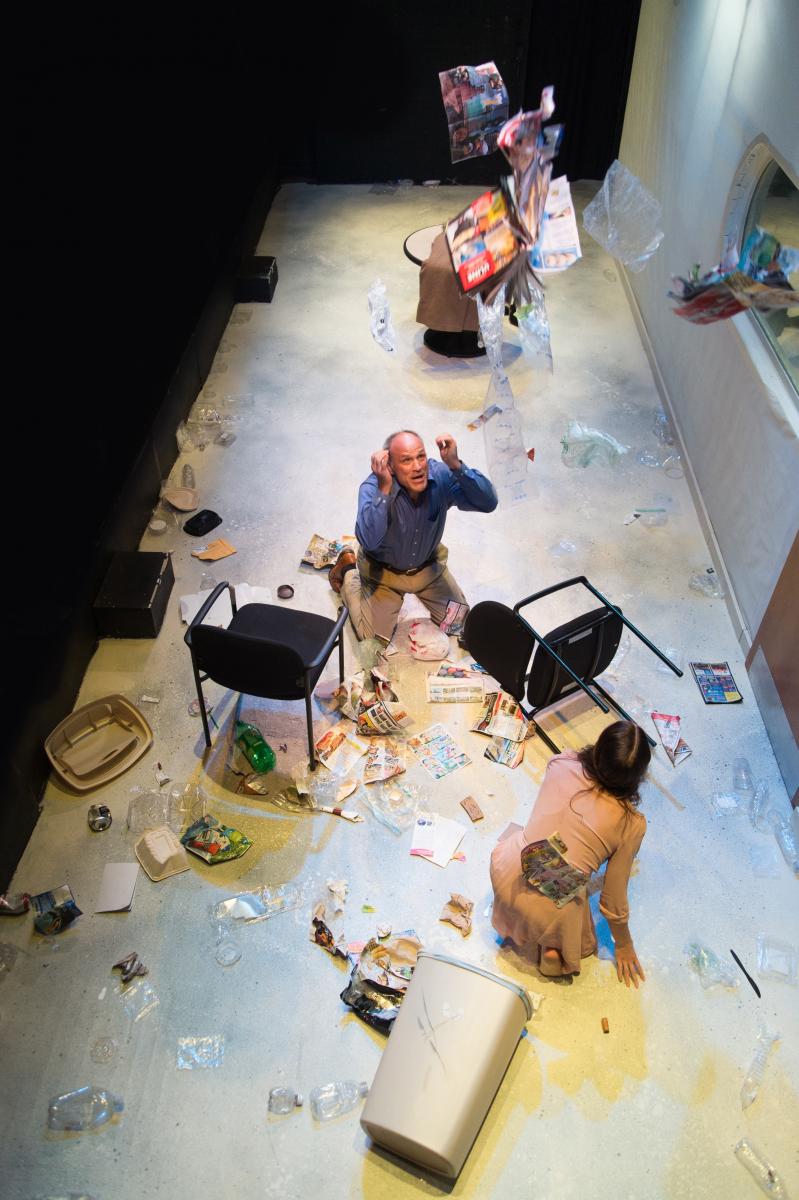 BWW: What was it about the show that really spoke to you that made you want to produce it?
Robles: What was really interesting to me was - Obviously, it's very heavy subject matter, and the way the characters are portrayed, it's not black and white. It really leaves it up to the audience to make a decision for themselves about who these characters are, whether they are good people or bad people, whether... You know, there are a lot of conclusions you can draw about Una and Ray, but David Harrower really leaves it open. Also, just from a practical standpoint, I was drawn to it because I was looking for a two-person play, something that's easier to produce, and I also wanted to work with an older and more seasoned actor, so I was drawn to it, too, because of Ray being an older character. But the character of Una really spoke to me. She's so broken. And it's hard, too, because, you know, I don't have... Personally, there's not a lot I can really relate to about her experience, so it was something I wanted to tackle, a very challenging role to tackle.
BWW: What have you found to be most challenging as you've been exploring your character?
Robles: Coming to a point and realizing like, "Wow. I feel almost as though I don't have a right to tell this story." It is...You know, we went and talked to some people at the Georgia Center for Child Advocacy and really learned more about, you know, kids that have had something like this happen to them. You know, I'm blessed to say that I grew up and nothing like that ever happened to me. So I came to a point where I was like, "Why am I telling this story?" I've had to kind of wrestle with that. So, that's been hard. Then, just the way it's written...I don't know if you've looked at the play at all - the actual book -
BWW: I have not.
Robles: It's written like poetry. It's really interesting. There's not normal punctuation. It doesn't look like a normal play at all. It looks like a book of poetry. The way he writes, it's like there are "ummm"s and "ah"s and repetition and sentences that aren't finished and new thoughts that get picked up, and it's really hard to memorize, but it's also interesting because it really lets you into the character's mind in a way that a lot of plays don't.
BWW: Now my entire experience with Jeff Daniels and Michelle Williams is coming back to me. This makes sense.
Robles: Yeah, you're like, "Are they just stuttering or...?" But it's not. It's like literally there are lines that, you know, I say "my" three times in there. It's a huge challenge to memorize.
BWW: I'm wondering what your dramaturgy process turned up for this play. This play was inspired by a true story?
Robles: A true event.
BWW: Yeah.
Robles: Toby Studebaker. Yeah, I think David Harrower wrote the play based off of that, but it's different. He made it work better for theatre. Ray and Una don't meet online in a chat room which is how Toby and the girl in real life meet. So, yeah. I read up on the story and read some interviews. We've been working with the Georgia Center for Child Advocacy just learning more about how things like this happen, how it affects the kids and their development... So yeah, it's an interesting story, and it's really scary. It's really scary. What I was really like trying to figure out is - you know, there aren't a lot of stories of children who become involved in a relationship like this who really struggle to understand that it was abuse for as long as Una does. She goes like months before she is deprogrammed by her therapist and psychologists who help her understand that she was being emotionally manipulated. And then going back to find him later also is not something that I could really find in my research. I did read about the real woman - I think she's 19 now - but she was saying that Toby still writes her letters. She gets letters from him from jail. Because he's still in jail. I don't know why she's allowed to get them. I mean, she's over 18 now, so I guess maybe that's why. In the play, Ray tells Una that he tried to write her letters, but they wouldn't send them. So, yeah. She said in her interview that he wants to see her when he gets out and that he claims he still loves her. And all of this. She says she doesn't think she wants to see him, but she seemed open to it in her interview.
BWW: As you were building your character, how did you use that information? Were you building your character with the idea that she might be interested in pursuing a future relationship with him or...
Robles: Oh, it's so complicated. Based off what I could glean from the play, you know, she's just recently broken up with somebody that she's been in a 3-year-long relationship with. She says that she loves this guy and that she hopes they get back together. So, that just recently happened. And we know that her father died a couple of years ago. And so I'm thinking all of that. And then in addition to finding the photo where she sees Ray. And that prompts her to be like - forgive the language - but "Fuck it. I'm gonna go." In my version of Una, I don't think she necessarily goes with the intention of rekindling anything. I think it's really just like she wants answers. She wants to hear it from him. As the 12-year-old, she fully believed that this man loved her and that he would never have left her and that he was her best friend. And over the next couple of years, she was trained to believe that he was just manipulating her, that he was after one thing. I don't think either Ray or Una anticipate what is going to happen over the course of the play.
BWW: You mentioned that you were partnering with the Georgia Center for Child Advocacy. And one of the things they'll be doing is facilitating post-show discussions?
Robles: Yeah. Yeah. They're going to come in on Sunday and then the following Saturday, and we're going to have a talkback with them. Like I said, the play doesn't leave the audience with any kind of resolution really. We don't exactly know what happens, and David Harrower is not saying, "Oh, this is a good thing." Like they actually loved each other; therefore, we have a pass to go have sex with young kids, you know. That's not what he's saying. But it also doesn't blatantly say, "This is wrong." So we just wanted to open it up afterwards for people to have a resource to talk to people who deal with things like this in real life. We wanted to empower our audiences to do something with however this play makes them feel. To do something, you know?
BWW: And you're playing at 7 Stages.
Robles: Yeah. In the black box.
BWW: That'll be an interesting space for this.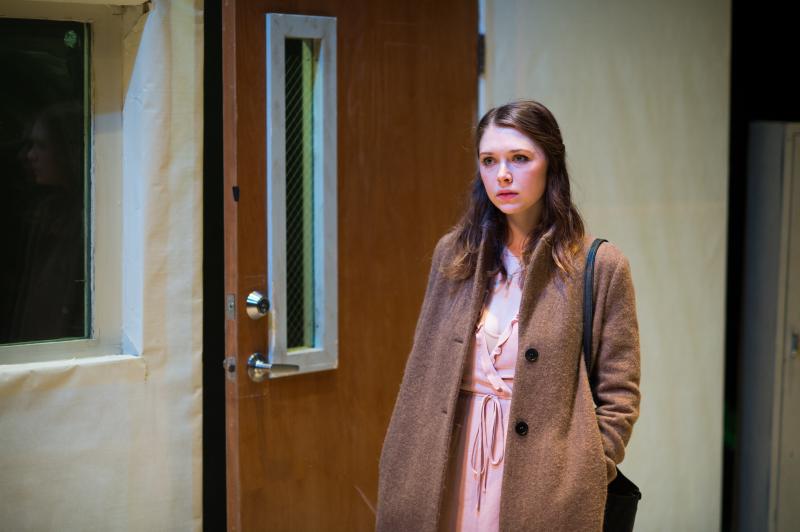 Robles: Yeah, it's very intimate.
BWW: You know, I felt while I was watching it on Broadway that the play itself is so intimate, even in the larger theatre. It's a play that's hard to watch, but I remember leaving and feeling that it had such an emotional impact. I know that's got to be exhausting for you as an actor.
Robles: It is. I almost feel more for Bryan who's playing Ray. You know, this man has a heart of gold, and this has been really hard for him, playing this character. He's amazing, so... he's having a hard time with the moral issues.
BWW: I can imagine that that would be very difficult.
Robles: He has kids that are 12, so it hits very close to home for him.
BWW: I was really excited to see that you were doing this show here in Atlanta. Ever since I saw it on Broadway, it's been a show that's been hard to get off my mind, so I know that people in Atlanta are going to respond really well to this interesting and provocative show.
Robles: I hope so.
Blackbird runs October 5-14.
For tickets and info, go to: http://www.7stages.org/shows/blackbird/
Related Articles View More Atlanta

Stories

Shows