Click Here for More Articles on FIDDLER ON THE ROOF
Yiddish FIDDER ON THE ROOF's Michael Einav Will Take Over Instagram Tomorrow!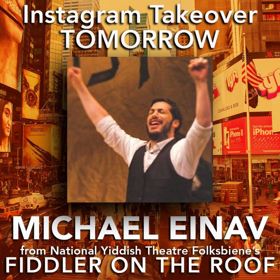 Go behind the scenes of the National Yiddish Theatre Folksbiene's critically-acclaimed Yiddish language production of Fiddler on the Roof with Michael Einav. He will be taking over the BroadwayWorld Instagram tomorrow, December 8th! Follow along as Einav takes you behind the scenes of the show! Be sure to tune in!
Follow BroadwayWorld on Instagram!
The National Yiddish Theatre Folksbiene's Off-Broadway production of Fiddler on the Roof in Yiddish, directed by Academy and Tony Award winner Joel Grey. It was released announced that a cast album will be available in 2019, with an official date to be announced before the show transfers to Off-Broadway's Stage 42 in February.
The Yiddish language Fiddler on the Roof is based on the Tevye the Dairyman vignettes by Sholem Aleichem and is translated by Shraga Friedman. Tony Award-winning Fiddler lyricist Sheldon Harnick and producer/director Harold Prince have been consulting with NYTF on the production.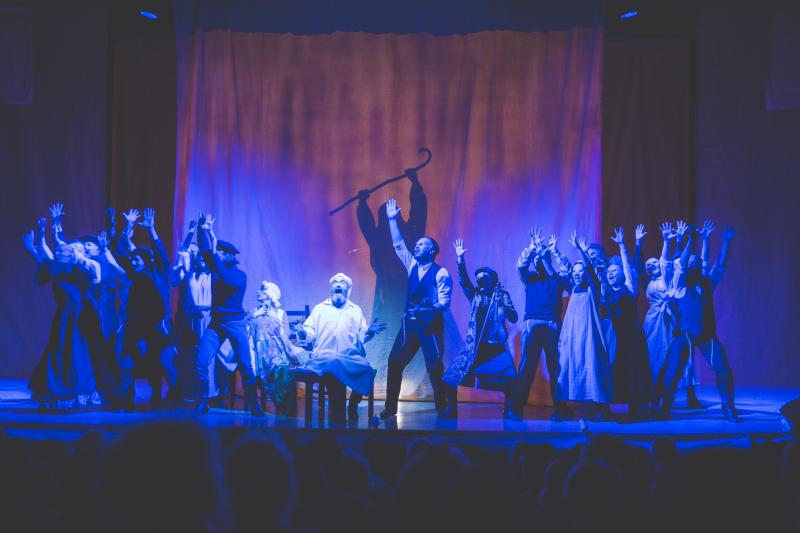 In addition to Grey, Massimine, and Mlotek, the creative team features choreography and musical staging by Stas Kmiec, casting by Jamibeth Margolis, CSA, and an all-star design team of Tony Award winners and nominees, including set design by Beowulf Boritt, costume design by Ann Hould-Ward, sound design by Dan Moses Schreier, lighting design by Peter Kaczorowski, wig and hair design by Tom Watson, and props by Addison Heeren.
Playing the iconic roles of Yente, Tevye, and Golde are, respectively, comedian and Emmy Award nominee Jackie Hoffman(Charlie And the Chocolate Factory, The Addams Family, Hairspray, Xanadu), and Broadway veterans Steven Skybell (Fiddler on the Roof, Wicked, The Full Monty), and Jennifer Babiak (Fiddler on the Roof, West Side Story, Grease, Evita).
The cast is rounded out with: Joanne Bortsas Sheyndl/Understudy for Yente, Fruma-Sarah, Grandma Tzeitel; Doug Chitel as Understudy for Mendel, Avrom, Nokhum, Mordkhe, The Rabbi and The Constable; Michael Einav as Ensemble/Understudy for Motel Kamzoil, Perchik, Fyedka and The Rabbi; Jessica Rose Futran as Ensemble/Understudy for Tzeitel, Hodel, and Chava; Kirk Geritano as Avrom; John Giesige as Sasha/Dancer/Ensemble; Lydia Gladstone as Grandma Tzeitel/Understudy for Golde and Sheyndl; Abby Goldfarb as Female Swing - covers: Grandma Tzeitel, Fruma-Sarah, Ensemble; Maya Jacobson as Bielke; Cameron Johnson as Fyedka; Josh Kohane as Male Swing - covers: Sasha, Yussel, Ensemble, Dancer; Ben Liebert as Motel Kamzoil; Moshe Lobel as Nokhum/Mordkhe; Stephanie Lynne Mason as Hodel; Rosie Jo Neddy as Chava/Dance Captain; Raquel Nobile as Shprintze; Jonathan Quigley as Dancer/Ensemble/Understudy for The Fiddler; Nick Raynor as Yussel/Dancer/Ensemble; Bruce Sabath as Lazar-Wolf; Drew Seigla as Perchik; Adam B. Shapiro as The Rabbi/Ensemble/Understudy for Tevye and Lazar-Wolf; Jodi Snyder as Fruma-Sarah/Ensemble/Understudy for Bielke and Shprintze; James Monroe Števko as Mendel/Dancer/Ensemble; Lauren Jeanne Thomas as The Fiddler; Bobby Underwood as The Constable/Ensemble; and, Rachel Zatcoff as Tzeitel.
For more information and tickets, click here.
Related Articles