Westport Country Playhouse EVITA Re-Casts Eva Peron Due to Racial Concerns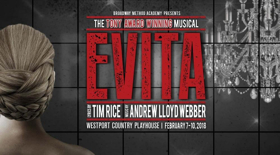 It has been announced that Samantha Pauly will star as Eva Peron in Broadway Method Academy's production of Evita at Westport Country Playhouse Feb 7-10
Pauly replaces previously announced Alaina Mills. The change in casting is in response to the concerns of the Latinx community who reached out to WCP & BMA regarding accurate racial representation of the characters depicted in the production.
"We appreciate the feedback we received and apologize for any frustrations we may have caused. We vow to do better in the future," said BMA Executive Director Connor Deane. "Samantha's impressive skill as a performer as well as her explosive rendition of Eva will wow audiences." All parties involved wish Ms. Mills nothing but success as she moves forward in her career.
"WCP and BMA heard from the Latinx theater community and responded quickly," said WCP Managing Director Michael Barker. "While we may not intend to make mistakes like this in the first place, I am grateful to work with a partner like BMA that course corrects rather than defending the mistake. BMA has a great cast for Evita and I can't wait to share this production with Playhouse audiences!"
Pauly is a Chicago-based singer, actress, and dancer. Her vocal prowess has been critically acclaimed by the Chicago Tribune, the Daily Herald, and the Chicago Sun-Times. Recent Chicago credits include Eva Peron in Evita, Sleeping Beauty in Cinderella After the Ball (Marriott Theatre), Amber von Tussle in Hairspray (Paramount Theatre), Teen Cee Cee in Beaches (Drury Lane Theatre), and Elle Woods in Legally Blonde (Circa '21 Playhouse).
Other leading roles feature Kyle Barisich (The Phantom of the Opera) as Juan Peron, Yurel Echezarreta (Aladdin, Matilda) as Che, and Julian Alvarez (West Side Story) as Magaldi, with dancers Ryan Cyr (international tour of West Side Story), Adam Mandala, Jared Smith, and Jordan Eagle.
Directed by Connor Deane with choreography by Eric Santagata and music direction by J. Scott Handley, performances will continue through February 10.
The ensemble includes Broadway Method Academy students Madison Lemone, Lizzie Richards, Claire Borgatti, Meaghan Cassidy, Julia Levine, Cory McCullough, Emerson Raymond, Ella Miller, Logan Lumley, Natalie Biebel, Annika Del Rosario, Colleen McCurley, Austin James Cleri, Kaitlyn Richards, Kevin Keating, Ethan Horbury, Julia Vitale, Lucas Smith, Caitlin May, Ryanne Forrest, Jayden Hudson, Charles Rusciano, Kevin Geraghty, Annika Jonker, Jesse Plumitallo, Nathan Ayotte, Serena Remmes, Brenna Connolly, Emily Seanor, Genevieve Seanor, Griffin Delmhorst, Gillian Delmhorst, Skylar Giblin, Maura Marchetti, Lucas Richerson, Angelina McKenna, and Owen Bernheim.
Tickets are $45 each and available from the Westport Country Playhouse box office at (203) 227-4177 or westportplayhouse.org. Performances are 2/7 at 7:30pm, 2/8 at 7:30pm, 2/9 at 8:00pm, 2/10 at 2:00pm, and 2/10 at 7:30pm.
Broadway Method Academy offers comprehensive training in acting, singing and dancing. A variety of classes, private coaching sessions, and performance opportunities are offered, bringing in some of Broadway's top talents to work with students. The mission of Broadway Method Academy to provide the essential tools for young artists to integrate acting, singing and dancing. BMA helps to build audiences for tomorrow, to educate audiences of today, to enrich the community, and to enrich the lives of children. BMA proudly serves as the resident conservatory of Westport Country Playhouse.
The mission of Westport Country Playhouse is to enrich, enlighten, and engage the community through the power of professionally produced theater worth talking about and the welcoming experience of the Playhouse campus. The Playhouse provides this experience in multiple ways by offering: Live theater experiences of the highest quality, under the artistic direction of Mark Lamos; educational and community engagement events to further explore the work on stage; programs for students and teachers with extensive curriculum support material; Script in Hand play readings to deepen relationships with audiences and artists; the renowned Woodward Internship Program during the summer months for aspiring theater professionals; Family Festivities presentations to delight young and old alike and to promote reading through live theater; youth performance training and performance opportunities through Broadway Method Academy, WCP's resident conservatory; and the beautiful and historic Playhouse campus open for enjoyment and community events year-round.
Related Articles
More Hot Stories For You
Breaking: BEETLEJUICE Announces Closing Date; National Tour Will Launch in 2021
Broadway's smash hit musical BEETLEJUICE will play its final performance at the Winter Garden Theatre (1634 Broadway) on Saturday, June 6, 2020. Final... (read more)

THE SPONGEBOB MUSICAL: LIVE ON STAGE is Available to Purchase on Amazon Prime
Last night, Nickelodeon aired The Spongebob Musical: Live on Stage, a filmed version of the Broadway musical, which reunited members of the original c... (read more)

Voting Open For The 2019 BroadwayWorld Regional Awards Worldwide
Voting is NOW OPEN for the 2019 BroadwayWorld Regional Awards Worldwide, brought to you by TodayTix! The nominees are set, and now you can vote to mak... (read more)

Breaking: Jason Gotay, Arielle Jacobs & More Will Star in BETWEEN THE LINES Musical
Producer Daryl Roth announced today full casting for the new Off-Broadway musical Between the Lines . The production will star Arielle Jacobs (Aladdin... (read more)

Stage and Screen Actor Rene Auberjonois Has Died at 79
BroadwayWorld is saddened to report that Rene Auberjonois, a stage and screen actor best known for his work on Star Trek, has died. According to Varie... (read more)

Meet the Cast of WEST SIDE STORY - Now in Previews on Broadway!
West Side Story is officially in previews on Broadway! The new production is directed by Tony Award winner Ivo van Hove; and for the first time ever i... (read more)