This Fall At Japan Society: Samurai-Era Love Songs and More!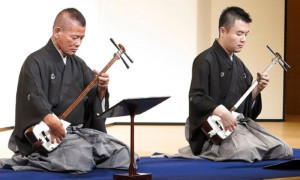 Japan Society's music season opens on Friday, September 14 (7:30 pm) with a recital titled "Hauta Shamisen: Edo-Period Love Songs" by internationally acclaimed shamisen (three-string Japanese banjo) master Hidetaro Honjoh. Known for the skill of his playing and the richness of his singing voice, Hidetaro started playing the shamisen at age 11 and quickly became a professional player under the tutelage of two renowned shamisen masters. He is the founder of the Risougaku style of playing, updating traditional folk songs (minyo) to make them more relevant to contemporary tastes. He has been awarded the Medal with Purple Ribbon, Japan's highest honor for artists.
At Japan Society, Hidetaro will sing and play works from the hauta repertoire. These mid-19th century Japanese love songs were written and performed by the equivalent of today's singer/songwriters - the quintessential "pop music" of the time. The program also includes traditional work songs from various regions of Japan. Hidetaro Honjoh will be joined on stage by his protégé Hidejiro Honjoh on shamisen and kokyu (three-string Japanese fiddle), and New York-based koto player Yumi Kurosawa. Tickets are $35, $28 for members.
Hidetaro Honjoh will give a related workshop, "The Principles of Traditional Japanese Singing," on Sunday, September 16 (1:30 pm), introducing the fundamentals of structuring and vocalizing classical shamisen music. He will explore the diverse range of traditional songs written for shamisen accompaniment, from the melody-driven style of utamono to the story-driven chanting of joruri. This workshop is ideal for composers, performers, researchers and singer/songwriters, and has a maximum of 20 participants. Tickets are $35, $30 for Japan Society members.
On Friday, October 5 (7:30 pm), Hidetaro's brilliant young protégé Hidejiro Honjoh joins forces with the renowned International Contemporary Ensemble (ICE) in "Shamisen Evolution." Joined by members of the International Contemporary Ensemble (ICE), Hidejiro delivers world premieres by Grammy-nominee and MacArthur "Genius" Award winner Vijay Iyer, ICE's own Nathan Davis, and rising young Japanese composer Yu Kuwabara. The program also includes the North American premiere of the full score of Scott Johnson's Up and Back for shamisen, electric guitar, cello and piano, plus virtuoso pieces by Yuji Takahashi and Dai Fujikura. Along with Johnson, Hidejiro will be joined by ICE members Phyllis Chen (piano), Nathan Davis (dulcimer/ percussion), Rebekah Heller (bassoon), and Katinka Kleijn (cello).
Hidejiro Honjoh is known for pioneering new techniques and musical directions for his instrument. Past collaborators include composers Ryuichi Sakamoto and Dai Fujikura, the Japan Philharmonic Orchestra, Finland's Avanti Ensemble, and many others. The International Contemporary Ensemble was recently cited by The New York Times as "the nation's most important new-music ensemble." Tickets for "Shamisen Evolution" are $38, $30 for Japan Society members. The event will be followed by a MetLife Meet-the-Artists Reception.
Notes Japan Society's Artistic Director, Yoko Shioya, "Unlike the shakuhachi or the koto, the shamisen does not have the same name recognition amongst people outside of Japan. But without it, neither bunraku nor kabuki theater styles would have been born, nor would they have evolved into the art forms that international audiences appreciate today. The first of our two concerts features a virtuoso of traditional shamisen music and shows the longevity of the instrument's allure, while the second showcases a young prodigy of contemporary shamisen music, and proves its agility as a cool, capable instrument in the 21st century."
All events take place at Japan Society, 333 East 47th Street in Manhattan. Tickets are available through www.japansociety.org, or by calling 212-715-1258.
Related Articles
More Hot Stories For You
HAMILTON Will Hold A Fan Performance on October 31 With All Tickets Available For $10 Via Lottery
For the second year in a row, Hamilton will host a special fan performance on Thursday, October 31 at the Richard Rodgers Theatre on Broadway, with al... (read more)

Breaking: Ethan Slater, Gavin Lee & More Will Reunite to Film SPONGEBOB for Nickelodeon
Following a critically lauded run on Broadway, members of the original award-winning Broadway company of The SpongeBob Musical: Live On Stage! will re... (read more)

BWW Photo Exclusive: Adam Pascal Stars In THE MUSIC MAN At 5-Star Theatricals
Tony nominee Adam Pascal stars as Professor Harold Hill in the first show of the 5-Star Theattricals 2019-2020 season, THE MUSIC MAN.... (read more)

MOULIN ROUGE To Head To The West End in 2021
The blockbuster Broadway hit, Moulin Rouge, will be heading to the West End in 2021!... (read more)

Tony Nominee Jenn Colella Will Depart COME FROM AWAY in November
BroadwayWorld has just learned that Jenn Colella, original cast member of Come From Away, will depart the musical next month. Colella was Tony-nominat... (read more)

Exclusive: Get A First Look At Teal Wicks, Bobby Conte Thornton, And More In LAST DAYS OF SUMMER
BroadwayWorld has a first look at the new musical LAST DAYS OF SUMMER, presented by George Street Playhouse and directed by Jeff Calhoun (NEWSIES, GRE... (read more)