Theatre Under The Stars Releases Hilarious Casting Breakdowns for THE WIZ!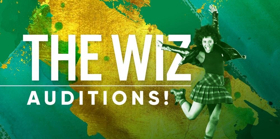 In case you missed it, Theatre Under The Stars is holding auditions in North Hollywood, CA for their Houston, TX production of The Wiz today, May 17. Two weeks ago, BroadwayWorld posted the casting call to keep you updated and informed about auditions.
The casting call looks pretty normal at first glance. Rehearsal dates, contract, audition location, etc. However, it's the breakdown that caught our eye.
For those that might not be familiar with casting calls, a breakdown is a short character description that the show's casting agency uses to communicate who the character is and what they are looking for. For example, the breakdown for the role of Evan Hansen of Dear Evan Hansen reads as follows:
Evan Hansen: 17+ to play high school senior. Smart, sincere and cripplingly self-conscious, Evan prefers to hover in the background, a supporting player in his own life, too afraid to step forward into the spotlight and risk ridicule, or what might be worse, no one noticing him at all.
Tenor with pop/rock sensibilities.
These are all descriptive indicators of who Evan Hansen is without being overly specific, which might stifle an actor or limit their choices too severely.
However, the breakdowns for Theatre Under The Stars' production of The Wiz were a little . . . different.
Take a look at our top five breakdowns we pulled straight from the casting call below!
Dorothy: She should be 16. And if she isn't actually 16 then she certainly should look closer to 16 than 30. Dorothy has to be the youngest soul in the play. Bright eyed and bushy tailed. A Voice for the Gods. Girlie and Frilly but totally a powerhouse. Someone who looks like the world of Oz is right behind her eyelids. Which indeed it is.
The Wiz/Uncle Henry/Messenger: 30's-40's... Dutiful and Honest. /Outrageous and natural born Comic. Also a complete trickster...Charming and dangerous. The one you don't want to bring home to meet the parents. It would help if he was sexy as hell as well. Great Voice.
Addaperle/Kalidah Queen: 30's-50's. A complete mess of a person. Probably the First few letters of her name says it all. Probably medicated and/or missing her medication. Nice but a Train wreck.
Scarecrow: The BEST DANCER in the Cast. And a singing powerhouse. Male or Female. In fact the Scarecrow may very well have had a Drag Show. Serving Sylvester with Kicks. Can sing his face off... and incredibly lovely.
Tinman: Initially Stiff and robotic. But once oiled up, he is as slick as a 1970's Pimp. Straight out of a Dolomite Film. A stone cold fantastic Singer. Can tap dance. Carries an Ax. 'Nuff said.
There is so much to unpack here. It's too hard to pick a favorite!
To read the rest of the casting call, or to find out more information about this particular production, click here or visit the Theatre Under The Stars website here.
And as a bonus, here's a special one in celebration of the hard work of ensembles everywhere! You guys are truly the "lifeblood of the show"!
ENSEMBLE: plays everyone else. They must all be able to SING Soulfully. And they must All be able to Move... I need at least half of them to be FANTASTIC DANCERS... But all of them must be Transformational... Lots of stamina and sense of humor... Imagine them as the back up singers and dancers to Tina and Ike Turner. Energy Energy Energy. They must give everyone LIFE. Would love more than a few with Acrobatic/Tumbling abilities. I can not stress enough that they are the lifeblood of the show and must be strong physical Performers.
Photo Courtesy of Theatre Under The Stars