Click Here for More Articles on French Woods Festival of Performing Arts Camp
Theater Critic at Theater Camp: A Return Visit to French Woods
By Matt Windman
How do you take hundreds of kids (ages 7 to 17) and put up over a dozen shows (mostly musicals, plus a few plays) in as little as three weeks, with rehearsals limited to maybe just 12 or 13 days, with all or most of the cast rehearsing just slightly more than two hours each day, and many campers working on multiple shows at once? And I'm talking about completely staged shows with full production values, including sets, lighting, sound, costumes and live orchestras. Not only that, imagine repeating this same frenzied process four times over the course of a single summer.
It sounds insane, but that is the way it has worked for decades at French Woods Festival of the Arts, where about 2,000 campers gather each summer over the course of four back-to-back three-week sessions (with approximately 750 campers present during any given session). I myself attended French Woods as both a camper and a staff member from 1998 to 2002 and, as described below, recently paid a short return visit at the invitation of Ron Schaefer, the camp's burly, gravelly voiced, big-hearted and highly sentimental (often weeping while watching his own shows) 78-year-old owner and director.
Shows at French Woods are divided into three age groups: "lower camp" (7 to 11 years old), "middle camp" (11 to 14 years old), and "upper camp" (11 to 17 years old). Every camper who auditions for the musicals is guaranteed a slot in a musical. (Alas, things are not like that in the real world.) I once saw Sweeney Todd at French Woods with a cast of around 80 people, which was apparently the largest production ever done there. Right after that, the camp increased the number of shows put on each session.
A camper's star status at French Woods can vary from session to session. A 16-year-old girl may be a dancer in Kiss Me, Kate during second session and then become Mary Magdalene in Jesus Christ Superstar during third session. Or, a 15-year-old boy who just finished playing Arty in Lost in Yonkers may wake up the following morning to find that he has been relegated to the ensemble of Gilbert & Sullivan's half-hour operetta Trial by Jury - which happened to me in 1999. In my time, the campers who consistently scored lead roles and got tapped to be in the exclusive "cabaret troupe" (which put on annual theme-centered revues, such as 1970s pop or selections from flop musicals) were called the "divas." I'm told that they are now called the "elites."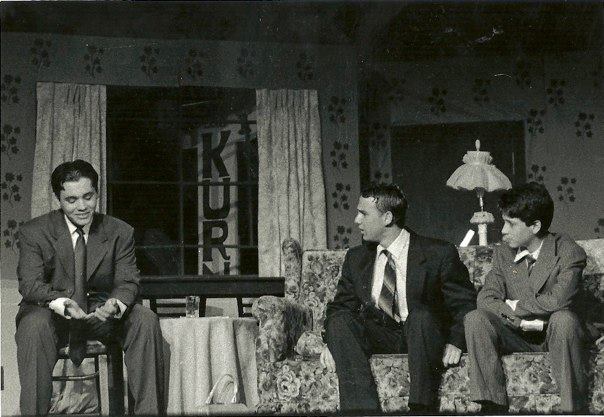 But to call French Woods just an acting camp does not do justice to the extensive range of its programming opportunities. In terms of the performing arts alone, it contains departments in theater, stagecraft, dance, circus, video, orchestral music, rock music, and magic. And for those looking for a more traditional camp experience, there is a pool, a lake, a baseball field, a skateboard park, a workout gym, tennis courts, fine arts, model trains, culinary arts, and computers. I personally never played sports at French Woods, but apparently there are others who do. I'm even told that the baseball field is always in use and that the French Woods kids often win against their counterparts from nearby sports camps.
French Woods alumni include Tony-winning songwriter Jason Robert Brown (Parade, The Last Five Years), Broadway producer David Stone (Wicked, Spelling Bee), Adam Levine (frontman of Maroon 5), television producer David Javerbaum, and countless performers including Melissa Errico (who played Evita at French Woods opposite Jason Robert Brown's Che, and Mrs. Barnum opposite David Stone's Barnum), Steve Rosen, and even Zooey Deschanel (who played the Acid Queen in Tommy in 1996).
So far as I know, I am the only theater critic to ever come out of French Woods. I consider this place to be my alma mater, far more than the schools I subsequently attended (NYU and New York Law School). It is where I developed a passion for theater. During my first summer, at age 14, I learned about Stephen Sondheim, sat through Company and Assassins (which were puzzling to me at the time), and served as a production assistant on Into the Woods (which turned out to be a life-altering experience). During my final summer, four years later, I was teaching a class on Sondheim musicals to 12 year olds - or at least I was attempting to.
I must confess that I was one of the less naturally talented teenagers at French Woods, especially given my inability to sing or dance, which meant I often landed ensemble roles (but I still managed to score at least some good roles, mostly notably John Adams in 1776). I also got to work with some incredibly talented people who have gone on to achieve major success. I was a Cabaret Boy in a solid 2000 production of Cabaret starring Sean Patrick Doyle (La Cage Aux Folles, Kinky Boots) as the Emcee and Lauryn Ciardullo (currently the understudy for Jasmine in Aladdin) as Sally Bowles. That same summer, I appeared in a production of Camelot where Celia Mei Rubin (currently a swing in Natasha, Pierre and the Great Comet of 1812) played Guinevere. I also acted alongside Olivia Thirlby (the film Juno) in Neil Simon's Biloxi Blues and directed her in two one-act plays.
I became a theater critic immediately after I left French Woods, writing reviews for my college newspaper and then for various professional publications including Show Business Weekly, Backstage, and eventually amNewYork (where I have been the theater critic since 2005). Had theater criticism not gotten in the way, perhaps I would have spent more summers at French Woods and eventually become one of its staff theater directors, like many other former campers. Lee Kasper, who appeared with me in 1776, has now worked as a theater director at French Woods for years. (In Camp'd Out, a two-hour MTV documentary on French Woods that aired in 2009, Kasper can be seen reprimanding the pretty female lead of his production of Noises Off because she never bothered to learn her lines.) Kasper has also worked on Broadway as the assistant director of the excellent revivals of You Can't Take It With You and Harvey. As I write this, Kasper just finished directing Bullets Over Broadway at camp (which probably worked better there than it did on Broadway.)
In addition to running and owning French Woods (as well as owning several other nearby camps), Ron Schaefer directs his own shows. A few that Schaefer has staged repeatedly over the years include Cabaret, How to Succeed, Sweeney Todd, Les Miz, West Side Story, Forum, The Mikado and Parade. In other words, Schaefer tends to alternate between serious musical dramas and broad comedies (i.e. Evita followed by The Pirates of Penzance, Carousel followed by The Producers). During my time at camp, I worked on at least one of Schaefer's shows each summer. He was the director who cast me as John Adams in 1776 (probably because I had bugged him for so long to present the guy-heavy musical, which is no easy feat at a camp where the ratio of girls to boys is two to one). During my last session at French Woods, I was his assistant director on one of the first productions of Les Miz: School Edition.
A few weeks ago, when French Woods was already well into its second session, I received an unexpected email from Schaefer. He was directing Pippin and thought it was good enough to merit being professionally reviewed. I was glad he thought of me and that he wanted me to see it. However, not only would it have been highly questionable for me to review a show being put on by teenagers without professional backgrounds, my emotional attachment to French Woods is probably strong enough to constitute a conflict of interest. Nevertheless, I proposed that I come up to see Pippin anyway and find some other way to write about the production and the camp.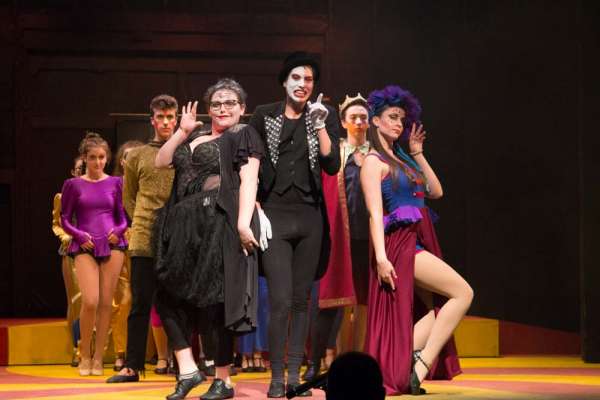 Of all possible shows, I was surprised that the one I was being urged to return to the camp for was Pippin. Sure, it's a great show for young people. I even stage managed a production of it at French Woods in 2002 (in which Dani Spieler, now a swing on Broadway who just went from Chicago to Cats, was the Leading Player). But French Woods has presented a lot of noteworthy amateur premieres in recent years, including Billy Elliot and Honeymoon in Vegas (both directed by Schaefer). The camp even did La Cage aux Folles in 2013 - a show that Schaefer assured me many years ago that the camp could never hope to do - and which will apparently never be done again (due to blowback from some parents who were less than thrilled to see their teenage sons tap-dancing in drag).
I have paid a few short visits to French Woods in recent years, during which time I quickly said hello to Schaefer (who is always busy) and went my own way. This time, however, Schaefer made a point of taking me around the camp in my capacity as a journalist, as if I had never been there before.
I got to peek in on a rehearsal of a middle camp production of Crazy for You. Just a few days since casting had been completed, "I've Got Rhythm" was already fully choreographed (in an elaborate manner reminiscent of the original Susan Stroman staging). The director of Crazy for You was Ron Headrick, a faculty member of New World School of the Arts in Miami. (I worked with Headrick years ago on productions of Biloxi Blues and Twelve Angry Men - or as we called it, Twelve Angry Jurors.) Charlotte Krieger, a 14 year old from Palm Beach Gardens, Florida who was playing Polly in Crazy for You, displayed the poise of a trained professional. (Not surprisingly, an internet search also revealed that Krieger has appeared in regional theater productions of Annie and Fiddler on the Roof.) Crazy for You (with a 65-person cast and 19-piece orchestra) was performed at French Woods less than two weeks following my visit, after just 13 days of rehearsal. (Headrick boasted on Facebook that the kids received two standing ovations.)
I also glanced in at a rehearsal of a middle camp production of Lucky Stiff. Although Lynn Ahrens and Stephen Flaherty's musical comedy was designed for just a handful of performers, at French Woods, it was being done with many young campers, who were running through the busy blocking of the opening number ("Something Funny's Going On"). Schaefer pointed out that among the Lucky Stiff cast was Hudson Flynn, son of Broadway actress and French Woods alumnus Andrea Burns (On Your Feet!) and performer-turned-director Peter Flynn.
When I was a camper, one of the best performance spaces at French Woods was an intimate black-box that was used for (among other things) piano-only productions of Sondheim musicals like Assassins, Merrily We Roll Along, and Follies. It was subsequently converted into a space for the magic department. At present, French Woods has a variety of theaters, including a large thrust stage (the Pavilion), an in-the-round space (the Arena), a traditional proscenium space (the Playhouse), a medium-sized black-box (the Kat), and a taller, larger black-box (the Scott). Within the next few years, Schaefer hopes to build a Broadway-style theater with orchestra-level seating for approximately 1100 people.
As for Pippin, I was surprised to learn that Schaefer had not directed the popular Stephen Schwartz musical for about 40 years. Ron's daughter, Beth Schaefer, who now co-owns the camp, apparently talked her dad into doing it.
Schaefer makes a point of examining and discussing any given show's historical and cultural context with the entire cast during rehearsals. When I played Chino in his 1999 production of West Side Story, he asked me point blank during a one-on-one session why Chino kills Tony. Lacking a good answer, Schaefer made me find a dictionary and look up "vendetta." I also remember a rehearsal of Cabaret where he had the cast debating why Cliff slapped Sally. With regards to Pippin, Schaefer told me that he and the cast had resolved to make the musical life-affirming and not a statement on teen suicide.
As staged at the Playhouse, Pippin was unusually bare, performed on an empty black stage with a few overhead carnival flags (to suggest the circus atmosphere of the recent Broadway revival) and a skull-marked contraption at the end of the stage for the "grand finale." Schaefer had decided to perform the show without an intermission - which is how it really ought to be done, since the narrative is essentially a picaresque journey that should not flag in momentum. The 22-person cast was unusually small for a French Woods production, which allowed every ensemble member and dancer to receive a good deal attention. They worked off the Broadway revival version (which contains some revised lyrics and the darker Theo ending), while making a few small edits here and there (like removing the penultimate "trapped but happy" line, which I personally have never liked).
The Leading Player was played by Jake Urban, a 16 year old from Flemington, New Jersey. Two years earlier, Urban had played the title role in Billy Elliot at French Woods. Wearing a bowler hat, sequins, tights, and clown makeup, Urban had an inviting but sinister air that invoked Tim Curry's Dr. Frank-N-Further in The Rocky Horror Picture Show.
Henry Crater, a 15 year old from Sanibel, Florida who played Pippin, did not just sing "Corner of the Sky" - he truly acted it out. This was a performance from someone who had clearly put real thought into what the lyrics meant. Usually, the song is done in an upbeat, superficial manner. Crater, on the other hand, conveyed the urgency of someone who was scared as hell of not finding his purpose in life. In "Extraordinary," Crater performed some of the bump-and-grind choreography exhibited earlier on by the ensemble. This intentionally made Pippin look ridiculous, as if he had no clue what he was doing or whose behavior to follow.
At the end of the performance (which was enthusiastically received by campers and visitors alike), Schaefer said to me, "Not bad for a bunch of kids in three weeks, right?" Exactly. French Woods is all about speedy turnaround and giving its campers as much experience and as many opportunities as possible, which means getting the shows on their feet as quickly as possible, so that the kids can move on to the next show while also doing circus and acting class and jazz dance and magic and everything else.
It's not possible for "a bunch of kids" to put on a perfect production of any musical (let alone one as movement intensive as Pippin) with a combined rehearsal time that is less than a single 40-hour workweek. But the mad rush of rehearsing at French Woods brings an unmistakable brand of vitality and spontaneity to its productions. It also creates a bond between the cast and audience (which is fully aware of the chaotic circumstances under which the campers are working and is rooting for them to succeed).
While Pippin was being performed, Schaefer was already rehearsing Blood Brothers (his third session show), and his middle-camp production of Little Shop of Horrors was on the eve of dress rehearsal. As I write this, the fourth and final session is underway, which includes productions (among many others) of Rent, Cabaret, and Hairspray. When I was a camper, Rent was still a sold-out hit on Broadway. (Looking ahead, there is bound to eventually be a French Woods production of Hamilton.) Rent is being directed by Jonathan Gellert (who is the drama teacher at Horace Greeley High School in Chappaqua, New York), with musical supervision by Daniel Lepek (a professor of chemical engineering at Cooper Union). Gellert and Lepek, both former campers, have respectively directed and music directed shows at French Woods for years. When I visited French Woods, Gellert was in the midst of directing Georgia Stitt's Samantha Spade - Ace Detective and Jonathan Marc Sherman's Women and Wallace.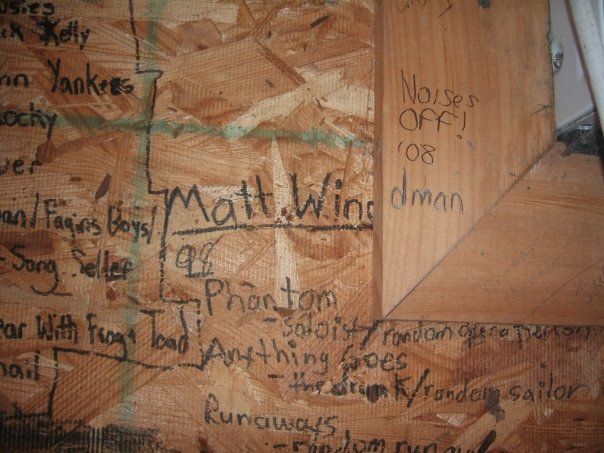 When Schaefer reached out to me about coming to visit, I offered to give a masterclass or some kind of discussion about theater criticism to any campers who were interested. Schaefer took me up on the offer. And not long after I arrived at French Woods, about 15 campers met me at Schaefer's office for an hour-long chat. French Woods campers today are far more knowledgeable about Broadway thanks to the internet. The campers I met with knew about all the musicals of the past Broadway season and had seen many of them. In fact, French Woods now offers three trips every summer to see Broadway musicals. By the time I visited, the campers had already gone to see War Paint and Dear Evan Hansen. A week after my visit, they caught Hello, Dolly! with Bette Midler (which probably made their parents jealous).
The campers and I critically dissected War Paint and I encouraged them to think about how they would structure their own review of the musical. I noted that, technically speaking, each and every one of them could start a blog that very day and publish a War Paint review. And if they kept it up and continued to write reviews, they would probably soon start receiving invites to review shows as critics, with complimentary tickets included. (Maybe not from Broadway press agents, but many Off-Off-Broadway shows would probably be happy to be reviewed by a theater-loving teenager.) Perhaps it won't be long before another theater critic comes out of French Woods.
---
Matt Windman attended French Woods from 1998 to 2002. He is the theater critic of amNewYork and an attorney. He is also the author of The Critics Say: 57 Theater Reviewers in New York and Beyond Discuss Their Craft and Its Future (2016, McFarland).