The Last Twenty-Two Years: A Timeline of Two-Time Tony Winner Norbert Leo Butz
Two-time Tony Award Winner Norbert Leo Butz takes the stage again this week in the Broadway Revival of My Fair Lady as Alfred P. Doolittle -- a part that won George Rose the Tony back in 1976. As he prepares to take stage and blow us all away yet again, let's reflect on his theatrical career timeline: all twenty two years of it!
---
1996 - 2000: Roger Davis (Replacement Swing) in Rent
Tony winners all have to start somewhere... Butz just happened to get his start as a replacement swing for the part of Roger in Rent. Jonathan Larson's riveting rock musical is based on the La Boheme story, but set in the gritty underbelly of NYC's East Village.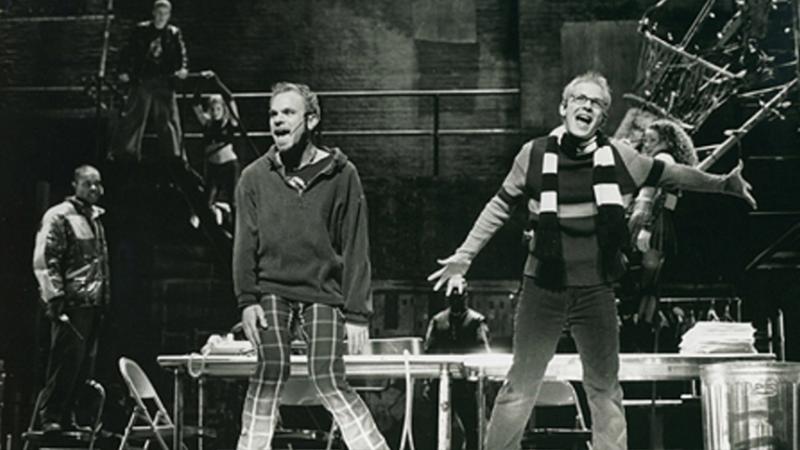 Check out this compiled audio of him singing various songs from Rent!
---
1999 - 2000: The Emcee in Cabaret
Stepping stones: Butz also starred as the Emcee in a touring production of Cabaret! Set against the backdrop of pre-World War II, the show takes place inside a provocative, yet forbidden Kit Kat Klub, where the relationship between cabaret performer Sally Bowles and the handsome American Cliff Bradshaw flourishes only to be confronted by social taboos and the imminent rise of the Nazi Party. Check out this video of Butz singing "Willkommen" below!
---
2000: Jerry Levine in Juno and The Paycock
Butz starred as Jerry Levine in this production back in 2000. Juno and the Paycock is a popular Irish play by Seán O'Casey that was first staged in 1924. is about tenements in Ireland in the 1920s. It takes place during the Irish Civil War and tells of the misfortunes of the highly dysfunctional Boyle family.

2001 - 2002: Camille Raquin in Thou Shalt Not
Thou Shalt Not is a musical based on Émile Zola's novel Thérèse Raquin, a story of a beautiful young married woman whose passionate fling with another man leads to betrayal and murder, with music and lyrics by Harry Connick Jr. and an adapted book by David Thompson.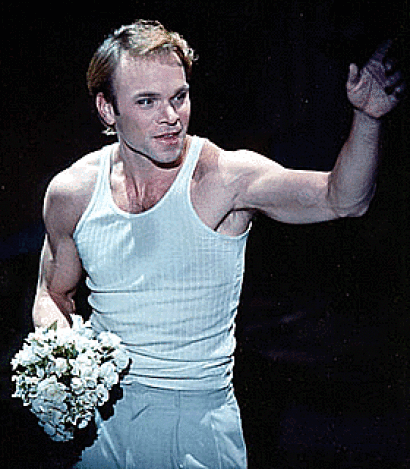 ---
2002: Jamie in The Last Five Years
Norbert Leo Butz originated the role of Jamie in this famous Off-Broadway musical. A man, a woman, a marriage which lasted five years. The story, told in the exuberant and heart-rending songs of Jason Robert Brown, tells the story of the five years of a marriage, from intense love to a final, painful separation. However, there's an intriguing twist: the man lives the five years from beginning to end, but the woman lives the five years backward, from end to beginning. Their "times" correspond only once, signaled by a remarkable duet. Check out the video below of him singing Jamie's "Moving Too Fast"!
---
2003: Bill Abeline in Buicks
Butz starred in the 2003 play Buicks as Bill Abeline, an insensitive man who must hit the road to get his family back after his unhappy wife takes the kids and leaves him.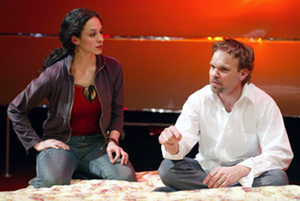 ---
2003 - 2004: Fiyero in Wicked
Norbert Leo Butz originated the role of Fiyero in the Broadway sensation, Wicked. The Tony-Award Winning show looks at what happened in the Land of Oz... but from a different angle. Long before Dorothy arrives, there is another young woman, born with emerald-green skin-smart, fiery, misunderstood and possessing an extraordinary talent. When she meets a bubbly blonde who is exceptionally popular, their initial rivalry turns into the unlikeliest of friendships... until the world decides to call one "good," and the other one "wicked." From the first electrifying note to the final breathtaking moment, WICKED-the untold true story of the Witches of Oz-transfixes audiences with its wildly inventive story. Here's a clip of Butz singing Fiyero's iconic number, "Dancing Through Life":
---
2005 - 2006: Freddy Benson in Dirty Rotten Scoundrels
Finally, we've reached Norbert's first Tony win: Dirty Rotten Scoundrels! It's the musical story of two con men living on the French Riviera. After meeting on a train, they unsuccessfully attempt to work together only to find that this small French town isn't big enough for the two of them. To settle the score, they agree on a competition: the first one to extract $50,000 from heiress Christine Colgate wins and the other must leave town. A hilarious battle of wits ensues, that will keep audiences laughing, humming and guessing to the end! Mature language and themes. Check out Butz performing as Benson at the Tony Awards:
And finally, the moment when
Bernadette Peters
announces his win! Check it out below:
2007 - 2008: Jean-François Millet in Is He Dead?
While he was teaching Drama at Drew University, Norbert starred in Is He Dead?, a play by Mark Twain. Jean-François Millet, a young painter of genius, is in love with Marie Leroux but in debt to a villainous picture-dealer, Bastien Andre. Andre forecloses on Millet, threatening debtor's prison unless Marie marries him. Millet fakes his death and prospers, all while passing himself off as his own sister, the Widow Tillou. Now a rich "widow," he must find a way to get out of a dress, return to life, and marry Marie.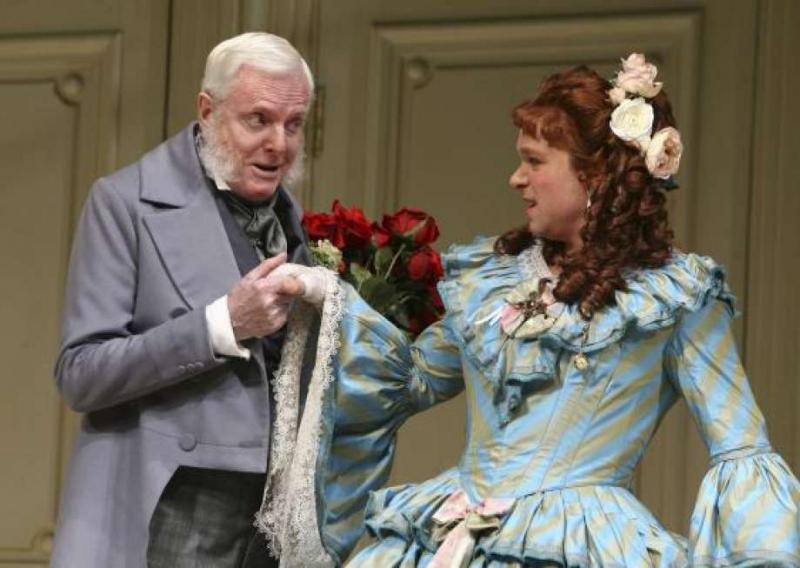 ---
2008: Adam in Fifty Words
Butz performed as Adam in this Michael Weller play about marriage. Something's gone awry behind the idyllic façade of Jan and Adam's Brooklyn brownstone. At 9:10 p.m., they're reveling in the freedom of having waved off their young son, Greg, to a neighborhood sleepover. By 9:30 p.m., things have gone, well...way past awry. Alternately funny and frightening, Fifty Words is an expansive look at modern marriage, as seen through the looking glass of one couple's long night's journey into day.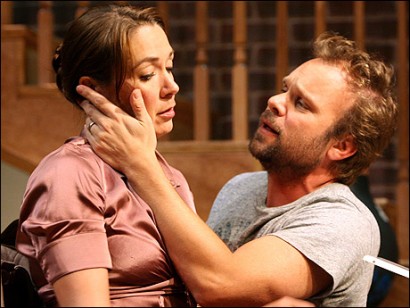 ---
2008 - 2009: Bobby Gould in Speed-The-Plow
After one of the leads fell ill, Butz stepped in and joined the cast of Speed-The-Plow, David Mamet's scathing portrait of the film industry and the people who are willing to sell their souls for sex, fame and fortune.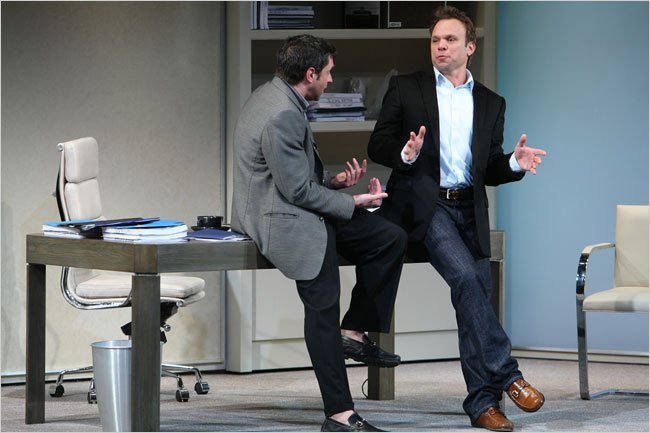 ---
2010: Jeffrey Skilling in Enron
Norbert also starred in the Broadway play, Enron. Based on real-life events and using music, dance and video, Lucy Prebble's Enron explores one of the most infamous scandals in financial history, reviewing the tumultuous 1990s and casting a new light on the financial turmoil in which the world currently finds itself. Check out a scene from the show below:
---
2011: Agent Carl Hanratty in Catch Me If You Can
Here is the second Tony-winning performance by Norbert Leo Butz! The show Catch Me If You Can captures the astonishing true story of Frank Abagnale, Jr., a world-class con artist who passed himself off as a doctor, a lawyer, and a jet pilot-all before the age of 21. With straight-arrow FBI agent Carl Hanratty on Frank's trail, we're off on a jet-setting, cat-and-mouse chase, as a jazzy, swinging-sixties score keeps this adventure in constant motion. In the end, Agent Hanratty learns he and Frank aren't so very different after all, and Frank finds out what happens when love catches up to a man on the run. Check out Butz performing at the 2011 Tony's below:
And here's his acceptance speech!
2012: Uncle Peck in How I Learned to Drive
Fresh off of his Tony high, Butz joined the cast of How I Learned to Drive -- which was the winner of the Pulitzer Prize for Drama. How I Learned To Drive is told with surprising wit and explores the complex relationship between Li'l Bit and her Uncle Peck, as a series of driving lessons progresses from innocence to something much darker.
2012 - 2013: Jack in Dead Accounts
Butz then found himself on Broadway again as Jack in the play Dead Accounts. Jack's unexpected return throws his family into a frenzy, and his sister Lorna needs answers. Is he coming home or running away? Where is his wife everyone hates? And how did he get all that money? Theresa Rebeck's new comedy tackles the timely issues of corporate greed, small town values, and whether or not your family will always welcome you back - with no questions asked.
---
2013: Edward Bloom in Big Fish
Back to musicals! In 2013, Norbert performed as Edward Bloom in the hit musical, Big Fish. Based on the celebrated novel by Daniel Wallace and the acclaimed Columbia Pictures film directed by Tim Burton, Big Fish centers on Edward Bloom, a traveling salesman who lives life to its fullest... and then some! Edward's incredible, larger-than-life stories thrill everyone around him--most of all, his devoted wife Sandra. But their son Will, about to have a child of his own, is determined to find the truth behind his father's epic tales. Overflowing with heart, humor and spectacular stagecraft, Big Fish is an extraordinary new Broadway musical that reminds us why we love going to the theatre--for an experience that's richer, funnier and BIGGER than life itself.
---
2017: Michael in The Whirligig
And then back to plays! Butz found himself back in action in the Hamish Linklater play, The Whirligig. When, after much time away, Kristina is back in Berkshire County, word spreads fast that she and her ex-husband are caring for their estranged, ailing daughter Julie. Broken-hearted and giddy with love and confusion, surprising visitors from Julie's complicated past, including her childhood best friend Trish and her former drug dealer, practically trip over each other to reach the young woman they thought they'd lost years before but still feel so deeply connected to.
---
2018: Alfred P. Doolittle in My Fair Lady
And here we are! Coming this March, Norbert Leo Butz will star as Alfred P. Doolittle in My Fair Lady! My Fair Lady is a musical based upon George Bernard Shaw's Pygmalion and with book and lyrics by Alan Jay Lerner and music by Frederick Loewe. The story concerns Eliza Doolittle, a Cockney flower girl who takes speech lessons from professor Henry Higgins, a phoneticist, so that she may pass as a well-born lady. The musical's 1956 Broadway production was a hit, setting what was then the record for the longest run of any major musical theatre production in history. It was followed by a hit London production, a popular film version, and numerous revivals. It has been called "the perfect musical". Check out the trailer for the show below:
And now you're all caught up!
Congratulations to Norbert Leo Butz for twenty two years of hard work, and we can't wait to see you on stage again in My Fair Lady!