The Creators of HAMILTON Will Receive Kennedy Center Honors Today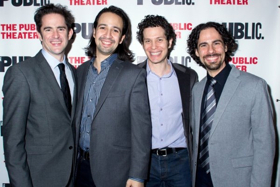 Today, December 2, the creators of Hamilton, including writer and actor Lin-Manuel Miranda, director Thomas Kail, choreographer Andy Blankenbuehler, and music director Alex Lacamoire, will receive a unique Kennedy Center Honors as "trailblazing creators of a transformative work that defies category."
The 2018 Kennedy Center Honors are for lifetime artistic achievements. Other recipients to be honored at the 41st annual national celebration of the arts are: singer and actress Cher, composer and pianist Philip Glass, Country music entertainer Reba McEntire, and jazz saxophonist and composer Wayne Shorter.
The recipients will be celebrated today, December 2, in a star-studded ceremony on the KENNEDY Center Opera House stage, produced by Ricky Kirshner and Glenn Weiss of White Cherry Entertainment, the 2018 Honorees will be saluted by today's leading performers from New York, Hollywood, and the arts capitals of the world. Seated in the Box Tier of the iconic KENNEDY Center Opera House, the Honorees will accept the recognition and gratitude of their peers through performances and tributes.
The 2018 KENNEDY CENTER HONORS Gala concludes with a dinner in the Grand Foyer. The Honorary Chairs of the 2018 Honors Gala are Buffy Cafritz and Ann D. Jordan.
The KENNEDY CENTER HONORS medallions were presented on Saturday, December 1, the night before the Gala, at a State Department dinner. The Founding Chair of the State Department dinner is Elizabeth Stevens.
The Honors Gala will be recorded for broadcast on the CBS Network for the 41st consecutive year as a two-hour primetime special on Wednesday, December 26 at 8 p.m. ET.