Click Here for More Articles on NEW YORK CITY
Tero Saarinen Company to Present NY Premiere of MORPHED at The Joyce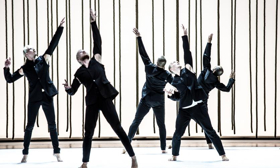 Linda Shelton, Executive Director of The Joyce Theater, is thrilled to welcome Nordic contemporary dance troupe Tero Saarinen Company back onto its Chelsea stage with the New York premiere of Mr. Saarinen's Morphed, from October 18 - 22.
Tickets for Tero Saarinen Company, last seen at The Joyce in 2013 as part of the theater's acclaimed Ice Hot New York Festival, range in price from $26-$46 and can be purchased at www.Joyce.org, by calling JoyceCharge at 212-242-0800, or by visiting The Joyce Theater box office. Please note: ticket prices are subject to change. The Joyce Theater is located at 175 Eighth Avenue at 19th Street. For more information, visit www.Joyce.org.
Founded in 1996 by dancer and choreographer Tero Saarinen, Finnish-based dance troupe Tero Saarinen Company has established itself as one of Europe's leading contemporary dance troupes. The company now makes its return to The Joyce Theater with the New York premiere of Mr. Saarinen's evening length work, Morphed. Morphed, which had its world premiere in 2014 at the Finnish National Opera, showcases a cast of seven male dancers who charge the stage with virile energy and strength, as themes of sensuality and the abundant emotions and artistry of a man - a man dancing - are explored. Morphed is set to the cutting-edge music of Finnish composer Esa-Pekka Salonen, which much like Saarinen's captivating choreography ranges from boldly aggressive to meditatively minimalistic. The work features scenic and lighting design by Saarinen's long-time collaborator and Bessie Award-winner Mikki Kunttu, and costumes by Finnish fashion designer Teemu Muurimäki.
Performances of Tero Saarinen Company will be October 18 - 22 at The Joyce Theater (175 Eighth Avenue at 19th Street) according to the following schedule: Wednesday at 7:30pm; Thursday-Saturday at 8pm; and Sunday at 2pm. There will be a post-performance Curtain Chat with Tero Saarinen Company on Thursday, October 19, which is open to all patrons attending that evening's show. Tickets range in price from $26-$46 and can be purchased at www.Joyce.org, or by calling JoyceCharge at 212-242-0800. Please note: ticket prices are subject to change. The Joyce Theater is located at 175 Eighth Avenue at 19th Street. For more information, please visit www.Joyce.org.
ABOUT THE ARTISTS:
Tero Saarinen (Artistic Director, Choreographer) has had a distinguished international career both as a dancer and choreographer.
Saarinen has made more than 40 creations for Tero Saarinen Company and other prominent dance groups including Nederlands Dans Theater (NDT1) and the Batsheva Dance Company (Israel). His key works include Westward Ho! (1996); the Stravinsky reinterpretations Petrushka (2001), HUNT (2002) and Mariage (Ballet de Lorraine, 2007); the Shakers-inspired Borrowed Light (2004); Vortex for the National Dance Company of Korea (2014); Morphed, set to music by Esa-Pekka Salonen (2014); and most recently the large-scale Kullervo, set to Jean Sibelius' choral symphony in collaboration with the Finnish National Opera and Ballet (2015).
As a choreographer Saarinen is known for his unique movement technique and language, "an inventive mixture of grotesqueness and beauty" that plays with balance, and off-balance. Saarinen has received numerous acknowledgements of his work as an artist both in Finland and abroad.
Esa-Pekka Salonen (Composer) is one of today's most important classical-music artists. He is an internationally successful conductor and an eminent composer. He has been Principal Conductor and Artistic Advisor for London's Philharmonia Orchestra, and Conductor Laureate for the Los Angeles Philharmonic, where he was Music Director in 1992-2009. In early 2015 Salonen was named Composer in Residence at the New York Philharmonic. In 2016 he was appointed the first-ever Artist in Association at the Finnish National Opera and Ballet for a five-year period.
Salonen began his career as a composer in the austere world of European modernism, but moving to Los Angeles in the 1990s brought new, more relaxed tones into his musical language. His compositions move effortlessly between different styles, and he has been compared to such diverse figures as Igor Stravinsky, Witold Lutos?awski and John Adams.
Among the best known of Salonen's compositions are the chamber piece, now a modern classic, Floof (1982) and a work for large orchestra LA Variations (1996). Violin Concerto (2009) received the prestigious Grawemeyer Award in 2012. Salonen himself is the recipient of numerous accolades and prestigious awards from around the world. He conducted the music for Morphed at its premiere in 2014.
Mikki Kunttu (Lighting and Set Designer) is currently one of the most sought-after lighting designers in Europe. He has been collaborating with Saarinen since Tero Saarinen Company's foundation, creating the lighting designs and visualization for all Tero Saarinen Company's productions.
Alongside Saarinen, Kunttu has worked with many prominent artists from Finland and abroad, such as choreographers Jorma Elo, Jorma Uotinen, Carolyn Carlson, Jiri? Kylia?n, Akram Khan and Sidi Larbi Cherkaoui. He has collaborated with the Finnish National Opera and Ballet, Norwegian National Ballet, Royal Danish Ballet, Boston Ballet and - most recently - Cirque du Soleil. In addition to dance, he works in music, opera, television and design.
Kunttu has received numerous prizes including the Bessie Award in New York for lighting design for Tero Saarinen and Akram Khan in 2006.
Teemu Muurimäki (Costume Designer) has worked as a fashion designer for such well-known international brands as Giorgio Armani, Gucci Group, Dolce & Gabbana, Bottega Veneta and most recently, Finland's iconic design house, Marimekko. In his freelance work, he focuses on made-to-measure gowns for celebrity events and weddings, and illustrations and styling for fashion magazines. Muurima?ki has his own successful menswear fashion line Formal Friday.
ABOUT TERO SARRINEN COMPANY:
The primary aim of Tero Saarinen Company, founded by dancer-choreographer Tero Saarinen in 1996, is to promote a humane worldview and basic human values through the language of dance, while also increasing people's understanding of their own physicality and its significance for a good life. Its operating principles - Aware, Alert, Attentive - apply not only to artistic work, but to all of the organization's activities. Choreographer Saarinen's works have captivated audiences and critics in 40 countries, including at BAM and The Joyce Theater in New York, Chaillot and Châtelet in Paris, London's Southbank Centre, Movimentos Festival (Germany), New Zealand International Arts Festival, and SIDance (South Korea), and in commissions for companies including Nederlands Dans Theater 1, Batsheva Dance Company, and Lyon Opéra Ballet. The company's international teaching program is based on Saarinen's movement technique that focuses on awakening the senses and being 360 degrees aware. Master classes and workshops for professionals and dance students are at the core, but the company also works with other target groups and does community outreach projects. Tero Saarinen Company employs a network of up to 80 professionals each year, eleven of whom work on monthly salaries. The group is the resident company of the Alexander Theatre in Helsinki. Its operations are supported by Finland's Ministry of Education and Culture and The City of Helsinki.
ABOUT THE JOYCE THEATER FOUNDATION:
The Joyce Theater Foundation ("The Joyce," Executive Director, Linda Shelton), a nonprofit organization, has proudly served the dance community for over three decades. Under the direction of founders Cora Cahan and Eliot Feld, Ballet Tech Foundation acquired and The Joyce renovated the Elgin Theater in Chelsea. Opening as The Joyce Theater in 1982, it was named in honor of Joyce Mertz, beloved daughter of LuEsther T. Mertz. It was LuEsther's clear, undaunted vision and abundant generosity that made it imaginable and ultimately possible to build the theater. Ownership was secured by The Joyce in 2015. The theater is one of the only theaters built by dancers for dance and has provided an intimate and elegant home for over 400 U.S.-based and international companies. The Joyce has also presented dance at Lincoln Center since 2012, and launched Joyce Unleashed in 2014 to feature emerging and experimental artists. To further support the creation of new work, The Joyce maintains longstanding commissioning and residency programs. Local students and teachers (K-12th grade) benefit from its school program, and family and adult audiences get closer to dance with access to artists. The Joyce's annual season of about 48 weeks of dance now includes over 340 performances for audiences in excess of 150,000.
Photo Credit: Mikki Kunttu