Rosie O'Donnell, F. Murray Abraham and More Join David Rabe's GOOD FOR OTTO at The New Group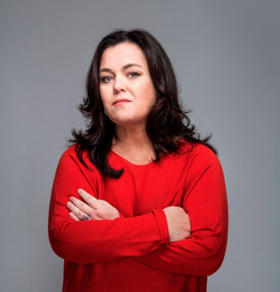 The New Group has announced additional casting and production dates for David Rabe's Good for Otto, with F. Murray Abraham, Rileigh McDonald, Rosie O'Donnell and Michael Rabe joining, as previously announced, Ed Harris and Amy Madigan in this New York premiere directed by Scott Elliott.
Previews begin February 20, 2018 in advance of an Official Opening Night on Thursday, March 8. A limited Off-Broadway engagement is slated through April 1 at The Pershing Square Signature Center (The Alice Griffin Jewel Box Theatre, 480 West 42nd Street).
Through the microcosm of a rural Connecticut mental health center, Tony Award-winning playwright David Rabe conjures a whole American community on the edge. Like their patients and their families, Dr. Michaels, his colleague Evangeline and the clinic itself teeter between breakdown and survival, wielding dedication and humanity against the cunning, inventive adversary of mental illness, to hold onto the need to fight - and to live. Inspired by a real clinic, Rabe finds humor and compassion in a raft of richly drawn characters adrift in a society and a system stretched beyond capacity.
This New York premiere of Good for Otto features F. Murray Abraham as Barnard, Ed Harris as Dr. Michaels, Amy Madigan as Evangeline, Rileigh McDonald as Frannie, Rosie O'Donnell as Nora, and Michael Rabe as Jimmy. Scott Elliott directs. Additional casting to be announced.
This marks a return for playwright David Rabe to The New Group. Earlier, The New Group presented widely acclaimed revivals of David Rabe's Hurlyburly and Sticks and Bones, both directed by Scott Elliott; and the world premiere of An Early History of Fire, directed by Jo Bonney. Additionally, Ed Harris and Amy Madigan return to The New Group with this production. Previously, they appeared at The New Group in Beth Henley's The Jacksonian, directed by Robert Falls, and Sam Shepard's Buried Child, directed by Scott Elliott. Ed Harris and Amy Madigan also appeared on the West End, in the London production of TheNew Group's Buried Child.
Good for Otto premiered at the Gift Theatre in Chicago, directed by Michael Patrick Thornton (October 5, 2015 - February 7, 2016).
The New Group's 2017-2018 Season launches with the world premiere of Seth Zvi Rosenfeld's Downtown Race Riot, directed by Scott Elliott (begins November 14, 2017) and continues in Winter 2018 withthe Off-Broadway premiere of Jerry Springer - The Opera, with music by Richard Thomas, book & lyrics by Stewart Lee and Richard Thomas and choreography by Joshua Bergasse, directed by John Rando (begins January 2018). Following this New York premiere of David Rabe's Good for Otto, the company's season concludes in Spring 2018, with the world premiere of Lily Thorne's Peace for Mary Frances, directed by Lila Neugebauer, featuring Lois Smith (begins May 2018).
Productions in The New Group's 2017-2018 Season take place at The Pershing Square Signature Center, 480 West 42nd Street.
Subscriptions and memberships for The New Group's 2017-2018 season are available now. For subscription purchases and season information, visit www.thenewgroup.org. Subscriptions can also be purchased by calling Ticket Central at (212) 279-4200, or in person at 416 West 42nd Street (12-8pm daily).
ABOUT THE ARTISTS:
David Rabe (Playwright) was born in Dubuque, Iowa, where he lived through his college years, studying creative writing under Reverend Ray Roseliep, a renowned poet. His first professionally produced plays were in New York, a Vietnam Quartet starting in 1971: The Basic Training of Pavlo Hummel, Sticks and Bones, The Orphan, and Streamers. All were produced by Joseph Papp. In the Boom Boom Room followed, as did Hurlyburly, Goose and Tom Tom, Those the River Keeps, A Question of Mercy, The Dog Problem, The Black Monk adapted from Chekov, Cosmologies, An Early History of Fire Good For Otto and Visiting Edna. His rewarding relationship with The New Group and Scott Elliott began with a Hurlyburly revival followed by An Early History of Fire and the recent Sticks and Bones. Four of his plays have received four Tony nominations. He has received the American Academy of Arts and Letters Award, and an Obie award; the Drama Desk, John Gassner Outer Critics, the New York Drama Critics Circle awards, and three times won the Elizabeth Hull-Kate Warriner Drama Guild Award. His fiction includes the book of stories A Primitive Heart, and the novels Recital of the Dog, Dinosaurs on the Roof and Girl by the Road at Night. He has three children, Jason, Lily and Michael.
Scott Elliott (Director) is an award-winning stage director, filmmaker and the founding Artistic Director of The New Group, where he most recently directed the world premiere of Hamish Linklater's TheWhirligig and the U.S. premiere of Wallace Shawn's Evening at the Talk House. Other recent New Group credits include the twice-extended hit production of Sam Shepard's Buried Child, with Taissa Farmiga, Ed Harris, Amy Madigan, Larry Pine, Rich Sommer, Paul Sparks and Nat Wolff; the critically-acclaimed Mercury Fur by Philip Ridley and the world premiere of The Spoils by Jesse Eisenberg. Also at The NewGroup, he has directed works by Thomas Bradshaw, Ayub Khan Din, Francine Volpe, Erika Sheffer, Tommy Nohilly, Joe Orton, Mike Leigh and David Rabe. Recently, he directed the acclaimed European premieres of two New Group productions at London's Trafalagar Studios: Jesse Eisenberg's The Spoils, followed by Sam Shepard's Buried Child, presented Lisa Matlin and Adam Speers for Ambassador Theatre Group.
F. Murray Abraham (Barnard) has appeared in more of Terrance McNally's plays than any other actor. His body of work includes the Greeks, Shakespeare, Moliere, Chekhov, Pirandello, Brecht, Beckett, Pinter, Mamet, Miller, and Macy's Santa; he's done live soap opera, commercials, radio, street theater, TV with Louis CK, Homeland and The Good Wife, among others; he has a Best Actor Academy Award, Golden Globe, 2 OBIES, The John Geilgud Award for Excellence in Shakespeare, and The Moscow Art Theater Stanislavsky Award, Theater Hall of Fame. His book on A Midsummer Night's Dream is published by Faber and Faber. He is also a grandfather.
Ed Harris (Dr. Michaels) starred as the enigmatic 'Man in Black" in last year's HBO series sensation, Westworld, and will reprise his role in the upcoming season. Harris also stars in the feature film Kodachrome with Jason Sudeikis and Elizabeth Olson for director Mark Raso. The film premiered at this year's Toronto Film Festival and will be released by Netflix in 2018. He can currently be seen on screen in Darren Aronofsky's mother! Harris made his feature film directing debut on Pollock, receiving an Academy Award nomination as Best Actor for his performance in the title role. His co-star, Marcia Gay Harden, won a Best Supporting Actress Oscar under his direction. Harris also directed, as well as co-wrote Appaloosa, starring opposite Viggo Mortensen. His film credits include, A History of Violence (Natl. Society of Film Critics Award), The Hours (Oscar, Golden Globe, SAG and BAFTA nominations), The Truman Show (Oscar nomination, Golden Globe Award), Apollo 13 (Oscar and Golden Globe nominations, SAG Award), In Dubious Battle, Run All Night, Frontera, The Face of Love, The Way Back, Copying Beethoven, The Right Stuff, The Abyss, The Rock, The Human Stain, A Beautiful Mind, Stepmom, The Firm, Places in the Heart, Alamo Bay, Sweet Dreams, Jacknife, State of Grace, The Third Miracle, Touching Home and Victor Nunez's A Flash of Green. Harris won a Golden Globe Award for "Best Supporting Actor," along with Emmy and SAG nominations, for his portrayal of John McCain in the Jay Roach-directed Game Change for HBO. He starred with Paul Newman in the HBO miniseries Empire Falls, for which he received Emmy, Golden Globe and SAG "Best Actor" nominations. His other television credits include The Last Innocent Man, Running Mates, Paris Trout and Riders of the Purple Sage, for which he and his wife Amy Madigan, as co-producers and co-stars, were presented with the Western Heritage Wrangler Award for "Outstanding Television Feature Film." Harris and his wife Amy Madigan made their West End debut this past November in the London production of Sam Shepard's Pulitzer Prize-winning play, Buried Child. This revival production originated on stage in Manhattan at The New Group, directed by Scott Elliott. Harris received rave reviews for his performance and an Olivier nomination in the UK. In 2012, at the Geffen Playhouse in Los Angeles, Harris starred with Amy Madigan, Bill Pullman and Glenne Headley in the world premiere of playwright Beth Henley's The Jacksonian, directed by Robert Falls. He reprised that role to critical acclaim in the play's 2014 New York premiere for The New Group. Harris received both an Outer Critics Circle Award nomination ("Outstanding Solo Performance") and a Lucille Lortel Award nomination ("Outstanding Solo Show") for the Off-Broadway production of Wrecks at The Public Theater. He originated the role, with writer/director Neil LaBute, for the play's world premiere at the Everyman Palace Theatre in Cork, Ireland and won the 2010 LA Drama Critics Circle Award for "Best Solo Performance" for the production of Wrecks at the Geffen Playhouse. His theater credits include: Ronald Harwood's Taking Sides, Sam Shepard's plays Fool for Love (Obie), and Simpatico (Lucille Lortel Award for "Best Actor"), George Furth's Precious Sons (Drama Desk Award, Tony Nomination), Prairie Avenue, Scar, A Streetcar Named Desire, The Grapes of Wrath and Sweet Bird of Youth.
Amy Madigan (Evangeline), a critically-acclaimed actress of film, television and stage, received an Academy Award nomination for Best Supporting Actress for her role in the feature film Twice In A Lifetime. Madigan can be seen next in the independent film, Stuck, with Giancarlo Esposito. She just completed shooting The Burning Woman with Sienna Miller and AaRon Paul as well as The Last Full Measure with Samuel L. Jackson. She also starred as art patroness Peggy Guggenheim in Pollock. Additional feature film credits include Frontera, Sweetwater, The Lifeguard, Gone Baby Gone, Winter Passing, Loved, Female Perversions, The Dark Half, Uncle Buck, Field of Dreams, Nowhere to Hide, Streets Of Fire, Love Letters and Alamo Bay. On television, Madigan starred in Neil LaBute's "Ten x Ten" for DirecTV. She recurred on J.J. Abrams' "Fringe" and ABC's "Grey's Anatomy" as Seattle Grace's resident psychiatrist. In addition to starring on the HBO series "Carnivàle," Madigan received a Golden Globe Award and an Emmy nomination for her performance in the telefilm "Roe vs. Wade." She also starred in Lifetime's telefilm "Living Proof." Additional telefilm credits include Lifetime's "And Then There Was One," "Shot in the Heart," HBO's "The Laramie Project," "Riders of the Purple Sage," Robert Altman's "The Laundromat," "Victims," "In The Name of the People," "Having Our Say," "A Bright Shining Lie," "Lucky Day," "The Revolt of Mother" and "The Day After." On stage, Madigan recently made her West End debut with Sam Shepard's Buried Child, which originated at The New Group (NY). She also starred in the critically-acclaimed productions of Beth Henley's The Jacksonian at The New Group (NY) and the Geffen Playhouse (LA). Other theater credits include Broadway's A Streetcar Named Desire, Mark Taper Forum's A Lie of the Mind, Manhattan Theatre Club's The Lucky Spot, Los Angeles Theatre Center's Stevie Wants To Play The Blues, LA's Prairie Avenue and Strasberg Theatre's production of In the Boom Boom Room. Madigan directed the West Coast premiere of Off the King's Road at the Odyssey Theatre in Los Angeles.
Rileigh McDonald (Frannie) is known for playing the role of Young Phoebe in USA Network's "The Sinner," Matilda in Broadway's Matilda the Musical, Jessica Majors in the hit podcast "The Ghost of Jessica Majors" and Julia in the Peabody Award-winning podcast "The Unexplainable Disappearance of Mars Patel." She lives in New York City with her family and her retired-racer greyhound.
Rosie O'Donnell (Nora) has served as America's best friend and a special inspiration to people of all ages. She was host and executive producer of the critically acclaimed and multiple Emmy Award winning nationally syndicated talk/variety series "The Rosie O'Donnell Show," did two co-host stints on ABC's "The View" and hosted the critically acclaimed Sirius/XM show, "Rosie Radio." On the big screen, Rosie has starred in A League of Their Own, Sleepless in Seattle, Another Stakeout, The Flintstones, Exit To Eden, Now and Then, Beautiful Girls, Harriet the Spy and Wide Awake, to name a few. Her stage credits include the Broadway productions of Grease, Seussical, Fiddler on the Roof, Love, Loss and What I Wore and the Encores! production of No, No, Nanette. Rosie produced the musical Taboo on Broadway. She most recently produced the stage show MotherStruck! at the Lynn Redgrave Theater. O'Donnell has been featured on several prominent TV series including: "Will & Grace," "Curb Your Enthusiasm," "All My Children," "Suddenly Susan," "Spin City," "Sesame Street," "Queer as Folk," "The Nanny," "The Larry Sanders Show," "Nip/Tuck," "Happily Divorced" and "Web Therapy," to name a few. In 2009, Rosie executive co-produced, co-wrote and starred in the Lifetime Original Film, America. Rosie recently had a reoccurring role as Foster Care mentor, Rita Hendricks, on ABC Family's "THE FOSTERS" and appeared on the hit CBS show "MOM." This fall Rosie can be seen starring in Showtime's new series "SMILF" alongside Frankie Shaw. With a strong passion for documentary storytelling and the never-ending search for truth, Rosie has partnered with HBO on several projects. She was the co-executive producer of "Rosie's Family Cruise" and "A Family is a Family is a Family: A Rosie O'Donnell Celebration" and "Don't Divorce Me." Rosie received critical acclaim with her 2015 HBO documentary, "Rosie O'Donnell: A Heartfelt Stand Up," in which she took a lighthearted approach to sharing personal details of her heart attack and recovery, raising awareness for the rarely discussed, yet massive issue of women's heart health. Rosie has also shared her gift for writing with the release of her books: Find Me (2002) and Rosie O'Donnell's Crafty U (2008). As a tireless crusader for children, she established the ROSIE'S FOR ALL KIDS FOUNDATION, which has awarded more than $30 million dollars in grants to over 1,500 child-related non-profit organizations to benefit low income families across the country. Rosie's Theater Kids provides free in-school, after-school and summer instruction in musical theater to the public school children of New York. Rosie received an incredible milestone in philanthropy when she was awarded the prestigious Isabelle Stevenson Award at the 2014 Tony Awards for her dedication, commitment and unconditional generosity towards arts education and New York City's public schools. Rosie's Theater Kids received the National Arts and Humanities Youth Program Award at the White House, given in 2015 by First Lady Michelle Obama.
Michael Rabe (Jimmy) is thrilled to be working with The New Group and this wonderful team. Upcoming projects include the film Ask for Jane and the "Big Dogs" series.
The New Group (Scott Elliott, Artistic Director; Adam Bernstein, Executive Director) is an award-winning, artist-driven company with a commitment to developing and producing powerful, contemporary theater. While constantly evolving, the company strives to maintain an ensemble approach to all its work and an articulated style of emotional immediacy in its productions. In this way, The New Group seeks a theater that is adventurous, stimulating and most importantly "now," a true forum for the present culture.
The New Group's 2016-2017 season launched with Sweet Charity, choreographed by Joshua Bergasse, directed by Leigh Silverman and starring Sutton Foster, which enjoyed three extensions and received Drama Desk, Drama League and Lucille Lortel Award nominations for Outstanding Revival; and continued with the recent U.S. premiere of Wallace Shawn's Evening at the Talk House, directed by Scott Elliott, featuring Matthew Broderick, Jill Eikenberry, John Epperson, Larry Pine, Wallace Shawn, Claudia Shear, Annapurna Sriram and Michael Tucker; the world premiere of All the Fine Boys, written and directed by Erica Schmidt, with Abigail Breslin, Isabelle Fuhrman, Joe Tippett and Alex Wolff; and the world premiere of Hamish Linklater's The Whirligig, directed by Scott Elliott, with Noah Bean, Norbert Leo Butz, Jon DeVries, Alex Hurt, Zosia Mamet, Jonny Orsini, Grace Van Patten and Dolly Wells.
In summer 2016, The New Group was represented in the West End by the acclaimed production of Jesse Eisenberg's The Spoils, and more recently, by the company's hit production of Sam Shepard's Buried Child, starring Ed Harris and Amy Madigan (November 14, 2016 - March 4, 2017). For his performance, Ed Harris received a 2017 Olivier Award nomination in the Best Actor category. Director Scott Elliott helmed both productions at London's Trafalgar Studios, presented by Lisa Matlin and Adam Speers for Ambassador Theatre Group.
Notable productions include David Rabe's Sticks and Bones, with Holly Hunter and Bill Pullman; Joel Drake Johnson's Rasheeda Speaking, with Tonya Pinkins and Dianne Wiest, helmed by Cynthia Nixon; Jesse Eisenberg's The Spoils, with Jesse Eisenberg and Kunal Nayyar; Ecstasy, This is Our Youth, Aunt Dan and Lemon, Hurlyburly, Abigail's Party, Rafta, Rafta..., The Starry Messenger, A Lie of theMind, Blood From a Stone, Marie and Bruce, The Jacksonian, Intimacy and many more. The company has received more than 100 awards and nominations for excellence. The New Group is a recipient of the2004 Tony® Award for Best Musical (Avenue Q). In 2011, The Kid received five Drama Desk nominations and the Outer Critics Award for Outstanding New Off-Broadway Musical. That year, The New Group and Scott Elliott were honored with a Drama Desk Special Award "for presenting contemporary new voices, and for uncompromisingly raw and powerful productions."
The Pershing Square Signature Center, the permanent home of Signature Theatre, is a three-theatre facility on West 42nd Street designed by Frank Gehry Architects to host Signature's three distinct playwrights' residencies and foster a cultural community. The Center is a major contribution to New York City's cultural landscape and provides a venue for cultural organizations that supports and encourages collaboration among artists throughout the space. In addition to its three intimate theatres, the Center features a Studio Theatre, rehearsal studio, a bookstore, and the Signature Café + Bar, open to the public from noon-midnight Tuesdays-Sundays.