Latest News on Ayub Khan-Din
Ayub Khan-Din Awards and Nominations
Olivier Awards - 2008 - Best New Comedy

Ayub Khan-DinRafta Rafta
Olivier Awards - 1998 - Best New Comedy
Ayub Khan-DinEast Is East
Ayub Khan-Din News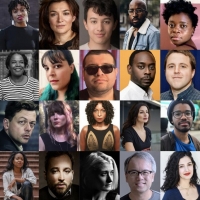 Manhattan Theatre Club Announces New Commissioning Program, New Slate Of Commissions and Inaugural Groundworks Lab For New Work Development
by Stephi Wild - Oct 27, 2021
Lynne Meadow (Artistic Director) and Barry Grove (Executive Producer) have announced a robust slate of playwright commissions through Manhattan Theatre Club's new partnership with the Edgerton Foundation, as well as a new round of commissions supported by ongoing partnerships with Bobbie Olsen and other donors.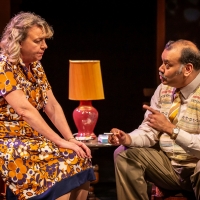 BWW Review: EAST IS EAST, National Theatre
by Jonathan Marshall - Oct 9, 2021
Ayub Khan Din's much loved modern classic East is East premiered at the Birmingham Rep back in 1996 before being adapted for the screen a few years later. In celebration of its 25th year the play arrives at the National Theatre for a limited run. Thanks to cleverly considered, often sensitive direction from Iqbal Khan and a strong and cohesive cast, the revival shows little signs of its age and instead feels as fresh, relevant, and engaging as ever.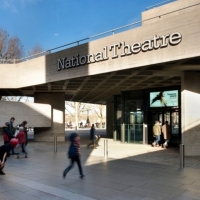 National Theatre Will Resume Full Capacity Performances From 26 July
by Stephi Wild - Jul 19, 2021
Extra tickets go on sale to the public from Monday 19 July. Tickets for The Normal Heart, East is East, Manor and Hex on sale to the public from Friday 30 July. Learn more about all of the upcoming productions here!
The National Theatre Announces New Programming and Launches 'National Theatre Together' Campaign
by Stephi Wild - Jun 4, 2021
The National Theatre has today announced its programming until the start of next year with productions on all three South Bank stages as well as three major UK tours, two productions on Broadway, a return to cinemas, and a new feature film to be broadcast on television this autumn. In the week the theatre reopened for audiences again, six new productions were announced, and five productions halted by the pandemic were confirmed to return to the South Bank.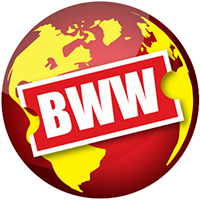 Founder Of Tara Arts, Jatinder Verma MBE, Will Step Down As Artistic Director
by Stephi Wild - Nov 19, 2019
Founder of Tara Arts, Jatinder Verma MBE, is to step down as Artistic Director, forty years after founding the ground-breaking company.

Cameron Mackintosh Gifts Mountview One Million Pounds to Complete Fundraising Campaign
by Stephi Wild - May 17, 2019
Theatre producer Sir Cameron Mackintosh has today (17 May 2019) announced a gift of £1 million to Mountview Academy of Theatre Arts in London.
The New Group Honors Edie Falco And Serge Nivelle At Annual Gala
by A.A. Cristi - Mar 4, 2019
Off-Broadway's The New Group will honor Edie Falco and Serge Nivelle at the company's Annual Gala on Monday, March 11 at Tribeca Rooftop (2 Desbrosses Street between Hudson & Greenwich).  The event will feature a performance by Brandon Victor Dixon and appearances by Peter Dinklage, Warren Leight, Erica Schmidt and Tarik Trotter. The evening, 6:00-10:00pm, includes cocktails, dinner and live auctions.

HATEF**K To Star Kavi Ladnier & Sendhil Ramamurthy; Performances Begin March 3
by Julie Musbach - Feb 5, 2019
WP Theater, in partnership with Colt Coeur, announces that Kavi Ladnier ( Just Add Magic, Heroes ) and Sendhil Ramamurthy ( Heroes, Covert Affairs ) will star in the World Premiere of the 2017 Kilroys List play Hatef**k by Rehana Lew Mirza. WP Lab Alum and 2018 Lucille Lortel Visionary Director Award winner Adrienne Campbell-Holt (WP's What We're Up Against) returns to WP Theater to direct this bracingly insightful new play, which begins Off-Broadway previews on Sunday, March 3, 2019. The four-week limited engagement through Sunday, March 31 will celebrate its official opening night on Wednesday March 13 at WP Theater (2162 Broadway).

It's Official! Dove Cameron Will Star In A Musical Adaptation of CLUELESS at The New Group; Full Cast Announced!
by A.A. Cristi - Oct 9, 2018
The New Group has just announced complete casting and the design team for Clueless, The Musical by Amy Heckerling.  This world premiere production, with choreography by Kelly Devine, directed by Kristin Hanggi, features Ephie Aardema, Lori Alan, Sara Andreas, Gilbert L. Bailey II, Dove Cameron, Will Connolly, Danielle Marie Gonzalez, Tessa Grady, Talya Groves, Chris Hoch, L'ogan J'ones, Darius Jordan Lee, Justin Mortelliti, Brett Thiele, Dave Thomas Brown and Zurin Villanueva; with Scenic Design by Beowulf Boritt; Costume Design by Amy Clark; Lighting Design by Jason Lyons; Sound Design by Gareth Owen; Projection Design by Darrel Maloney; Music Supervision, Arrangement and Orchestration by Ethan Popp and Music Direction by Matthew Smedal.  Previews begin November 20 in advance of an Official Opening Night on Tuesday, December 11.  A limited Off-Broadway engagement is slated through January 12 at The Pershing Square Signature Center (The Alice Griffin Jewel Box Theatre, 480 West 42nd Street).

Vineyard Theatre Lines Up Alan Cumming, Ngozi Anyanwu, Margot Bordelon, and More in Upcoming Season
by Julie Musbach - Jun 27, 2018
Vineyard Theatre Artistic Directors Douglas Aibel and Sarah Stern have announced the upcoming 2018-2019 Season.
Ayub Khan-Din Frequently Asked Questions
How many shows has Ayub Khan-Din written?
Ayub Khan-Din has written 1 shows including Rafta, Rafta… (Playwright).
What awards has Ayub Khan-Din been nominated for?
Best New Comedy (Olivier Awards) for Rafta Rafta and Best New Comedy (Olivier Awards) for East Is East .
What awards has Ayub Khan-Din won?
Best New Comedy (Olivier Awards) for Rafta Rafta.