Click Here for More Articles on Shutdown Streaming
Robbie Fairchild Stars in US Premiere of IN THIS LIFE- AN EXPLORATION OF GRIEF IN FIVE ACTS
The Short Film, Directed by Bat-Sheva Guez, Will Premiere Wednesday, August 5 at 8 p.m.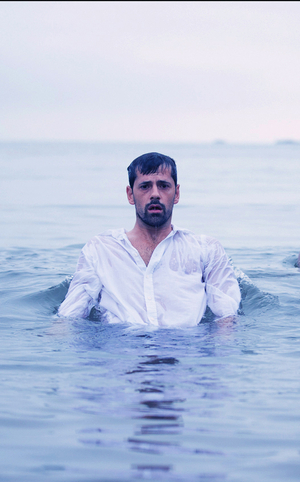 ALL ARTS has announced the US premiere of In This Life - An Exploration of Grief in Five Acts, starring Robbie Fairchild ("An American in Paris" and "Cats"). The short film, directed by Bat-Sheva Guez, will premiere Wednesday, August 5 at 8 p.m. on the ALL ARTS NY-area broadcast channel. It will also be available to watch for free nationwide on the ALL ARTS streaming app and allarts.org.
Bat-Sheva Guez co-wrote and produced the film with Robbie Fairchild, who also choreographed the final act performance titled "Acceptance." Other notable choreographers involved are Warren Craft ("Denial"), James Alsop ("Anger"), Andrea Miller ("Bargaining") and Christopher Wheeldon ("Depression").
In This Life explores grief as a painful physical experience without words. This film illustrates the five stages of grief through dance, narrative scenes and performance art, conveying the complexity of loss in the often wordless, way it impacts all our lives. It is journey of grieving the person we used to be prior to major loss and accepting the new version of ourselves, often fraught with rage and pain.
Run Time: 12 minutes
James Alsop, Warren Craft, Robbie Fairchild, Andrea Miller and Christopher Wheeldon are Choreographers. Giacomo Belletti is Cinematographer. Karen Weber is Production Designer. Kathleen Laituri, Heather Lang, Rico LeBron, Martha Nichols, Michael Rosen, Ahmad Simmons, Ryan Steele, Abby Stephensen, Cassandra Surianello and Julien Valme are Performers.
For ALL ARTS, Kristy Geslain is Senior Producer. Joe Harrell is Senior Director. Diane Masciale and Neal Shapiro are Executives in Charge.
Photo Credit: Daniel D'Ottavio
Related Articles
More Hot Stories For You
Times Square New Year's Eve Celebration Goes Virtual for 2021; Live Elements Still to be Determined
With January 1, 2021 now 100 days away, the organizers of the New Year's Eve celebration in Times Square provided a preliminary teaser of how the even...

Tommy DeVito, One of the Founding Members of The Four Seasons, Passes Away From COVID-19
Tommy DeVito, one of the founding members of The Four Seasons has died from COVID-19 at 92 years old. ...

Marc Kudisch and More Will Lead SOMETHING'S COMING, New Play on the Making of WEST SIDE STORY, Kicking Off The New Works Virtual Festival
The New Works Virtual Festival, now scheduled to take place from Sunday October 25th to Saturday the 31st, will stream video readings of 20 new script...

VIDEO: Original Tour Cast of SOMETHING ROTTEN! Reunites for Reimagined 'To Thine Own Self Be True'
The Something Rotten! 1st National Tour cast has reunited for a performance of the reimagined song, 'To Thine Own Self Be True'. The song was rewritte...

THE SHOWS MUST GO ON Returns With FAME THE MUSICAL - 30TH ANNIVERSARY TOUR
Friday 25 September, THE SHOWS MUST GO ON YouTube Channel returns with the FAME THE MUSICAL - 30TH ANNIVERSARY TOUR as part of new season: 'THE GREATS...

VIDEO: Josh Gad Recaps AVENGERS: ENDGAME as Olaf
After promising his followers to recap the latest Avenger film as Olaf once 1500 registered to vote or verify their registration, Josh Gad has deliver...