Click Here for More Articles on SUPERHERO
Review Roundup: What Did the Critics Think of Second Stage's SUPERHERO?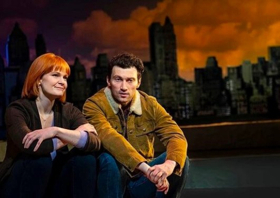 Superhero officially opened last night, February 28, 2019 at the Tony Kiser Theater (305 West 43rd Street).
The musical features Kate Baldwin, Bryce Pinkham, and Kyle McArthur, as well as Julia Abueva, Jake Levy, Salena Qureshi, Thom Sesma,and Nathaniel Stampley.
Directed by Jason Moore, Superhero features a book by John Logan and music and lyrics by Tom Kitt. The full creative team includes musical staging by Lorin Latarro, scenic design by Beowulf Boritt, costume design by Sarah Laux, lighting design by Jen Schriever, sound design by Brian Ronan, projection design by Tal Yarden, and illusion design by Chris Fisher.
Let's see what the critics are saying...
---
Jesse Green, The New York Times: "Superhero," which opened on Thursday at Second Stage Theater, in a production directed by Jason Moore, is a misfire. Authors with golden track records for serious work (the songs are by Tom Kitt; the book, by John Logan) have somehow created a musical so lugubrious and underpowered that it never gets off the ground.
Marilyn Stasio, Variety: Kate Baldwin, a marvelous Irene Molloy in the revival of "Hello, Dolly!," is the true hero here. As Simon's mother Charlotte, she does a heroic job of making a pedestrian character seem like a loving, hurting human being. Her husband died two years ago and she's still taking it on the chin, but is determined to be brave for Simon, who won't even visit his father's grave.
In her solo, "What's Happening to My Boy?," Baldwin presents a particularly moving study of a mother struggling to repair the broken bond with her son. Here, the lyrics not only work but are all the stronger for being so simply stated and so deeply felt.
Robert Hofler, The Wrap: Logan's book provides a few other characters who manage to give "Superhero" an after-school special glow. Jason Moore's direction compensates by filling the stage with superheroes that jump from Simon's notepad. Tal Yarden's scrawling projection design makes it clear that Simon possesses a limited imagination: One superhero looks pretty much like another. Only Pinkham is in a class by himself.
David Rooney, The Hollywood Reporter: There are lots of reasons to root for Superhero, not least because entirely original musicals like this one are going the way of the polar bear in a theatrical landscape of revivals, jukebox assemblies and regurgitated movies. It has a team of skilled craftsmen in director Jason Moore, writer John Logan and composer-lyricist Tom Kitt, backed by sharp design elements and appealing performances from a cast led by talented pros Kate Baldwin and Bryce Pinkham, with young newcomer Kyle McArthur. But this earnest fusion of damaged-family melodrama with comic-book fantasy only occasionally rises above the level of pleasant or cute.
Sara Holdren, Vulture: The play is skirting unpleasantly close to "Everything happens for a reason" territory, to the snug, deadening notion that there's someone kind and powerful looking out for us, even if that someone "can't save everyone." That strikes me as a singularly soft and useless notion, but despite Jim's claims to novelty, Superhero isn't attempting to feed us anything we haven't digested dozens of times before. It's feel-good theater, only living up to its title in that it keeps all of us extremely safe.
Tim Teeman, The Daily Beast: Superhero is a strange musical: charming and also awkward; right in front of you and also playing hide and seek. It is lovely to look at thanks to Beowulf Boritt's jagged frame within a frame staging of city views, as well as Jennifer Schreiver's magic-tinged lighting, and cool projections of comic book characters climbing the walls (designed by Tal Yarden). But it is also a little underwritten and wan.
Alexis Soloski, The Guardian: Pinkham has a lovely, chilling tenor and if the musical rests too heavily on Simon's puny shoulders, McArthur is likable, especially in his zero-to-hero-to-zero song I'll Save the Girl. (If the other actors are pleasant enough, their characters are comic book thin.) But this musical mostly exists as an exquisite showcase for Kate Baldwin, an actor so luminous and so specific that she makes great singing seem effortless. Is that a superpower? It should be.
Barbara Schuler, Newsday: The show, directed by Jason Moore, lives on strong performances. Baldwin is painfully raw in her portrayal of a mom in mourning, Pinkham is appropriately understated in a role that demands intense introspection, and as the teen in turmoil, McArthur, in a professional debut that suggests tremendous potential, is tender and vulnerable. There's also some truly inventive staging, as Beowulf Boritt's simple but effective set gets taken over by Tal Yarden's projections that turn the whole place into a giant comic book.
Michael Sommers, New York Stage Review: Kate Baldwin, with her bright voice and brisk naturalness, lends personal radiance to the pensive, irresolute Charlotte. Baldwin's glowing vocals blend especially well with Bryce Pinkham's shining tenor, suggesting in their duets that Charlotte and Jim might pair off as a future couple. The role of Jim is underwritten-he needs a more imaginative song to explain his character than the bleak "It's Not Like in the Movies" number he gets here-but at least Pinkham gives the guy some essentially niceness. Salena Qureshi is agreeably assertive as Vee. Kyle McArthur gives a believable, even touching, performance as Simon, a gawky teen who dreams of being somebody's sidekick.
Melissa Rose Bernardo, New York Stage Review: Superhero's real inventiveness comes in its direction (by Jason Moore, late of The Cher Show) and design: When Simon is dreaming up his Sea-Mariner stories, the character comes to life in a drawing thanks to Tal Yarden's projections. And it's not just the Sea-Mariner! We also see Crush, his villainous octopus/eel-like nemesis, and "the girl" who falls into Crush's clutches. Later, Simon presents a beautiful autobiographical comic book-style video for a school project. But these illustrated moments-which capture our attention and our hearts-are so fleeting. It's almost unfair not to draw them out.
David Cote, Observer: I wish Logan and Kitt had delved more imaginatively into the subject. What about musicalizing the life and loves of a real masked superhero-not a half-baked cipher as a metaphor for finding inner strength in the face of personal tragedy? Pinkham does a fine job instilling the awkward, lonely Jim with human emotions, as contact with Simon and Charlotte draws him out of his spaceman shell. But the whole show's premise is a MacGuffin; Jim's a Magical Martian, there to enable the growth and healing of the damaged humans.