Review Roundup: The Critics Weigh In On THE CHER SHOW On Broadway!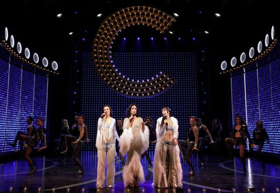 The Cher Show, a new musical based on the music icon Cher officially opens on Broadway tonight!
Superstars come and go. Cher is forever. For six straight decades, only one unstoppable force has flat-out dominated popular culture - breaking down barriers, pushing boundaries, and letting nothing and no one stand in her way.
The Cher Show is her story, and it's packed with so much Cher that it takes three women to play her: The kid starting out, the glam pop star and the icon. The Cher Showis 35 smash hits, six decades of stardom, two rock-star husbands, a Grammy, an Oscar, an Emmy, and enough Bob Mackie gowns to cause a sequins shortage in New York City, all in one unabashedly fabulous new musical.
The Cher Show features a book by Rick Elice and direction by Jason Moore. It stars Stephanie J. Block, Teal Wicks, and Micaela Diamond.
Let's see what the critics had to say!
---
Jesse Green, The New York Times: There's a fine line between tacky and spectacular. In creating costumes for Cher over the years - costumes that often tell the story of a shy woman emerging triumphant from a chrysalis - the designer Bob Mackie has kept on the right side of the line by making sure the level of craft supports the extravagance of the gesture. Sadly that's not the case with "The Cher Show," the maddening mishmash of a new musical that opened on Monday at the Neil Simon Theater. Except for the dozens of eye-popping outfits Mr. Mackie gorgeously recreates for the occasion, it's all gesture, no craft: dramatically threadbare and surprisingly unrevealing.
MIchael Dale, BroadwayWorld: While The Cher Show is flashy entertainment from start to finish, full of vibrant artists giving splashy turns, the center of it all is Block's solidly grounded acting performance, portraying a woman trying to maintain an idealized public image while privately grasping for control of her career in a business that hasn't quite heard the messages of the growing Feminist movement. Whether camping it up for "Turn Back Time" or ripping her heart out in "The Way Of Love" Block commands attention as Cher discovers her own path to liberation through self-reinvention.
David Rooney, The Hollywood Reporter: Is the show good? Certainly not in the sense of traditional musical-theater craft. Would I see it again? Duh, already planning on it. Director Jason Moore's production, which breaks new frontiers on Broadway for bare midriffs, underboobs, wigs and paillettes, unashamedly embraces its abundance of trashy-flashy, tacky vintage-Vegas kitsch. But it's also slyly fabulous and imbued with a plucky feminist spirit that's quite stirring, basically recounting the story of how the innately shy Cherilyn Sarkisian stopped letting men tell her what to do and found the strength to run her own show.
Robert Hofler, TheWrap: Being compared to television isn't a compliment in the theater, but it's probably what director Jason Moore, choreographer Christopher Gattelli and book writer Rick Elice intended: Watching "The Cher Show" is as much fun as watching old network TV, namely "The Sonny and Cher Show" on CBS. The jokes are lame, segues between scenes are blunt or nonexistent, and a general lack of inventiveness pervades the entire enterprise.
Frank Rizzo, Variety: Choosing to recreate the spirit of the television variety shows that Sonny and Cher - and then Cher sans Sonny - headlined in the '70s is a choice that lands as flat as the jokes in Broadway's latest jukebox bio, "The Cher Show." Its attempt to celebrate the resilience of its "bad-ass" star and her half-century career of highs and lows rarely rises above that TV series' taste for cliches, corn and cheese. Despite an icon with attitude, an armful of pop tunes and a can-do cast, the script never quite finds a satisfying style - or a genuine heart - as a winning stage musical. As Cher might say: Broadway's a bitch.
Greg Evans, Deadline: Believing in life after love turns out to be a surer bet than pinning your hopes on jukebox musicals, no matter how fabulous the subject. The Cher Show, opening tonight at Broadway's Neil Simon Theatre, might not disappoint anyone likely to applaud a Bob Mackie-designed Oscar gown, but neither does it do any boundary-pushing. So very un-Cher.
Adam Feldman, Time Out New York: Directed by Jason Moore, the show whirls through six decades at a dizzying pace that disguises, up to a point, that it doesn't have much to stand on. We are told a dozen times that Cher is "shy," and her mother's advice-"The song makes you strong"-is repeated more than once. But unlike the songs in, say, Beautiful, Cher's actual hits can't support that task: They are likeable but skimpy pop ditties. Rick Elice's script responds to this challenge by skipping past most of them quickly: We hear only snippets before the musical hurries on to some new montage, narration or set change. The show covers so much ground that it can't dig into any one narrative, and although Cher is known for self-exposure, the storytelling is guarded.
Tim Teeman, The Daily Beast: You want a big, loud, bright, shiny slice of Vegas on Broadway? The Cher Show, which opened tonight on Broadway at the Neil Simon Theatre, and-then-some delivers, with spangles, fishnets, big wigs, a 35-song strong jukebox of Cher hits primed, and even a fun autotune joke for when she gets to "Believe."
Allison Adato, Entertainment Weekly: If you love Cher there is probably nothing I could write here that would keep you away from The Cher Show. No discussion of thin plotting, of costumes changes subbing for character development, or of retro har-har jokes will dissuade true believers looking for a bedazzled good time.
Alexis Soloski, The Guardian: Cher's fandom is assured. The exuberant, occasionally tacky jukebox musical that tells her life story is more faltering. The Cher Show, like last year's Donna Summer musical, requires three actors (and the occasional dancer) to play one jukebox queen. Micaela Diamond is Babe, Teal Wicks is Lady, Stephanie J Block is Star. (That trio sounds cheerier than Maiden, Mother, Crone.) Together they describe the evolution of Cherilyn Sarkisian from southern California ugly duckling to the black swan entertainment queen. This is a straightforward story of female empowerment, though, as crafted by an all-male creative team, it sometimes feels more like a compilation of girl-power pep talks than an individual woman's singular journey.
Matt Windman, amNY: This meta theatrical concept is oddly appropriate for the campy concoction that is "The Cher Show." Directed by Jason Moore ("Avenue Q"), with bizarre and skimpy costumes designed by Bob Mackie and arena tour-style choreography, the production proves to be more tolerable than similar star-worship vehicles, though nowhere near as satisfying as "Jersey Boys" (The Four Seasons) or even "Beautiful" (Carole King).
Joe Dziemianowicz, The New York Post: Granted, the jukebox musical that opened on Broadway Monday night has some clumsy and dopey dialogue. The story - a 50-50 mix of narration (yawn) and not-quite-skin-deep dramatization - tracing the pop goddess' personal and professional ups and downs won't surprise those with even a passing knowledge of Cher. Or access to Wikipedia. Still, it's thrilling watching the 72-year-old diva's rags-to-riches-and-back-again life woven by wall-to-wall hits - "Bang Bang," "The Beat Goes On," "Half-Breed" and "Believe," among them.
David Finkle, New York Stage Review: Actually, Block, Wicks and Diamond are so effective at their work that it's got to be said that evidently Cher is imitable, after all. They nail Cher, about whom it might be said her vocal dynamics are what distinguish her more than the deep emotional feelings she lends a lyric. Block, in particular, who narrates throughout, is given the lengthiest share of Cher and is astounding.
Michael Sommers, New York Stage Review; A wildly entertaining affair, The Cher Show truly represents the singular superstar it chronicles: Just like the lady herself, this flashy new musical regarding the fabulous life and times of Cherilyn Sarkisian Bono Allman is funny, down-to-earth, madly flamboyant, occasionally conventional, blazing with talent, and delivers dozens of hit songs.
Sara Holdren, Vulture: I'm okay with the real thing, and even with nostalgia in YouTube-size bites - but not as the only fuel in the tank when you're trying to do a play. Put Cher, or even three Chers, on Broadway and not only do you in fact decrease the potential for expected spectacle - you've also got to try to make her into, well, theater. And that requires more than costumes, even costumes by Bob Mackie. It requires more than several good Cher impressions (Diamond, Wicks, and Block are all doing their best Janice-from-the-Electric-Mayhem voices, and Block especially sounds great belting out the brassy, vibrato-heavy hits). It requires more than wigs and wings and sailors and celebrities and tangoing gypsies and hoedown-ing cowboys. The problem isn't that it's all too much. It's that, when all the glitter's swept up, it's not nearly enough.
Chris Jones, NY Daily News: For all the obvious flaws of "The Cher Show," it's an honest, self-deprecating effort, given the givens. Vastly different and greatly improved from its Chicago tryout, which was framed around a phony TV show about Cher, the final Broadway version of the show has Block's Cher striding to center stage and proceeding to tell Cher's story strictly on Cher's terms.
David Cote, Observer: Admittedly, it's not easy to cram 50-plus years of performance and personal details into a two-and-a-half-hour spectacle with a couple of dozen songs to cover, but does it have to feel so much like a Wikipedia entry with karaoke breaks? Director Jason Moore (Shrek) plays traffic cop well enough, but Daryl Waters' synthetic orchestrations and arrangements don't differentiate the songs' periods or styles very much. When the material is not rote, it's tacky, with same-ish chorus numbers (choreographed by Christopher Gattelli) stuck before blazing banks of LED walls that twirl to diminishing returns. Meanwhile, lighting designer Kevin Adams blasts us with kliegs you'd see in a football stadium or concert, no doubt enjoying kickbacks from a leading provider of LASIK.
To read more reviews, click
here
!