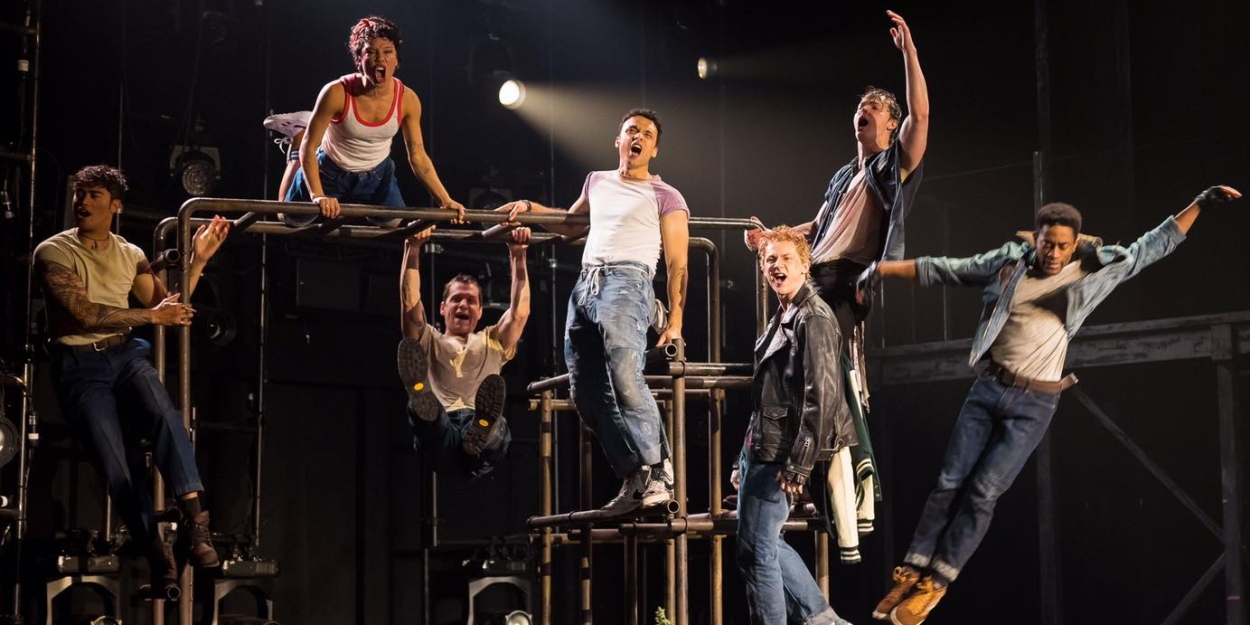 Review Roundup: THE OUTSIDERS World Premiere Opens at La Jolla Playhouse
What did the critics think?
La Jolla Playhouse's The Outsiders, the new musical adapted from S.E. Hinton's seminal novel and Francis Ford Coppola's groundbreaking film is now on stage. Featuring a book by Pulitzer Prize finalist Adam Rapp, music and lyrics by Jamestown Revival (Jonathan Clay & Zach Chance) and Tony Award winner Justin Levine; music supervision, arrangements and orchestrations by Justin Levine, and choreography by Rick Kuperman & Jeff Kuperman, The Outsiders is directed by Obie Award winner Danya Taymor. The Outsiders will begin preview performances on February 19 (press opening: Saturday, March 4).
The cast features (in order of appearance): Brody Grant as "Ponyboy," Sky Lakota-Lynch as "Johnny," Daniel Marconi as "Randy," Kevin William Paul as "Bob," Brent Comer as "Paul," Ryan Vasquez as "Darrel," Da'Von T. Moody as "Dallas," Jason Schmidt as "Sodapop," Trevor McGhie as "Two-Bit," Piper Patterson as "Cherry," Kiki Lemieux as "Marcia," along with ensemble members Annelise Baker, Jordan Chin, Milena Comeau, Barton Cowperthwaite, Tilly Evans-Krueger, Spencer McCabe Hunsicker, Sean H. Jones, L'ogan J'ones, Renni Magee, Tristan McIntyre, Junior Nyong'o, Melody Rose and Daryl Tofa.
The story that defined a generation has been reimagined as a groundbreaking new musical. Tulsa, Oklahoma, 1967, the hardened hearts and aching souls of Ponyboy Curtis, Johnny Cade and their chosen family of 'outsiders' are in a fight for survival and a quest for purpose in a world that may never accept them. A story of the bonds that brothers share and the hopes we all hold on to, this gripping new musical reinvigorates the timeless tale of 'haves and have nots', of protecting what's yours and fighting for what could be.
Let's see what the critics have to say!
---
Alexis Soloski, NY Times: "The Outsiders," despite its considerable appeal, can't yet bear too much reality. Awkward, yearning, fast on its feet, the show, like the adolescents it describes, is still trying on various identities. If "The Outsiders" means to steer its muscle cars toward Broadway, which it should, further development will almost certainly smooth these variances in focus and approach. Even now, such discord has a way of receding when the youthful, gifted performers are freed to do what they do best: to move and to sing. This is a story about conflict, internal and external, but it also allows, in songs such as "Great Expectations" and "Stay Gold," for luxuriant and surprising concordance. For the hopeless, for the loveless, for the misunderstood, which is all of us, Greaser and Soc, young and old, "The Outsiders" offers the promise of harmony.
Charles McNulty, LA Times: The musical version of "The Outsiders" lets the music by Jamestown Revival (Jonathan Clay and Zach Chance) and Justin Levine guide the storytelling. The score has a folk-rock sound that seems completely natural to the story without locking it into a specific period. The production, directed by Danya Taymor, is impressively original despite being lumpy in places and incoherent in others. Adam Rapp takes small yet noticeable liberties with the novel, adding humanizing dimensions to some of the characters in an effort to be less schematic. He's not as tough as Hinton. The violence is made real, even when it's stylized in the kinetic battle scene in the second act. The choreography by Rick and Jeff Kuperman becomes more flamboyantly muscular as bodies are pummeled in a storm that is literal as well as unapologetically metaphoric. The musical, even at this somewhat wobbly preliminary stage, holds onto the gold of Hinton's novel, transmuting it imperfectly yet courageously into hypnotic theater.
Pam Kragen, San Diego Tribune: La Jolla Playhouse's 'The Outsiders' a faithful, tuneful and muscular homage to classic '60s tale. It successfully blends the best of the book and the movie in a richly detailed story for teen and adult audiences. It reveals its characters thoughts through song lyrics that feel authentic to the book, while still delivering a cinematic-style visual punch, with muscular choreography and, yes, a dazzling rumble in the rain. With a few tweaks, this musical could be Broadway-ready, and with its unique look and sound, it could carve its own path, both with fans of the book and newcomers to the story.
Kobi Kassal, Theaterly: Rapp's book stays true to its original source material, but soars when paired with the incredible score that Jamestown Revival and Levine have cooked up. From folksy blues to mid-century Americana with a dash of Broadway, the music is refreshing and lends itself naturally to the world of the Greasers and the Socs. A duet late in Act I between Ponyboy and Cherry (Piper Patterson), a Soc girl, "I Could Talk to You All Night," is a tune that has not left my head and is certainly going to become a musical theatre staple. I wish we saw a bit more from Sodapop, the middle Curtis brother, who fades into the background with so much action happening around him.
Photo: Rich Soublet Photography