Review Roundup: Stephen Adly Guirgis' JESUS HOPPED THE A TRAIN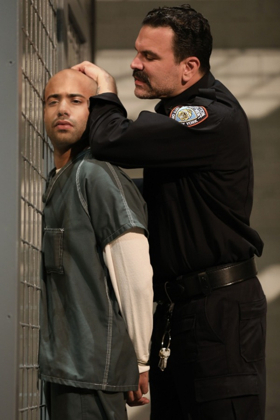 Signature Theatre presents Jesus Hopped the 'A' Train, by Pulitzer Prize-winner Stephen Adly Guirgis and directed by Obie Award-winner Mark Brokaw.
The cast includes Erick Betancourt (Julius Caesar), Emmy Award-winner Reg E. Cathey ("House of Cards"), Screen Actors Guild Award-winner Ricardo Chavira("Desperate Housewives"), Stephanie DiMaggio (A Confederacy of Dunces), Victor Rasuk ("How to Make It in America").
In Jesus Hopped the 'A' Train, Angel Cruz is a 30-year-old bicycle messenger awaiting trial for the death of the leader of a religious cult. Inside Rikers Island, a terrified Angel is befriended by a charismatic serial killer named Lucius Jenkins. Lucius has found God and been born again, and now, Angel's life and the course of his trial will be changed forever.
Let's see what the critics had to say...
Jesse Green, New York Times: Mark Brokaw's staging on a simple set by Riccardo Hernandez, sensitively lit by Scott Zielinski, is otherwise evenhanded and clean, as if not wanting to leave any fingerprints. He has rightly focused instead on shaping the cast into a superlative ensemble despite a series of setbacks: Both Mr. Carvajal and Mr. Gathegi, who are excellent, were late replacements. That's astonishing, as their roles are killers in more ways than one. The others - Stephanie DiMaggio as Hanrahan, Erick Betancourt as Charlie and especially Ricardo Chavira as the terrifying Valdez - support them, and the play's whipsawing arguments, handily.
Michael Dale, BroadwayWorld: Mark Brokaw directs a thoroughly compelling new production for Signature Theatre that graces the playwright's emotionally thick and thought-provoking piece with an excellent company.
HeLen Shaw, TimeOut NY: Signature Theatre's revival, directed by Mark Brokaw, moves a bit uneasily. Carvajal, who replaced another actor during previews, does beautifully, but DiMaggio seems to be performing for a larger room, while Gathegi infuses Lucius with fervor but insufficient danger. And the rocky production reveals a certain stasis in the play. Guirgis frequently seems content to have people speak for the sole purpose of hearing them hold forth; we could almost be at an actors' showcase, with the performers taking turns. There's enough bluster and noise between Angel and Lucius-enough tough-guy posturing and King James cadences-that we assume a real conversation is taking place. But even as the speeches build in volume and intensity, they seem less and less connected to each other, buried in an avalanche of passionate talk.
Frank Scheck, Hollywood Reporter: Jesus Hopped the 'A' Train reveals a young playwright's awkwardness with its overwritten passages and reliance on expository monologues. But it also displays incendiary passion and insight into its troubled characters, qualities that are fully realized in this riveting production staged by Mark Brokaw.
Thom Geier, The Wrap: Guirgis has written an issue play, with a capital "I," one that touches on issues of crime and punishment, free will, religion and justice. And he's built it on the back of some rat-a-tat dialogue and exchanges of ideas that continually reveal the capacity to surprise.
Marilyn Stasio, Variety: Director Mark Brokaw ("Heisenberg") has spring-wound this production so that taking too long a breath means missing something. Voices are so well orchestrated they're as complementary as the colors of a painting. Lucius is red - hot and always in danger of bursting into flames. Angel is blue - shifting shades from a deep, dark, moody blue to a pale blue that opens to the sky. Charlie is pure white and it's horrid to imagine that pure heart being sullied. And Valdez, well, he's a black-hearted thug who boasts that he prays to the devil - and just might mean it.
Related Articles