Click Here for More Articles on Jesus Christ Superstar- National Tour
Review Roundup: National Tour of JESUS CHRIST SUPERSTAR Resumes; What Are the Critics Saying?
The tour resumed performances at the Keller Auditorium in Portland, OR on September 28, 2021.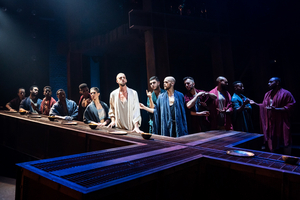 The tour of Regent's Park Open Air Theatre's Jesus Christ Superstar resumed performances at the Keller Auditorium in Portland, OR on September 28, 2021 and will continue to play over 25 cities during the 2021-2022 season including Atlanta, Boston, Chicago, Cleveland, Dallas, Seattle, San Francisco, Toronto and many more.
Aaron LaVigne returns to his role as Jesus, joined by the return of James T. Justis as Judas and Jenna Rubaii as Mary. The tour also welcomes back Alvin Crawford as Caiphas, Tommy Sherlock as Pilate, and Tyce Green as Annas. Christian A. Guerrero joins the cast as standby for Jesus and Judas.
The ensemble includes David Andre, Sara Andreas, Courtney Arango, Wesley J. Barnes, Milena J. Comeau, Lydia Ruth Dawson, Derek Ferguson, Brian Golub, Brittany Rose Hammond, Garfield Hammonds, Quiana Holmes, Darrell T. Joe, Sheila Jones, Jacob Lacopo, Paul Louis Lessard, Eric A. Lewis, Tommy McDowell, Danny Mchugh, Jenny Mollet, Sarah Parker, Erick Patrick, SandyRedd, Cooper Stanton and Chelsea Williams.
Let's see what the critics are saying...
---
Keller Auditorium - Portland, OR
Bekki, Chasing Supermom: You may know and love the music. ("What's the buzz? Tell me what's a-happening? has been in my head ALL morning.) And if the musical experience is all you take away from the live performance of Jesus Christ Superstar, you will not be disappointed. While the entire ensemble cast absolutely shines on stage, Aaron LaVigne's portrayal of Jesus was phenomenal. Jesus as a ringer for any front-man of any successful rock-and-roll band was an absolute surprise and delight for this church-girl.
Paramount Theatre - Seattle, WA
Gemma Alexander, Seattle Times: Aaron LaVigne duplicates the heavy-metal scream of Ted Neeley's Jesus in the 1973 film, but also brings a smooth tenor to more reflective moments. His version of "Gethsemane" (accompanying himself on guitar) is now my favorite. As Judas, James T. Justis has even more to do and the versatility to do it. His death deserves a place among Bel Canto's best mad scenes, while Jenna Rubaii's voice captures Mary Magdalene's sweetness to tearful effect. Unusually, the Pharisees injected humor into their sinister corruption. Alvin Crawford demonstrated much more range than is common for Caiaphas' bass, while remaining delightfully subterranean when suggesting "a more permanent solution." Paul Louis Lessard's Herod provoked cheers and laughter before he even sang a note.
Kelly Rogers Flynt, BroadwayWorld:
This tour is headlined by Aaron LaVigne as Jesus, James T. Justis as Judas, and Jenna Rubaii as Mary. This powerful trio led the way for establishing the narrative and tone of the show. LaVigne draws you in with a slow, easy manner and then builds his character through connections with others. His rendition of Gethsemane leaves no question as to who is the superstar. Justis's performance is the driving force of the show. From setting the stage to posing pertinent questions, he provokes the audience into engaging in his dilemma. His performance forces the audience to see more than one side of Judas. Rubaii as Mary is the breath of the show. When tension is building, her very presence is like a salve. Perhaps because her songs are more country rock than hard rock, but whatever the reason, Rubaii's songs and voice have the most heart. Together these three make a formidable team to lead a solid cast on the epic journey of this show.
Golden Gate Theatre - San Francisco, CA
Steve Murray, BroadwayWorld: Right from the searing opening guitar riff, this production pays homage to the historic 1971 Album of the Year, part rock, part theatrical camp and majestic opus. The 11-piece orchestra under the musical direction of Shawn Gough is just as much a character as any actor and they bring the vibrant score to life. The show, while excellently staged, does seem more like a concert, with characters holding hand mikes and Jesus strumming on a guitar.
Meghan Harvey, PopWrapped: I was so happy to have this remarkable cast serve as my welcome back to Broadway! Aaron LaVigne's Jesus, James T. Justis as Judas, and Jenna Rubaii as Mary Magdalene were spot on with their interpretations of their roles, while Alvin Crawford's Caiaphas and Tyce Green's Annas stole the stage every time they were on it, Paul Louis Lessard's maniacal Herod was perfection. But in my humble opinion it is Tommy Sherlocks' Pilate who stole the entire show.
Jay Barmann, SFIST: The extremely talented Aaron LaVigne and James T. Justis take on the roles of Jesus and Judas, respectively - and in some ways, Judas is the central figure in the story, being the narrator of this telling of Jesus's last seven days before his death by crucifixion. (Controversially, Webber and lyricist Tim Rice decided to end their story before the resurrection, because this take ends with Judas's death by suicide.) Justis has a powerful and terrific voice, and he harmonizes well with LaVigne's stratospheric rock-tenor chops.
Gabe Meline, KQED: Judas (James T. Justis), the great betrayer, brings the most pathos to the show; you believe his inner torment over selling out Jesus to Caiaphas. As Mary, Jenna Rubaii sings a perfectly serviceable "I Don't Know How to Love Him," the song of a thousand community college auditions. Annas (Tyce Green) is played as a cross between the singer for Greta Van Fleet and that one guy who quoted Monty Python nonstop in your high school cafeteria. Herod (Paul Louis Lessard) is the prissy comic relief, obviously inspired by Hamilton's King George.
Segerstrom Center for the Arts - Costa Mesa, CA
Michael Quintos, BroadwayWorld: Along the way, this fascinating hybrid of a rock opera arena concert, a Sunday morning modern-hipster MegaChurch service, and some, I suppose, after-thought musical theater-izing (yes, I made up that term), this JCS iteration mesmerizes the audience with high-budget music video production values, beautiful modern choreography (courtesy of Drew McOnie) and bombastic vocal stylings that mish-mashes various musical genres like pop, rock, alternative, R&B, and, of course, gospel.
Rachel Golkin, New University: Aaron LaVigne is remarkably human as Jesus Christ. Rather than portraying Jesus as the pinnacle of goodness and mercy, LaVigne is rough around the edges and often feels weary of his duty and conflicted about his sacrifices. The tension between his fear and his desire to do what's right climbs to a breaking point in "Gethsemane," as he guides us vocally through Jesus's final prayer before his arrest. LaVigne powers through the heavy metal ballad with gut-wrenching emotion, eventually soaring into a gritty and piercing falsetto that tapers off into a tortured growl as he resigns himself to his fate.
Christopher Trela, Newport Beach Independent: There are no weak links in this rocking chain. It moves like a thoroughbred racehorse assured of victory. And it is indeed victorious-the opening night audience gave the show a well-deserved standing ovation. It seems the light at the end of the Covid tunnel is getting brighter day by day, show by show.
William C., Stage and Cinema: The fantastic character performances in smaller roles included different rock persona presented in delightful ways. Paul Louis Lessard's Elton John-esque over-the-top King Herod strutted down a flattened cross on his 3-inch high-heeled boots and golden cloak, earning him a raucous ovation. Tommy Sherlock's Pilot captures a punk rock personality (Billie Joe Armstrong mixed with a little Adam Lambert) while his emotional vocal range and diction made his songs come off with precision and clarity.
Marcus Center For The Performing Arts - Milwaukee, WI
Christina McAlister, Shepherd Express: Jenna Rubaii's voice captured the tender character of Mary Magdalene which had the audience tearful during "I Don't Know How To Love Him." After a series of serious and emotionally raw scenes, Paul Louis Lessard (Herod) has the audience laughing and cheering before having to sing a single note. A clear audience favorite, Lessard livens the mood with platform heels, long eyelashes, and a black-and-gold bodysuit.
Emerson Colonial Theatre - Boston, MA
James Sullivan, The Boston Globe: Though it took a while for the touring cast to find their way on Thursday night, they rose to the occasion. COVID cases had resulted in substitutions in a couple of key roles. But by the time Pontius Pilate - played by Liverpudlian Tommy Sherlock as a kind of punk-rock autocrat - purposefully dropped the mic as he dismissed the Messiah figure, the swagger was real.
Clowes Hall - Indianapolis, IN
The Marriage Matinee, BroadwayWorld: There is one word to describe this production of Jesus Christ Superstar: powerhouse. Everything about the performance made it both unique and remarkably respectful of this show's historic roots.
Scott L. Miley, The Herald Bulletin: This touring production rocks loud and brash so you'll be glad if you remember the lyrics. The occasionally shredding guitars, sax and orchestra tend to drown out some singers, but not Cincinnati resident Aaron LaVigne as Jesus, who offers a well-enunciated tenor and piercing screams of heartfelt pain as well taking the stage solo for the show-stopping emotional conflict of "Gethsemane."
Tierra Carpenter, WISHTV: Appealing to both theater audiences and concert music fans, this production pays tribute to the historic 1971 Billboard Album of the Year while creating a modern, theatrical world that is uniquely fresh and inspiring.
PPAC - Providence, RI
Frank O'Donnell, What's Up Newp: Aaron LaVigne plays Jesus in this production, and he is superb. He's got the vocal chops to handle the range required. When he sings "Gethsemane," one of the show's toughest songs, he hits the high notes with ease. And he plays his plugged-in acoustic guitar as he sings. His is more a rock voice than a Broadway voice, which helps keep the show true to the original album.