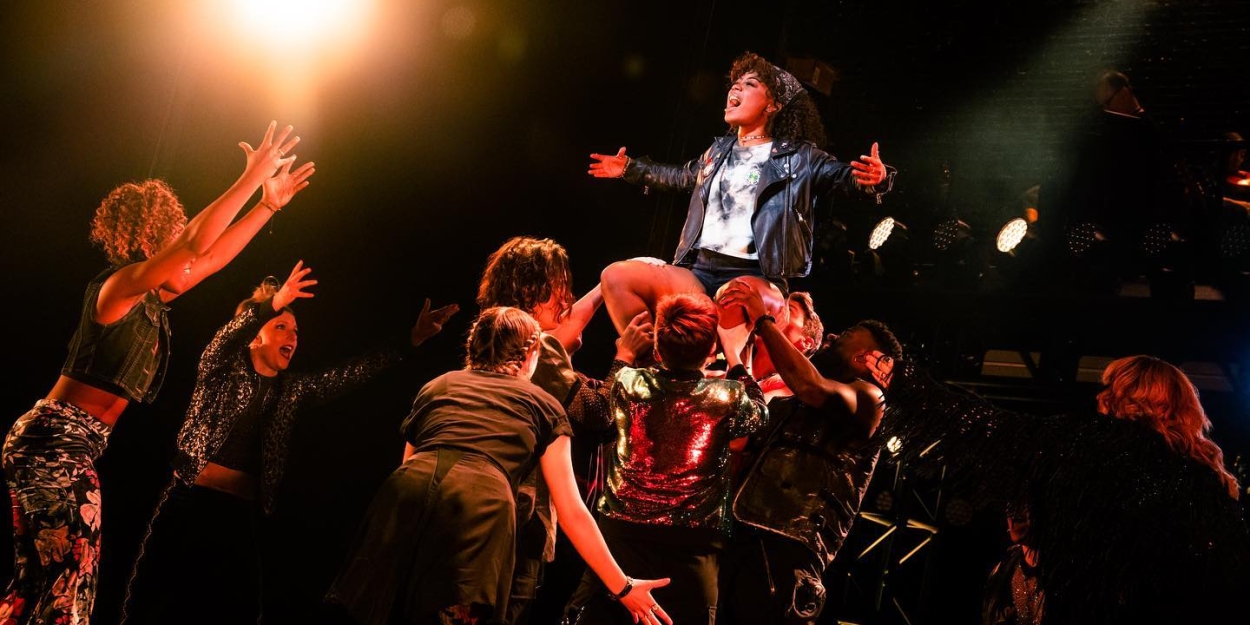 Review Roundup: JAGGED LITTLE PILL on Tour; Read All of the Reviews!
Read all of the reviews for Jagged Little Pill on tour.
The National Tour of Jagged Little Pill is now underway! The tour opened in Las Vegas on September 6.
Heidi Blickenstaff (she/her) reprises her role from the Broadway production as Mary Jane Healy, joined by Lauren Chanel (she/her) as Frankie Healy, Chris Hoch (he/him) as Steve Healy and Dillon Klena (he/him) as Nick Healy. The cast also includes Jade McLeod (they/them) as Jo and Allison Sheppard (she/her) as Bella.
The ensemble includes Lee H. Alexander (he/him), Delaney Brown (she/they), Jada Simone Clark (she/her), Lani Corson (she/her), Rishi Golani (he/him), Jason Goldston (he/they), Zach Hess (he/him), Cydney Kutcipal (they/them), Jordan Leigh McCaskill (they/she), Alana Pollard (she/they), Daniel Thimm (he/him), Kei Tsuruharatani (she/they), and Jena VanElslander. Maya J. Christian (she/her), Claire Crause (she/her), Sean Doherty (he/him) and Charles P. Way (he/him) join the cast as swings.
Learn more here.
Let's see what the critics are saying...
---
Pantages Theatre - Los Angeles, CA
Evan Henerson, BroadwayWorld: JAGGED LITTLE PILL ultimately concludes on a more upbeat note than one might expect, but amazingly the resolution does not seem false or disingenuous. Ultimately, forgiveness, growth and a new self-awareness can be powerful tools, and anger can give way to something else. If the makers of Jagged Little Pill can live with this, then we certainly can as well.
Talia Sajor, Daily Bruin: When it comes to jukebox musicals, many struggle with performing songs as mere accessories that are unrelated to the overall narrative rather than an aid to propel the story forward, but "Jagged Little Pill" overcomes this hurdle. Between the powerful themes tackled, Morrisette's meaningful songwriting and alternative-rock instrumentals, the album serves as a strong accompaniment to the script and overall show. Along with added harmonies to make her songs more suitable for a stage show, these elements formed one homogenous, joyous and heartbreaking performance.
Cori Graham, SoCal Thrills: Heidi Blickenstaff (Mary Jane) is an absolute legend. MJ's internal struggles are demonstrated early on in her performance of "Smile" which was a hauntingly beautiful performance. "Forgiven" was visually and vocally amazing, but Uninvited was the most chillingly beautiful number Blickenstaff performed. Her vocal performances were both strong and vulnerable, truly embodying who MJ is. Dillon Klena's performance of "Perfect" was heartbreaking.
Golden Gate Theatre - San Francisco, CA
Lily Janiak, Datebook: "Jagged Little Pill," which has a book by Diablo Cody (Oscar-winning screenwriter of 2007's "Juno"), also suffers the standard difficulties of jukebox musicals. Scenes feel reverse engineered to justify the inclusion of pre-existing songs. Focus keeps spiraling outward on new tangents, only to fizzle out entirely. In one especially egregious example, the setup the show comes up with for "Ironic" is a high school poetry recitation. Poetry gets one more throwaway reference, then nothing.
Jay Barmann, SFIST: That said, this is a terrific, exuberant, well written and artfully constructed show with lots to recommend it, whether you count yourself a superfan of Morissette or not - though if you hate when her songs come on the radio, it's probably best you stay away.
Paramount Theatre - Seattle, WA
Jay Irwin, BroadwayWorld: All told, this show is for a certain type of theatergoer. A Morissette fan, for sure. And as a fan, someone who already knows the lyrics of her songs. And someone who wants to have all the feels with as many hot topics as possible and isn't picky about how they're delivered. If you are any of those people, then you'll probably have a great night. Unfortunately, none of those people are me. And so, with my three-letter rating system, I give "Jagged Little Pill" at the Paramount Theatre a "I recognize the talent on stage and in the songs, but it was just too overblown for me" MEH. Not every songbook needs a jukebox musical. Just like not every issue from the headlines needs to be addressed in a single show.
Blumenthal Performing Arts Center: Belk Theater - Charlotte, NC
Penny Tannenbaum, BroadwayWorld: Duke grad Heidi Blickenstaff shows us how - and why - she won the lead role of Mary Jane on Broadway after the COVID hiatus, bringing us an affecting mix of maternal warmth, diligence, cluelessness, and neurosis. Paired with Chris Hoch as a decidedly corporate-looking Steve, Blickenstaff as MJ struck me at times as somewhat surreal delving with her partner into the marrow of Morissette's songbook.
Hippodrome Theatre - Baltimore, MD
J. Wynn Rousuck, WYPR: Based on singer Alanis Morissette's hit 1995 album of the same name, this new Tony and Grammy Award-winning Broadway musical tells a more complex story of "a perfectly imperfect American family," wrapped in renditions of songs from the potent, platinum-selling album.
Timoth David Copney, MD Theatre Guide: Book writer Cody weaves the narrative around the songs on the eponymous album and, as with any jukebox musical, the fit is usually acceptable. Though at times, it does rather fall into the round peg in the square hole mode-"we have to use this song, so let's just jam it in right here." But the story, though predictable, is nonetheless compelling, and the fact that Cody won a Tony Award for Best Book of a Musical makes it obvious that it's well constructed. It would have been nice to give Dad a little greater say, but I can forgive that.
Academy Of Music - Philadelphia, PA
Danielle Ohman, West End Best Friend: Jagged Little Pill the Musical is unapologetically raw with the topics of suicide, depression, rape, trauma, and self-identification at every turn of the play. This is not a musical that you will leave feeling hopefulness and happiness; rather you might wonder what truths or demons you hiding to make yourself conform to those around you?
Providence Performing Arts Center - Providence, RI
John McDaid, BroadwayWorld: Morisette's dense, trenchant lyrics are used to excavate the angst lurking beneath the surface of a "perfect" Connecticut family. We meet opioid-popping supermom Mary Jane Healy (played with devastating perfection by Heidi Blickenstaff, reprising her Broadway appearance), her workaholic porn-addict husband Steve (Chris Hoch) and their kids: Ivy-bound senior Nick (Dillon Klena) and adopted Black teenage daughter Frankie (Lauren Chanel). Nick struggles with ethical blind spots and Frankie explores their racial and gender identity while hiding, like their parents, behind the walls of their impeccable suburban house (and those each has created around themselves.) Rounding out the principals are Jo (Jade McLeod, whose rendition of "You Oughta Know" is a breathtaking showstopper) and Nick's classmate Bella (Allison Sheppard, in a devastating turn). The ensemble -- who populate the scenes as students, housewives, protesters, and dancers -- are uniformly excellent. Rishi Golani steps out of the chorus with a fine performance as Phoenix, Frankie's emerging love interest.
Kimberley Rau, 997 WPRO: The cast is perfection. The ensemble exists as both a type of Greek chorus and a visual delight, executing complicated dance numbers that are just as integral to the feel of the music as the singing. Lauren Chanel as Frankie is a talented actor and singer. Her vocal strengths particularly shine during "All I Really Want" and "Unprodigal Daughter." The men in the show do not get as many power numbers as the women, but Chris Hoch as Steve, Dillon Klena as Nick and Rishi Golani as Phoenix, Frankie's love interest, are all fantastic actors and vocalists.
Ken Abrams, WUN: Yes, you'll hear solid renditions of songs from the album, but don't expect to see "The Alanis Morissette Story." The production is a step up from most jukebox musicals, a genre that typically focuses on a band's origin story. In this case, the plot has nothing to do with Alanis Morisette's life any more than it does yours or mine. What you get is an authentic story centered around a suburban Connecticut family, seemingly perfect on the outside, but undoubtedly troubled from within.
Benedum Center for the Performing Arts - Pittsburgh, PA
Sue, PghLesbian: I don't want to give too much away in this "review" but I want to state that this was one of the best musicals I have seen. It was sad, funny, powerful, uplifting. To try and review this musical is a bit hard because there was just so much packed into it. The musical follows a fictional family, the Healy family, a white, upper class suburban family from Connecticut. There's mom, Mary Jane, dad Steve, son Nick and daughter, Frankie, who is adopted. The plot, in two acts with an intermission, is of course centered around the songs from Jagged Little Pill. The actress who performs as Mary Jane, Heidi Blickenstaff, was just outstanding-her vocals and acting were at the heart of the musical. (She reminded me of Martha Stewart, and her singing voice was very close to Alanis Morissette's voice.) Mary Jo's daughter, Frankie, played by Lauren Chanel, also had an amazing voice and was the moral center of the musical. One of the most powerful songs in the musical, "You Outta Know) was sung by an LGBT character, Jo (Jade McLeod). The song was at the center of Jagged Little Pill, the album, and is a powerful "kiss off" to a partner who abandons you.
Scott Tady, The Times: "Jagged Little Pill" touts itself as a story about "a perfectly imperfect American family," so maybe an imperfect opening night was apropos. The Benedum crowd didn't get flustered, and that eight-minute delay drifted deep into afterthought after a rousing stage performance that earned a lengthy standing ovation.
Fisher Theatre - Detroit, MI
Carmichael Cruz, Click On Detroit: Jagged Little Pill manages to bring to light a cornucopia of modern-day hot button issues in its two-and-a-half hours. From consent, to LGBTQIA+ rights, to addiction, these themes are explored through the lens of the Healys and how each family member handles the cracks that are unraveling after an incident that shakes up this perfect Connecticut town.
Emily Schenk, BroadwayWorld: One of the true markers of an unforgettable musical is a show that can make you feel so moved emotionally while also making you chuckle with relatable anecdotes. I loved how this show didn't shy away from the social issues but ultimately spotlighted things we often overlook. For example, the play mentions school shootings, addiction, sexual assault, and real trauma many still face while trying to express their true sexual orientation.
Ronelle Grier, The Detroit Jewish News: Given the themes of the story, it is fitting that the female characters are the backbone of the show, and these actors do more than simply meet that challenge - they exceed it by leaps and bounds. Heidi Blickenstaff, reprising her Broadway role as Mary Jane, is a fierce and versatile performer, equally effective at repressing her emotions to maintain her shaky cover as she is at belting them out in the powerful song "Forgiven" at the end of Act One.
National Theatre - Washington, DC
Anne Valentino, MD Theatre Guide: The performances in this production transcends good and verges on spectacular because of two key components: the actors and the music of Morissette. Bringing these elements together seamlessly and in a riotously entertaining way certainly would seem to be no easy feat, but director Diane Paulus pulls it off and what's more, she makes it look effortless. Heidi Blickenstaff as Mary Jane Healy leads an incredibly talented cast of actors. Blickenstaff's vocal range is impressive to say the least.
Ken Kemp, BroadwayWorld: The show tries too hard, and can't figure out what it wants to be: is it a jukebox musical? A play with music that deals with socially relevant contemporary issues? (Cody's book is filled with great dialogue and strong themes. Stripped of the music, focused more tightly on Mary Jane's struggle with addiction and how that impacts all of her family, it would be a powerful work about dysfunctional, on par with Who's Afraid of Virginia Woolf? And absent the need to have a traditional, musical theatre happy ending, it would have allowed Cody to explore different endings for the piece.) Similarly, Morrissette's music speaks for itself, and a more autobiographical take would make for a great jukebox musical in the mold of TINA - The Tina Turner Musical. (There are moments when the creative team have chosen to punctuate the more powerful anthems with blaringly bring lights and concert-style lighting effects like chases, which further confuses the concept.)
To read more reviews, click
here
!