Queer Play MASSEUR Comes to TNC Dream Up Festival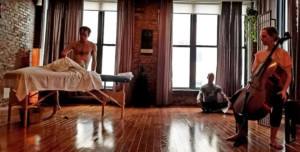 Theater for the New City (TNC) Dream Up Festival presents the world premiere of Masseur, written and directed by Christian Ávila. Masseur opens September 6, at the Cabaret Theater at Theater for the New City (155 1st Ave), with a five-performance run through September 14, 2018.
Go behind the scenes of today's male massage industry. Drawn from real life experience, Masseur reveals struggles of power dynamics, class and race. Told through the raw coming of age story of Jose, a queer Latinx massage therapist, whose rotating clients often want more than just a massage, what ensues is revelatory. The play is set to live cello that follows the choreographed movement that takes place between clients and masseur. Recommended for adult audiences. The play contains nudity and explicit content.
Christian Ávila (writer, director, producer) is a theater artist and activist based in New York City. He holds an M.A. in theater from LIU Post and a BA in Dramatic Art from UC Berkeley. Mr. Ávila has studied extensively with Ann Bogart and Siti Company. He also wrote, directed, and produced Daddy's Boy as part of the Dream Up Festival at Theater for the New City in 2015. Other credits include Big Love (A.D. to Jason Jacobs at Post Theater Company), Alice (Collaborator/Director at Post Theater Company) and Secret Love in Peach Blossom Land (Theater Dance and Performance Studies, Berkeley). Also, Mr. Ávila practices healing arts as an Integral Yoga Institute instructor and as a licensed massage therapist.
Cast includes Broderick Ballantyne: Chaos/Absolute Zero, and It's Getting Tired Mildred, The Golfer (winner of IT best ensemble award), Hamlet, The Comfort of Numbers Film and TV credits include Verses at Work and Jealous Teeth. Brandon Otis: A New York Lamentation, Black Conference. Film and television credits include The Deuce, Succession, Sweetbitter, and Swallow. Caleigh Drane: Sony Classical recording artist, performed at Lincoln Center, Carnegie Hall, Disney Hall and Auditorio Nacional of Mexico.
Creative Team includes Anna Schultz (lighting designer), Carolina Rivera (choreographer), Melissa Flower (co-director) and Jonathan Palmiotti (production manager)
The ninth annual Dream Up Festival (www.dreamupfestival.org)
Presented by Theater for the New City from August 26 to September 16. An ultimate new work festival, it is dedicated to the joy of discovering new authors and edgy, innovative performances. Audiences savor the excitement, awe, passion, challenge, and intrigue of new plays from around the country and around the world. The festival does not seek out traditional scripts that are presented in a traditional way. It selects works that push new ideas to the forefront, challenges audience expectations and makes us question our understanding of how art illuminates the world around us. In addition to traditional plays, a unique and varied selection of productions will again be offered, drawing upon a variety of performance genres including musicals, puppetry and movement theater. The Festival's founders, Crystal Field and Michael Scott-Price, feel this is especially needed in our present time of declining donations to the arts, grants not being awarded due to market conditions, and arts funding cuts on almost every level across the country and abroad.
Photo by Christian Avila (Writer-Director).