Photo Flash: Air Supply's Graham Russell and Russell Hitchcock Honored with 'Ride of Fame'
Gray Line New York, New York City's premier double-decker bus, motorcoach and entertainment company, honored iconic duo
Graham Russell
and
Russell Hitchcock
of Air Supply last Saturday, October 13, as the inaugural inductees for its prestigious Ride of Fame campaign as part of its new chapter, "Immortal, It, Imminent," or "Iii." Check out photos of the duo below!
Russell and Hitchcock were present for the ribbon-cutting ceremony at Pier 78, where a custom decal was unveiled displaying their likenesses on the front of the vehicle. In addition to a signature, open-top red double-decker bus featuring a custom decal on the front, inductees of the new 'Immortal, It, Imminent' chapter of the Ride of Fame were also honored with a "permanent seat" on their bus, outfitted with their signature decal.
As part of the event, 10 lucky fans (also known as "Airheads") received VIP access during the ribbon cutting ceremony, photo opps with Graham and Russell, autographs for memorabilia and joined the band on its inaugural double-decker bus ride to Times Square.
"This is a tremendous honor for Air Supply. We are extremely grateful to be a permanent part of New York City, the crossroads of the world!" says Graham Russell. Russell Hitchcock comments, "New York is such an iconic city that is close to our hearts, and we are truly humbled by this honor."
To wrap the special day, Air Supply performed two shows at B.B. King Blues Club & Grill. The second performance –in which one "Ultimate Fan" won tickets –featured special guest Justin Sargent who is currently starring in "Rock of Ages" on Broadway. Last spring, Sargent also appeared in an industry-only reading of "Lost In Love" –a new period musical with a "Downton Abbey" vibe featuring new and classic Air Supply songs. The book was penned by Melissa Bell.
Since 1926, Gray Line New York has been a proud staple of the New York City tourism industry, bringing visitors to all the must-see stops in NYC on its signature double-decker tour buses. A new chapter to the prestigious 'Ride of Fame' series introduces the 'Immortal, It, Imminent' inductions to cement a time capsule for each celebrities respective recognition.
Past honorees include: Vanessa Williams, Walt "Clyde" Frazier, Joe Namath, Liza Minnelli, Mary Tyler Moore, Donald Trump, Whoopi Goldberg, Bernadette Peters, Richard Dreyfuss, Rachael Ray, Henrik Lundqvist, Cyndi Lauper, Roger Maris, Marc Anthony, Kenneth Cole and Reggie Jackson.
Air Supply recently released their new Air Supply Live DVD and CD. Recorded live in Israel, the discs are now available for purchase at Air Supply shows and online. For more information and future show dates, visit www.airsupplymusic.com.
Since 1926, Gray Line New York is the source for NYC's best double-decker bus and deluxe motorcoach tours. This company operates the signature deluxe double-decker, hop-on, hop-off bus tours that include Uptown, Downtown, Brooklyn and Night loops, as well as fully escorted foreign language motorcoach city tours in German, French, Spanish and Italian. Gray Line New York's one-day excursions to Niagara Falls, Boston, Philadelphia, Washington D.C., and Woodbury Common premium shopping outlet mall are visitors' favorites too.
In addition, this tour company sells tickets to all major New York City attractions and has specialists trained to assist individuals, groups, and charter sales. Independently managed and operated.
Visit Gay Line at www.newyorksightseeing.com.
Photo Credit: Gray Line New York


Russell Hitchcock and Graham Russell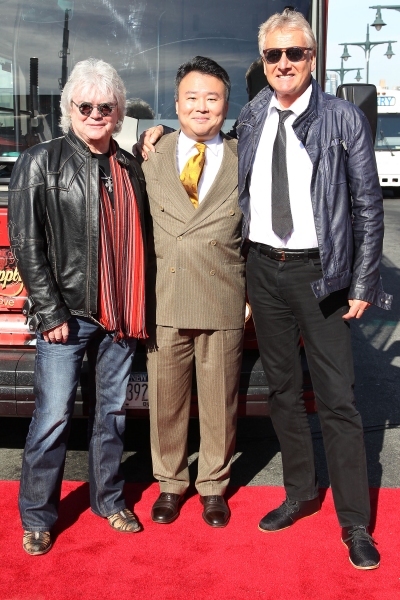 Russell Hitchcock of Air Supply, David Chien of Gray Line New York, and Graham Russell of Air Supply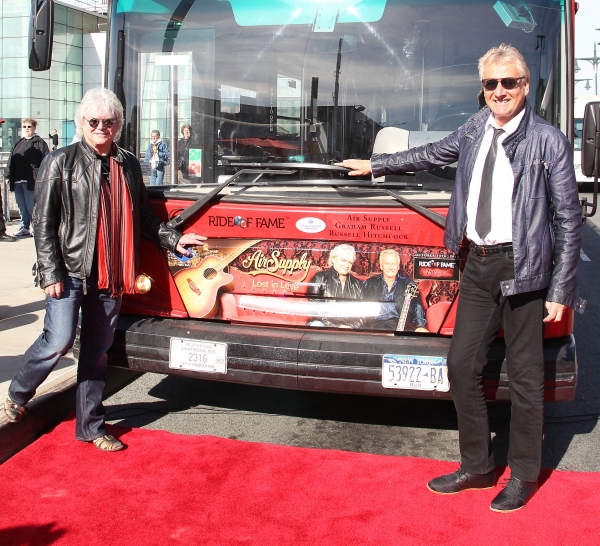 Russell Hitchcock and Graham Russell