Click Here for More Articles on A BRONX TALE: THE MUSICAL
Photos: A BRONX TALE's Chazz Palminteri Tells 'Bus' Tales as 50th Inductee into the Ride of Fame
Actor Chazz Palminteri joined the ranks of George Takei, Rachel Ray and Sir Patrick Stewart when he was inducted into the prestigious Ride of Fame this afternoon as its 50th inductee.
Chazz, who wrote the original Bronx Tale script and the book on which A Bronx Tale The New Musical is based, was recognized for his legendary career starring in over 50 films, his charitable efforts, his New York City roots and his entrepreneurial spirit.
At the ceremony, which was Chazz's first time on a double decker sightseeing bus, Chazz received a bus he could call his very own when the Ride of Fame unveiled a special decal on the front and a personalized seat up on top with a message from Chazz to the world. Chazz also shared some "bus tales" in reminiscing about his father Lorenzo who happened to be a bus driver.
Photo credit: Monica Schipper.


Actor Chazz Palminteri speaks at the Chazz Palminteri Ride Of Fame Induction Ceremony at Pier 78 on December 20, 2016 in New York City. (Photo by Monica Schipper/Getty Images for Ride of Fame)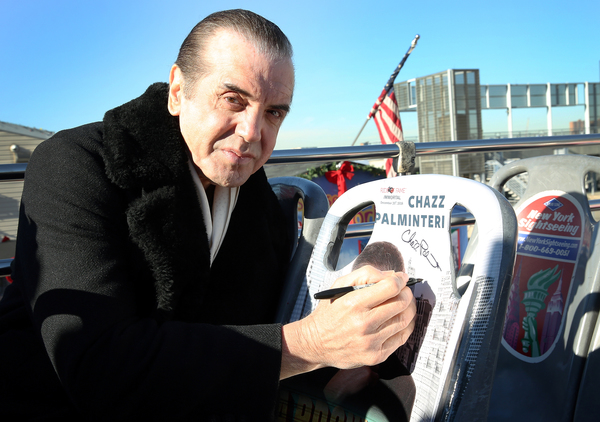 Actor Chazz Palminteri attends the Chazz Palminteri Ride Of Fame Induction Ceremony at Pier 78 on December 20, 2016 in New York City. (Photo by Monica Schipper/Getty Images for Ride of Fame)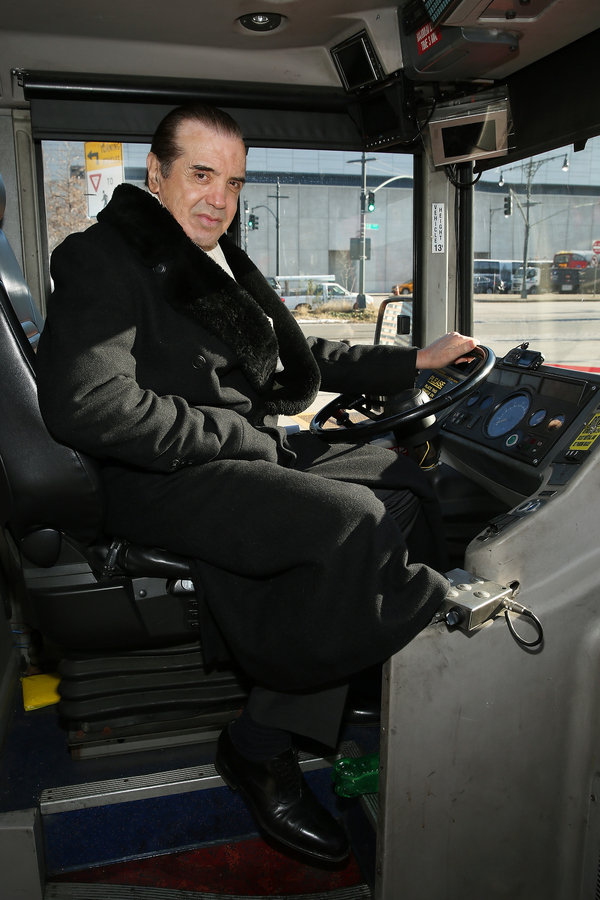 Actor Chazz Palminteri attends the Chazz Palminteri Ride Of Fame Induction Ceremony at Pier 78 on December 20, 2016 in New York City. (Photo by Monica Schipper/Getty Images for Ride of Fame)

Actor Chazz Palminteri (L) and Gianna Ranaudo attend the Chazz Palminteri Ride Of Fame Induction Ceremony at Pier 78 on December 20, 2016 in New York City. (Photo by Monica Schipper/Getty Images for Ride of Fame)

Actor Chazz Palminteri attends the Chazz Palminteri Ride Of Fame Induction Ceremony at Pier 78 on December 20, 2016 in New York City. (Photo by Monica Schipper/Getty Images for Ride of Fame)

Gianna Ranaudo and actor Chazz Palminteri attend the Chazz Palminteri Ride Of Fame Induction Ceremony at Pier 78 on December 20, 2016 in New York City. (Photo by Monica Schipper/Getty Images for Ride of Fame)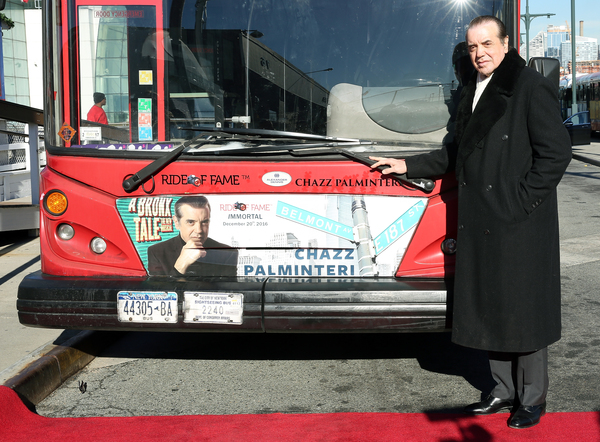 Actor Chazz Palminteri attends the Chazz Palminteri Ride Of Fame Induction Ceremony at Pier 78 on December 20, 2016 in New York City. (Photo by Monica Schipper/Getty Images for Ride of Fame)