Photo Coverage: Spamalot's World's Largest Coconut Orchestra
Monty Python's Spamalot
celebrated its first anniversary on Broadway with a rather unusual celebration. Following the matinee performance on Wednesday, March 22, cast members gathered along with audience members, and passerbys to go for the Guinness World Record™ for the "World's Largest Coconut Orchestra." All registered participants will receive a free set of commemorative coconuts.
The new musical, "lovingly ripped off" from the film Monty Python and the Holy Grail, opened on March 17, 2005 to critical and popular acclaim. Directed by Mike Nichols, Spamalot features a book and lyrics by Eric Idle, music by John Du Prez and Eric Idle, based on the screenplay of Monty Python and the Holy Grail by Monty Python creators Graham Chapman, John Cleese, Terry Gilliam, Eric Idle, Terry Jones and Michael Palin. The show won three 2005 Tony Awards, including Best Musical, and Best Director for Mike Nichols, as well as a Grammy Award for Best Musical Cast Album. The national tour recently opened to success in Boston. Other cities on the tour include Chicago, Washington D.C., Pittsburgh, Charlotte, Atlanta, Baltimore, Philadelphia, Houston, Kansas City, and Toronto.
For more information, visit www.montypythonsspamalot.com.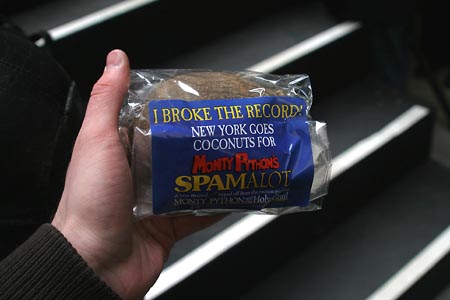 One of many coconuts that will break the world record!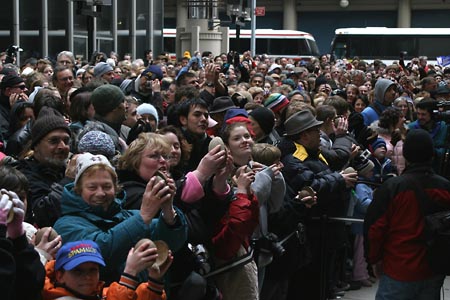 The world's largest coconut orchestra!


The world's largest coconut orchestra


The world's largest coconut orchestra


The world's largest coconut orchestra

Stuart Claxton of Guinness World Records and Christopher Sieber


Stuart Claxton


Christopher Sieber and Michael McGrath


Christopher Sieber and Michael McGrath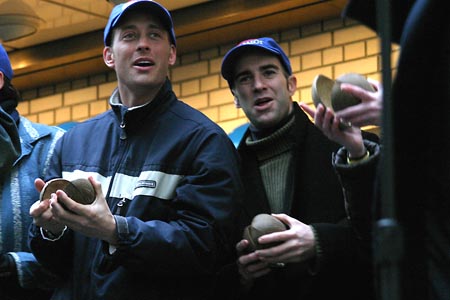 Rick Spaans and Brad Bradley


Spamalot cast members


Michael McGrath leads the audience and Spamalot cast members


Christopher Sieber and Michael McGrath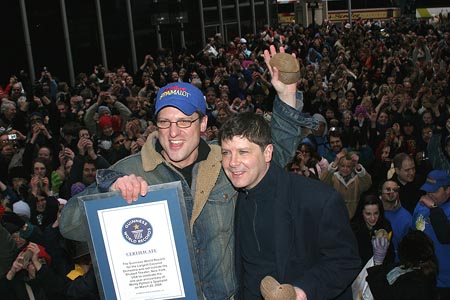 Christopher Sieber and Michael McGrath