Paul Libin Retires as President of BC/EFA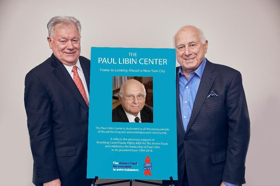 The Broadway Cares/Equity Fights AIDS Board of Trustees, at its February 22, 2018, meeting, honored Paul Libin, its president for the last 24 years, with a special $100,000 grant to The Actors Fund to create the Paul Libin Center. The center will be the New York City home for Looking Ahead, a program that helps professional young performers build community and make a healthy, successful transition to adulthood.
Libin, a beloved theatre industry leader and producer for more than six decades who recently retired as executive vice president of Jujamcyn Theaters, stepped down as president of Broadway Cares/Equity Fights AIDS at the February 22, 2018, Board of Trustees meeting. The board asked Libin to become the organization's first president emeritus; he agreed.
"When I came on board with Broadway Cares/Equity Fights AIDS, the toll of the this horrific disease was visibly present and taking a terrible human toll every day in our community," Libin said. "We couldn't not do something. And while there's been great advancement in treatment since, the need for help is as strong today as it was then. In response, Broadway Cares' mission has expanded and embraced all members of our theatrical family and people in crisis and need across country. To witness that growth and be involved with this organization for 24 years has been one of the greatest privileges and honors of my career."
Broadway Cares Executive Director Tom Viola said: "As Broadway Cares/Equity Fights AIDS' longtime president, Paul has been an incomparable champion and advocate. He has offered his counsel, personal support and strategic guidance as both a leader in the Broadway community and a friend. I will be forever grateful for both. With Paul's leadership, Broadway Cares grew from awarding grants of $2.4 million in 1994 to last year's record-breaking $12.9 million of support. The lives of hundreds of thousands of men, women and children in 'the business' and in communities across the country have been lifted up and their well-being assured because when we asked for his help, Paul said, 'Yes.'"
In recognition of Libin's extraordinary dedication to Broadway and its potential, the Broadway Cares/Equity Fights AIDS Board of Trustees awarded the $100,000 gift to The Actors Fund. The grant will establish the New York City extension of Looking Ahead, a program that helps young performers and their families adapt and thrive while in the entertainment industry and beyond. The Looking Ahead program's New York home will be named the Paul Libin Center.
Libin retired in December after a 61-year career in theatre. He has worked in nearly every capacity from actor and stage manager to lighting designer and technical director before making his mark as a company manager, general manager, managing director and producer. He produced his first play in New York in 1958 and has since had a hand in more than 250 productions on Broadway, Off-Broadway and on tour. He was the producing director of Circle in the Square Theatre for 30 years and, from 1990 until his retirement in December, was executive vice president of Jujamcyn Theaters. Libin, who's also served as chairman of the board of The Broadway League, is the recipient of 10 Tony Awards, including a Special Tony Award for Lifetime Achievement in the Theatre.
Robert E. Wankel was elected to succeed Libin as president of Broadway Cares/Equity Fights AIDS. Wankel is president and co-chief executive officer of The Shubert Organization, which owns and operates 17 Broadway theatres and six Off-Broadway venues. Throughout his 42 years with Shubert, he has been a guiding force in financial operations, creative projects, commercial real estate, Shubert ticketing services and Telecharge. Wankel has been a Broadway Cares trustee since 2009 and in 2015 joined the executive committee as executive vice president.
Wankel also plays a leading role in a variety of charitable, community and civic organizations. He is a member and immediate past chairman of the Board of Governors of The Broadway League. He is a member of the executive committee and the Board of Governors of the Times Square Alliance. He is chairman of the board of the American Academy of Dramatic Arts as well as an officer and director of The Actors Studio. Wankel also serves as chairman of The Actors Fund Housing Development Corporation and a member of The Actors Fund Chairman's Council.
"I have huge shoes to fill thanks to Paul's remarkable work," Wankel said. "I am honored to continue the important work that needs to be done and look forward to building on his exemplary leadership."
Viola added: "Bob's counsel, advocacy, oversight and friendship is of paramount importance to Broadway Cares' success. His extraordinary leadership and influence in the Broadway community has allowed our work to flourish for many years, and will allow the much-needed fundraising and grant-making to continue."
Cares/Equity Fights AIDS is one of the nation's leading industry-based, nonprofit AIDS fundraising and grant-making organizations. By drawing upon the talents, resources, and generosity of the American theatre community, since 1988 BC/EFA has raised more than $300 million for essential services for people with AIDS and other critical illnesses across the United States.

Cares/Equity Fights AIDS is the major supporter of the social service programs at The Actors Fund, including the HIV/AIDS Initiative, the Phyllis Newman Women's Health Initiative and the Samuel J. Friedman Health Center for the Performing Arts. Cares also awards annual grants to more than 450 AIDS and family service organizations in all 50 states.
For more information, please visit Broadway Cares online at broadwaycares.org, at facebook.com/BCEFA, at instagram.com/BCEFA, at twitter.com/BCEFA and at youtube.com/BCEFA.