Click Here for More Articles on LATIN HISTORY FOR MORONS
PBS to Present Behind-the-Scenes Look at JOHN LEGUIZAMO's LATIN HISTORY FOR MORONS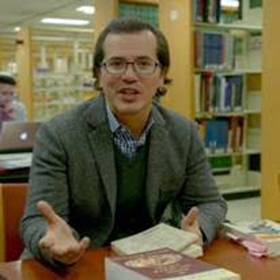 Latino Public Broadcasting (LPB), a non-profit organization funded by the Corporation for Public Broadcasting, today announced funding for eleven new projects through its 2017 Public Media Content Fund. The initiative invites independent producers to submit proposals on Latino-themed programs, series and digital projects for funding consideration.
This year's awardees include eight films and three digital media projects. Highlights include a behind-the-scenes look at the making of
John Leguizamo
's latest Broadway sensation,
Latin History For Morons
: The Road to Broadway; Harvest Season, a fresh look at the oft-forgotten people behind Napa's wine industry; a portrait of the dynamic percussionist
Sheila E
.; Semper Fidelis, about a Marine veteran's battle to reunite her family after the deportation of her undocumented husband; and Decade of Fire, a look back at the 1970s, when the Bronx was burning. "This year's funded projects truly represent the richness of our Latino culture, from the Napa vineyards to the barrios of the Bronx, from a portrait of a Rhode Island maid-turned-councilwoman to stories that explore the human realities behind our ongoing battle over immigration," says Sandie Viquez Pedlow, Executive Director of Latino Public Broadcasting (LPB). "We're delighted to support these talented filmmakers and bring their vital voices and much-needed perspectives to the public television audience." Every year LPB invites independent filmmakers to submit proposals for production, post-production and digital support. All proposals are reviewed by a group of public media professionals, station programmers, independent filmmakers, academics, and executives from national funding organizations. The 2017 awarded projects (alphabetically) are as follows:
Latin History for Morons: The Road to Broadway
Producer/Director: Ben DeJesus
Latin History for Morons: The Road to Broadway captures John Leguizamo's quest to cram 3,000 years of Latino history into one 90-minute show. Featuring exclusive behind-the-scenes footage, the film follows John's riveting process - from his early inspirations and research, to his first-ever Comedy Club tour, through workshops of the show - culminating in performances at The Public Theater in the first step to a Broadway run. Along the way, John navigates the challenges of writing (and rewriting) history lessons meant to shines a light on the rarely-told stories of Latino heroes who made their mark on America.
Councilwoman
Producer/Director: Margo Guernsey
Producer: Patricia Benabe
Councilwoman tells the remarkable story of Carmen Castillo, a hotel housekeeper from the Dominican Republic who wins a City Council seat in Providence, Rhode Island - taking her advocacy for low-income workers from the margins to City Hall. Decade of Fire
Co-Producer/Co-Director: Gretchen Hildebran
Co-Producer/Co-Director: Vivian Vazquez
Throughout the 1970s, fires consumed the South Bronx, destroying 80% of the housing stock. Black and Puerto Rican residents were blamed for the devastation even as they battled to save their communities. Now, filmmaker Vivian Vazquez, who lived through the devastation, goes back to her old neighborhood to pursue the truth: uncovering policies of racism and neglect that still define cities today. Harvest Season
Producer/Director: Bernardo Ruiz
California's Napa Valley is one of the world's premiere wine growing regions, long celebrated as an idyllic and luxurious global destination. Yet
THE VINEYARD
workers and the small producers with roots in the fields are rarely credited for the valley's famed bounty. Filmed over the course of one agricultural year, Harvest Season director Bernardo Ruiz (Reportero, Kingdom of Shadows, The Graduates/Los Graduados) delves into the rich and complex world of Napa, during the highest
STAKES
period in the wine-making process -harvest season. Hispaniola
Producer/Director: Michèle Stephenson
A spellbinding visual narrative combining magical realism sequences with compelling cinema verite, Hispaniola follows the lives of families affected by the ruling of the Dominican Republic's Supreme Court that stripped citizenship from Dominicans of Haitian descent. The film intimately reflects on the larger questions of how imposed borders, citizenship, and racial identity can define us and seal our fate. Los Hermanos/The Brothers
Producer/Director/Editor: Ken Schneider
Producer/Director/Writer/Impact Producer: Marcia Jarmel
Ilmar and Aldo López-Gavilán are virtuoso musicians born in Havana - brothers long separated by geopolitics. Ilmar left for Moscow at fourteen, sent by the Cuban government to study classical violin, while Aldo grew up mentored by Cuba's august jazz and classical pianists. After 30 years, a thaw in US-Cuba relations offers the brothers the chance for a U.S. concert tour together. But just as they hit their stride, Castro dies and
Donald Trump
is elected, making the future of their dream uncertain. Semper Fidelis (w.t.)
Producer/Director: David Sutherland
From documentary portraitist David Sutherland (The Farmer's Wife, Country Boys, Kind-Hearted Woman), Semper Fidelis examines the hot-button issue of immigration from a revealing and
UNEXPECTED
angle by following the unrelenting efforts of Elizabeth Perez, a decorated United States Marine veteran, to reunite her family after the deportation of her husband Marcos, an undocumented worker from Mexico. The Musical Legacy of
Sheila E
. (w.t.)
Producer/Director: Jennifer Steinman Sternin
Producer: Drew Denny
The world knows her as
Sheila E
., who rose to stardom in the 1980's alongside Prince, her closest musical collaborator. But
Sheila Escovedo
was anything but just a Prince protégé - she was in fact a child prodigy who was already performing onstage alongside her father, Latin Jazz great Pete Escovedo, by the time she was five. Long overdue, this new film offers an intimate portrait of an artist who continues to emerge triumphant, with the music always present as her guiding force. Digital Media Crossing
Producer/Director: Daniel Eduvijes Carrera
Crossing is a supernatural dramatic short that pays homage to the countless immigrants lost along the US/Mexico border through the story of a young family who, having lost their son to the merciless current of the Rio Grande, are stranded in a state of mourning. Ode to Pablo
Producer/Director: Adelina Anthony
Ode to Pablo is a short intersectional drama about Pablo, a Latino teenager who is also gay and deaf. Pigeon Man and Sparrow Kid
Co-producer:/Director: William Caballero
Combining live action with 3D printed sequences and super hero allusions, Pigeon Man and Sparrow Kid is a short film that tells the story of a father trying to creatively communicate his struggle with diabetes and kidney failure to his uninterested young daughter. About Latino Public Broadcasting Latino Public Broadcasting (LPB) is the leader in the development, production, acquisition and distribution of non-commercial educational and cultural media that is representative of Latino people, or addresses issues of particular interest to Latino Americans. These programs are produced for dissemination to public broadcasting stations and other public telecommunication entities. Latino Public Broadcasting provides a voice to the diverse Latino community throughout the United States and is funded by the Corporation for Public Broadcasting. Latino Public Broadcasting produces the series VOCES, PBS' signature Latino arts and culture documentary showcase and the only ongoing national television series devoted to exploring and celebrating the rich diversity of the Latino cultural experience. Between 2009 and 2016, LPB programs have won over 85 awards, including the prestigious
George Foster
Peabody Award as well as two Emmys, two Imagen Awards and the
Sundance
Grand Jury Prize. In addition, LPB has been the recipient of the
Norman Lear
Legacy Award and the NCLR Alma Award for Special Achievement. Photo credit: NGL Studios