Now Hiring: Teaching Artists, Associate Company Manager, & More - BroadwayWorld Classifieds
Looking for a Theater Job? We've got you covered!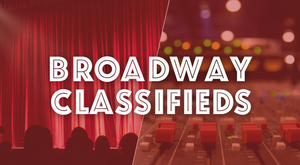 Below are BroadwayWorld's latest Classifieds listings as of 1/26/2023. Catch up below on anything that you might have missed and to visit the full section to post FREE classifieds, read ads and more, click here!
Posting listings in the Classifieds Section is totally FREE for basic listings, and our listings now include career help including accounting, taxes, designers, help wanted featuring full time jobs, internships, part-time jobs and temp work. For instruction and classes, we have listings on acting, dance, voice and voice-over lessons and coaching, as well as listings of accompanists, music production, arrangers & more.
Featured Listings This Week
New Listings This Week
Classes / Instruction: Assistant Carpenter - Opera House
Brooklyn Academy of Music (BAM) is a multi-disciplinary arts center located in Brooklyn, New York. For more than 150 years, BAM has been the home for adventurous artists, audiences, and ideas-engaging both global and local communities. With world-renowned programming in theater, dance, music, opera, film, and much more, BAM showcases the work of emerging artists and innovative modern masters. BAM's Production department is looking for an Assistant Carpenter who will work with the Head Carpent... (more)
Full Time Jobs - Administrative: Assistant Editor, TCG Books
Assistant Editor Theatre Communications Group (TCG), the national organization for the not-for-profit professional theatre, seeks a full-time Assistant Editor for its Book Program (TCG Books). This position is non-exempt and eligible for overtime. The Assistant Editor, reporting to the Co-Publisher/Editorial Director and the Senior Editor, will assist in all aspects of editorial and production work for 15-24 theatre titles per year. This is an exciting opportunity for someone who has a deep kn... (more)
Classes / Instruction: FEBRUARY & MARCH 2023 VIRTUAL OSHA 30 CLASS OSHA 30 GENERAL INDUSTRY FOR THE ENTERTAINMENT INDUSTRY
Spaces are available in the February/March 2023 OSHA 30 General Industry for the Entertainment Industry class, beginning Thursday, February 9th, 2023 and running for 5 Thursdays through March 9th 2023. Join Lankey & Limey Ltd. for live OSHA 30 video conference classes, designed specifically for the Entertainment Industry. Network with like-minded peers around the country and enjoy thought-provoking group discussions while developing the skills, tools, and resources necessary for the show to ... (more)
Temp Jobs - Administrative: Associate Company Manager
Ogunquit Playhouse is seeking an experienced Associate Company Manager for the 2023 season. The position runs approximately the end of February through the end of December. The Ogunquit Playhouse is a not-for profit organization committed to providing the highest quality musical theatre, with the best talent in the industry. Responsibilities of the Associate Company Manager include, but are not limited to: • Coordinating travel/housing/company vehicle needs for cast, crew, creatives, sta... (more)
Temp Jobs - Administrative: Assistant Company Manager
Ogunquit Playhouse is seeking an experienced Assistant Company Manager for the 2023 season. This is an entry level position that runs approximately early March through December. The Ogunquit Playhouse is a not-for profit organization committed to providing the highest quality musical theatre, with the best talent in the industry. Responsibilities include assisting the Company Manager in the following areas: • Coordinating travel/housing/company vehicle needs for cast, crew, creatives, staf... (more)
Classes / Instruction: MDD Teaching Artists in Dance & Creativity
Part-Time (W-2) Position Description Mark DeGarmo Dance is a leading and innovative New York City nonprofit organization. Its evidence-based "Partnerships in Literacy through Dance & Creativity" program was deemed "a national model" by The National Endowment for the Arts. President Barack Obama commended Mark DeGarmo and Mark DeGarmo Dance for "your service to your communities and the nation." Miss America 2019 Nia Imani Franklin endorsed the program and the Manhattan Borough President declar... (more)
Part Time Jobs - Crew: Production Coordinator
Basic Function Under general direction of the Production Supervisors, the Production Coordinator will assist the Production Supervisors and Production Specialists in the implementation of the audio, video, lighting and technical equipment for all assigned productions, events, and exhibitions. This position will be responsible for setup, facilitation, and strike of all production equipment and elements required to execute events and exhibitions in the Arts Center that are advertised to the publ... (more)
Full Time Jobs - Crew: Production Specialist
Basic Function Under the general direction of the City of Coppell's leadership and the Production Supervisors at the Coppell Arts Center, the Production Specialist will assist the Production Supervisors in coordinating the audio, video, lighting, and technical equipment for all assigned productions, events, and exhibitions. In addition to coordination, this position will also be responsible for the setup, facilitation, and strike of all production equipment and elements required to execute eve... (more)
Part Time Jobs - Non Theatrical: Theatre Attendant
Basic Function: The Coppell Arts Center is the next great addition to our City's legacy. Our goal for the Coppell Arts Center is to create a gathering place that honors local artists and presents first-class entertainment and diverse cultural experiences for the citizens of Coppell and North Texas residents. Under the general direction of the City of Coppell's leadership and the Patron Services Supervisor, the Theater Attendant is responsible for assisting staff with day-to-day business, inclu... (more)
Full Time Jobs - Administrative: Senior Administrative Assistant
Basic Function: The Senior Administrative Assistant performs a variety of administrative and fiscal functions directly related to the day-to-day activities and efficient operation of the Coppell Arts Center. This position also performs many tasks related to office management, including purchasing, and senior management support. Excellent communication and customer service skills are required, as well as the ability to handle multiple tasks simultaneously as this position is a focal point in a ... (more)
Full Time Jobs - Administrative: Patron Services Specialist
Basic Function Under the general direction of the City of Coppell's leadership and the Patron Services Supervisor at the Coppell Arts Center, the Patron Services Specialist is responsible for facilitating an incredible patron experience, serving as a front-line staff member during events to help greet guests, assist them to their seats, capitalize on opportunities to enhance their performance experience, and resolve customer service issues. In addition to creating a memorable guest experience,... (more)
Part Time Jobs - Administrative: Patron Services Coordinator
Basic Function Under the general direction of the City of Coppell's leadership and the Patron Services Supervisor at the Coppell Arts Center, the Patron Services Coordinator is responsible for facilitating an incredible patron experience, serving as a front-line staff member during events to help greet guests, assist them to their seats, capitalize on opportunities to enhance their performance experience, and resolve customer service issues. In addition to creating a memorable guest experience... (more)
Part Time Jobs - Administrative: Marketing & Development Coordinator
Basic Function Under general direction of the City of Coppell's leadership and the Marketing & Development Supervisor, the Marketing & Development Coordinator serves as the Coppell Arts Center's primary social media manager and in-house event photographer. The Coordinator's primary responsibilities include creating and executing the Center's monthly social media calendar in order to promote the facility's brand identity and hosted events, maintaining an archive of the Center's videos and event... (more)
Full Time Jobs - Administrative: Event Services Specialist
Basic Function Under the general direction of the City of Coppell's leadership and the Special Events Supervisor, the Events Services Specialist will assist the Special Events Supervisor in the coordination of the special events and private rental events at the Center. In addition to coordination, position will also be responsible for setup, facilitation, to execute events and exhibitions in the Arts Center. Demonstrated experience in hospitality, customer service and food a beverage a plus. P... (more)
Part Time Jobs - Administrative: Event Services Coordinator
Basic Function Under the general direction of the City of Coppell's leadership and the Special Events Supervisor, the Events Services Coordinator will assist the Special Events Supervisor and the Event Services Specialist in the coordination of the special events and private rental events at the Center. In addition to coordination, position will also be responsible for setup, facilitation, to execute events and exhibitions in the Arts Center. Demonstrated experience in hospitality and customer... (more)
Part Time Jobs - Creative: Director - Obsidian Theatre Festival
DESCRIPTION: The Obsidian Theatre Festival, produced by GhostLight Creative Productions, Incorporated and Nicely Theatre Group, is CALLING for Directors for its third season. ABOUT: The Obsidian Theatre Festival centers Black stories, through an invigorating celebration of new work by emerging Black voices. Produced by Detroiters in the city of Detroit, the Obsidian Theatre Festival illuminates the rich diversity of experiences relevant to the African diaspora. Our team seeks to normalize the... (more)
Temp Jobs - Creative: Playwright Submissions OPEN - Black Motherhood & Parenting New Play Festival 2023 Season
Blackboard Plays and Parent Artist Advocacy League (PAAL) partner to uplift the experiences of Black Parenthood. The Black Motherhood and Parenting New Play Festival was established to tell stories from and about Black artists with families. MISSION STATEMENT Since 2008, Blackboard Plays has been devoted to Black Playwrights throughout the African Diaspora. Blackboard Reading Series was incubated at Nancy Manocherian's the cell in Chelsea's Manhattan as a resident series for 10 years before... (more)
Part Time Jobs - Creative: Art Administration Coordinator - Obsidian Theatre Festival
DESCRIPTION: The Obsidian Theatre Festival produced by GhostLight Creative Productions, Incorporated and Nicely Theatre Group, is CALLING for an Arts Administration Coordinator for its third season. ABOUT: The Obsidian Theatre Festival centers Black stories, through an invigorating celebration of new work by emerging Black voices. Produced by Detroiters in the city of Detroit, the Obsidian Theatre Festival illuminates the rich diversity of experiences relevant to the African diaspora. Our ... (more)
Part Time Jobs - Crew: Production Show Crew
As a theme park built around a working movie studio, we're all about lights, camera, action. Working with us means thriving in a fast-paced environment as we work as a team to create a seamless experience for our guests. From Attractions, to Parking, to Wardrobe, to Park Services, and more, here you can be part of a team that helps make memorable moments for our guests each and every day. Join us for a once in a lifetime opportunity. Show Crew supports the operation of theatrical shows by set... (more)
Temp Jobs - Creative: SheATL Script Submissions NOW OPEN
Script Submissions Now Open! Script submissions for the 2023 SheATL Theater Festival are now open. Submit your full-length play or musical before March 1, 2023 at 11:59pm! What kind of shows we accept: Full-lengths only (running time between 1 and 2 hours) Plays, musicals, or adaptations The writing team must be at least 50% marginalized genders (cis women, trans men and women, and non-binary people) The writing team must be based in the Southeast United States What kind of shows we ... (more)
Temp Jobs - Creative: Actors Studio 66 Announces Auditions for The Drawer Boy
Actors Studio 66 Announces Auditions for The Drawer Boy by Michael Healey. Marc Comstock will be directing this production. Auditions are scheduled for the weekend of Feb 4, 2023, at the Black Cat Cultural Center, , Albuquerque, NM 87106. Sat - Feb 4: 1-4pm Sun - Feb 5: 6-8pm Mon - Feb 6 evening, callbacks if necessary Additional information regarding the available roles, rehearsal and performance dates is available on our website - https://www.actorsstudio66.org/audition-info. If you are... (more)
Full Time Jobs - Creative: Obsidian Theatre Festival 2023 Casting Call
The Obsidian Theatre Festival centers Black stories, through an invigorating celebration of new work by emerging Black voices. Produced by Detroiters in the city of Detroit, the Obsidian Theatre Festival illuminates the rich diversity of experiences relevant to the African diaspora. We have just completed our 3rd Annual call for submissions, and our review panel is in the process of finalizing our semi-finalists. As the plays are confirmed we will be casting from this call's submissions. S... (more)
Full Time Jobs - Administrative: Budget Manager
BAM (Brooklyn Academy of Music) is a home for adventurous artists, audiences, and ideas-engaging both global and local communities with world-renowned programming in theater, dance, music, opera, film, and much more. With an annual operating budget of approximately $50 million -the majority dedicated directly or indirectly to programming-BAM is a leading presenter of emerging and contemporary artists. The Budget Manager role supports and plays a key role in managing BAM's organizational budg... (more)
Temp Jobs - Creative: Casting for production of Church Basement Ladies
Now casting for Church Basement Ladies at Kincaid Regional Theatre. CHURCH BASEMENT LADIES Inspired by the books of Janet Letnes Martin and Suzann Nelson, including the best seller GROWING UP LUTHERAN Written by Jim Stowell and Jessica Zuehlke Music and Lyrics by Drew Jansen WHEN Wednesday, February 1, 2023, 6:30pm to 8:00pm ​ ​ REQUIREMENTS - 16 - 24 bars of a song in the style of the show - 1 minute Monologue showcasing your storytelling skills - Resume - Headsh... (more)
Temp Jobs - Creative: Student Auditions for Anansi the Trickster Spider of Africa
We are looking for high school and college theatre students to act in the children's play, "Anansi, the Trickster Spider of Africa" for a new children's theatre in Los Angeles. You will gain experience with the professional aware winning theatre director, Cheryl Collins. A small stipend is available. If you have a headshot/resume, please email to themetsm@gmail.com and bring it the audition. Audition Information below: Location: Founder's Church 3281 W 6th St ... (more)