Music For Life International Presents BEETHOVEN FOR THE ROHINGYA At Carnegie Hall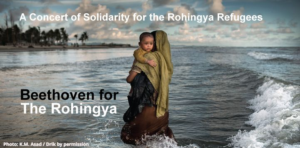 Music for Life International continues its decade-long tradition of global humanitarian concerts with Beethoven for The Rohingya, a benefit concert featuring Beethoven's monumental Ninth Symphony, presented in the Stern Auditorium/Perelman Stage at Carnegie Hall on Monday, January 28, 2019. Beethoven for The Rohingya is an urgent call to the global community to raise awareness for the nearly 1 million Rohingya refugees fleeing what the United Nations have defined as genocide in Rakhine State in Myanmar. Refugees, who are seeking safety in Bangladesh, Thailand, Malaysia, Indonesia, and other nearby locations, are grossly lacking access to healthcare when it is needed most; net proceeds from this performance will benefit Doctors Without Borders/Médécins Sans Frontières (MSF), which provides medical aid to those who are among the world's most vulnerable.
Beethoven for The Rohingya is the eighth in a series of global humanitarian concerts presented by Music For Life International at Carnegie Hall. Music for Life International, which gathers together distinguished artists from the world's finest orchestras, ensembles and institutions, has built its model and fine reputation on the concept that music itself is a vital source of energy, compassion, and universality and has raised more than $3.2 million in response to various humanitarian crises since its inception. Beethoven's Ninth Symphony will be led by conductor and Music For Life Artistic Director, George Mathew, and will feature renowned American violinist, Elmira Darvarova, soprano Indra Thomas, mezzo-soprano Sarah Heltzel, tenor Sean Panikkar, and bass Soloman Howard, with remarks by Dr. John Lawrence, President, Board of Directors of Doctors Without Borders.
American cultural giant, artistic icon of the Beat Generation and 20th century musical titan David Amram will conduct his own Elegy for Violin and Orchestra, with Darvarova as the soloist. Amram's poignant and deeply elegiac poem of lyrical yearning is offered as a memorial for the dead for whom intervention comes too late. With this concert, Amram makes his first conducting appearance at Carnegie Hall in more than 50 years, when he was the New York Philharmonic's first Composer-in-Residence, appointed by Leonard Bernstein.
Maestro Amram reflects on the concert, "Beethoven for The Rohingya is not only a musical feast for those who participate and share what we love to do, but it also shows that in 2019, New York remains a place where we welcome refugees and immigrants. This concert celebrates the spirit of generosity, the hallmark of the great classical music, which continues to survive the test of time and inspires those who create, as Beethoven and Schiller did, for the immortal Ninth Symphony."
Beethoven for The Rohingya comprises many of the finest classical musicians of the day, representing more than 70 international ensembles and organizations, their artistry donated. The Montclair State University Chorale performs the colossal choral score with conductor Heather J. Buchanan in their Carnegie Hall debut.
Music For Life International Founder and Artistic Director George Mathew remarks that, "This performance and Beethoven's vast final symphony are clarion calls to all people everywhere to recognize our common humanity. The Ninth is a symphonic statement against discrimination and against religious and ethnic persecution of any kind whether anti-Semitism, islamophobia or the virulent anti-immigrant sentiment rising up all over the world." He observes, "coming one day after World Holocaust Remembrance Day on January 27th, 2019, while the United Nations holds its UN Holocaust Memorial, Beethoven for The Rohingya, seeks to remind all of us, why Beethoven's own words in the Ninth Symphony 'Friends, NOT these horrific sounds but let us give voice to something better and more joyful,' speaks to all who say 'never again.'"
About the Ninth Symphony, George Mathew observes, "Beethoven himself makes a musical point in the Finale which is at the heart of our mission with this concert. Writing in an earlier era of tension between East and West, Beethoven sets the famous Ode to Joy to percussion instruments of the Turkish military tradition, i.e. music of the Islamic world, to provide rhythmic stability and indeed security for the German (western) setting of the famous tune. At that moment Beethoven seems to become the voice of a whole civilization in a rare moment of embrace of another civilization. Two hundred years later, it appears we still have much to learn from this great wise man of music and the world." Mr. Mathew noted, "In gathering together as a community of musicians, listeners, and supporters we are sending a message of solidarity and human support to our Rohingya brothers and sisters. There is no more fitting way that we can respond to this 21st century genocide perpetrated on the Rohingya people, currently one of the most vulnerable minorities on earth."
For more information visit www.beethovenfortherohingya.org
Tickets: carnegiehall.org | CarnegieCharge (212) 247 - 7800 | Box Office at 57th St, Seventh Avenue ,