Marilu Henner Joins the Cast of GETTIN' THE BAND BACK TOGETHER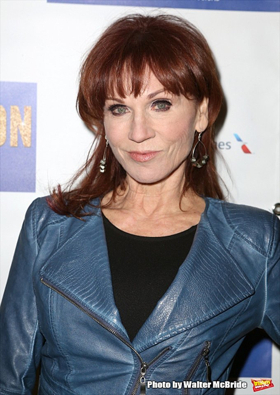 The upcoming Broadway run of Gettin' The Band Back Together has announced that TV legend and Broadway veteran Marilu Henner has been cast as "Mitch's Mom," aka Sharon Papadopolous.
Five-time Golden Globe nominee, Marilu Henner rose to national fame for the role of Elaine Nardo on TV's long running comedy hit, "Taxi" and is no stranger to Broadway where she's been seen in Charles Busch's The Tale of the Allergist Wife, Chicago, Andrew Bergman's Social Security, Pal Joey, Over Here!, and Grease. She said, "I'm so glad to be coming back to my roots. I love the character so much as well as the cast and production team. It will be a blast."
She joins the previously announced company: Mitchell Jarvis (Mitch Papadopolous); Jay Klaitz (Bart Vickers), Paul Whitty (Michael "Sully" Sullivan), Sawyer Nunes (Ricky "Bling" Goldstein), Brandon Williams (Tygen Billows) and Tamika Lawrence (Roxanne Velasco).
Casting of the final band member, keyboard player Dr. Rummesh "Robbie" Patel, as well as the rest of the company, will be announced at a later date.
The production, which is directed by Tony Award winner John Rando and choreographed by Chris Bailey, will begin preview performances on July 19 at the Belasco Theatre (111 W 44th Street) with the official opening set for August 13.
Gettin' The Band Back Together has music and lyrics by Mark Allen and a book by Ken Davenport and The Grundleshotz with additional material by Sarah Saltzberg. The creative team includes Tony Award winners Derek McLane (Scenic Design), Emily Rebholz (Costume), Ken Billington (Lighting Design) and John Shivers (Sound Design).
Gettin' The Band Back Together is produced by Hunter Arnold, Roy Putrino, Carl Daikeler, Rob Kolson, Richard Roth, H. Richard Hopper, Diego Kolankowsky, Judith Manocherian, and Ken Davenport. The Associate Producers for the production are Kayla Greenspan, Valerie Novakoff and Brian Cromwell Smith.
Mitch Papadopolous always dreamed about being the next Bon Jovi, but he chose security over stardom and left those daydreams behind for a day job. For a while he thought he had everything - the high paying job, the high-rise apartment - until his 40th birthday when he got handed a pink slip and had to move back in with his mom in Sayreville, New Jersey.
And when his high school arch nemesis threatens to foreclose on their house, this big-shot banker must save his small-town home the only way he can... by winning The Battle of the Bands.
So he dusts off his guitar, gathers his old gang, and sets out to win the battle... and maybe even win back the high school sweetheart he left behind... proving it's never too late to give your dreams one last shot.
Tickets for Gettin' The Band Back Together are on sale through www.Telecharge.com / (212) 239-6200. Group tickets are available at www.YourBroadwayGenius.com or by calling 855-329-2932.
Free original cast recording available at: www.GettinTheBandBackTogether.com
Marilu Henner (Mitch's Mom) has starred in six Broadway shows, two national tours, 50 films including movies for television, and two classic iconic sitcoms ("Taxi", "Evening Shade"). She is a five-time Golden Globe Award nominee as well as a New York Times Best Selling Author with her 10 books. Marilu also performs her one woman show "A Memorable Evening with Marilu Henner" across the country.