Judith Light, Vanessa Williams and More Join RIGHT BEFORE I GO. Benefit for Suicide Awareness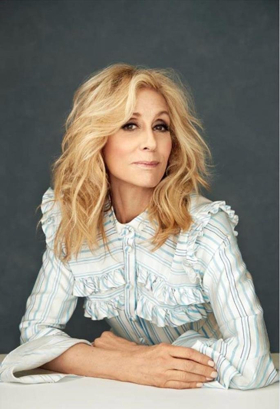 Producers announced today that two-time Emmy and Tony Award-winner Judith Light, multiple Grammy, Tony and Emmy Award nominee Vanessa Williams, stage and screen star Lois Smith, and Wilson Bethel will join the cast of the New York City premiere of Stan Zimmerman's Right Before I Go. Ms. Williams will serve at the host for the evening.
Directed by Michael Wilson, Right Before I Go. will be performed as a one-night-only benefit on Monday, December 4, 2017 at Town Hall (123 W 43rd Street). A student panel / talkback will take place at 6:30 PM; a VIP pre-show cocktail reception will begin at 7:00 PM followed by an 8:00 PM performance.
Proceeds will benefit prominent suicide awareness and prevention charities, American Foundation for Suicide Prevention (afsp.org) and JED Foundation (JEDFoundation.org). Additional casting will be announced shortly.
The previously announced cast for Right Before I Go. includes Elizabeth Ashley, Ellen Burstyn, Maggie Lacey, Jennifer Lim, Maulik Pancholy, and Raviv Ullman.
Judith Light is known for her extensive body of work on stage, in television, and film. She currently stars in Amazon Prime's Gold Globe-winning series, "Transparent," for which she has received two Emmy nominations. On stage she received a Tony nomination for the play Lombardi, followed by two consecutive Tony Award wins for the plays Other Desert Cities and The Assembled Parties. Light starred in the television series "Who's the Boss," and received two consecutive Emmy Awards for her work on "One Life to Live." She has been a longtime advocate in the fight to end HIV/ Aids and has been a champion for LGBTQ & human rights.
Vanessa Williams is one of the most respected and multi-faceted performers in the entertainment industry today. Having sold millions of records worldwide, Vanessa has also scored numerous #1 and Top 10 hits on various Billboard Album and Singles charts. Her critically acclaimed work in film, television, recordings and the Broadway stage has been recognized by every major industry award affiliate including 4 Emmy nominations, 11 Grammy nominations, a Tony nomination, 3 SAG award nominations, 7 NAACP Image Awards and 3 Satellite Awards. Her platinum single "Colors of the Wind," from the Disney film Pocahontas, won the Oscar, Grammy and Golden Globe for Best Original Song.
Lois Smith recently appeared in both the feature film and Playwrights Horizons production of Marjorie Prime, and can also currently be seen in the feature Lady Bird. She appeared at the Signature in Annie Baker's John, for which she received a Lucille Lortel nomination; Tony Kushner's The Illusion; and Horton Foote's The Old Friends and The Trip to Bountiful, winning many awards for the latter. Other favorite stage roles include The Grapes of Wrath and Buried Child (Tony nominations for both). Smith has been seen in countless films, including East of Eden, Minority Report, Fatal Attraction, and Four Friends. Television credits include "Sneaky Pete," "Younger," "Blacklist," "Grace & Frankie," and "True Blood."
Wilson Bethel is best known for his roles as Wade Kinsella on "Hart of Dixie" and as Ryder Callahan on the CBS daytime soap opera "The Young and the Restless." He is also the star and creator of the web series "Stupid Hype" on the The CW's new online platform CWD.
A student panel will take place prior to the performance, starting at 6:30 PM at Town Hall. Open to high school and college student groups attending the performance, the panel will include representatives from each of the beneficiary organizations (AFSP.org and JEDFoundation.org) along with a trained representative from the Traumatic Loss Coalition (TLC) and Wendy Sefcik of Remembering TJ. Please email RightBeforeIGo@gmail.com for more information and to reserve tickets.
Right Before I Go. brings to life the last words of those lost to suicide, including the heartsick, bullied, veterans, mentally ill and the achingly lonely. This poignant, deeply moving, and surprisingly light play invokes a raw and authentic approach to storytelling in an effort to help broaden public perspective of suicide, eliminate the stigma associated with depression, and strengthen the relationship between survivors and those struggling every day.
Right Before I Go. made its world premiere as part of the Hollywood Fringe Festival in 2015, where it received rave reviews.
Proceeds from the evening will benefit American Foundation for Suicide Prevention and the JED Foundation.
Tickets for Right Before I Go. are available starting at $52 and can be purchased online at RightBeforeIGo.com or TicketMaster.com, by calling 800-745-3000, or in person at the Town Hall Box Office (123 W 43rd Street). Tickets purchased at the $252 level and above come with admission to an exclusive VIP pre-show cocktail reception.
Right Before I Go. is produced by R. Erin Craig, La Vie Productions, Amy Blavin, Diane Orley, Jane Dubin, Ryan Ratelle, Melissa Chusid, Fireplay and One Company.
The National Suicide Prevention Lifeline provides free and confidential emotional support to people in suicidal crisis or emotional distress 24 hours a day, 7 days a week, across the United States. If you, or someone you love, is in crisis call 1-800-273-8255.
The Crisis Text Line serves anyone, in any type of crisis, providing access to free, 24 hours a day, 7 days a week support and information via the medium people already use and trust: text. Text HOME to 741741 from anywhere in the U.S., anytime, about any type of crisis.
Fore more information, visit RightBeforeIGo.com.
Established in 1987, the American Foundation for Suicide Prevention (AFSP) is a voluntary health organization that gives those affected by suicide a nationwide community empowered by research, education and advocacy to take action against this leading cause of death. Led by CEO Robert Gebbia and headquartered in New York, and with a public policy office in Washington, D.C., AFSP has local chapters in all 50 states with programs and events nationwide. AFSP celebrates 30 years of service to the suicide prevention movement. Learn more about AFSP in its latest Annual Report, and join the conversation on suicide prevention by following AFSP on Facebook, Twitter, Instagram, and YouTube. www.afsp.org
JED is a nonprofit that exists to protect emotional health and prevent suicide for our nation's teens and young adults. We're partnering with high schools and colleges to strengthen their mental health, substance abuse and suicide prevention programs and systems. We're equipping teens and young adults with the skills and knowledge to help themselves and each other. We're encouraging community awareness, understanding and action for young adult mental health. www.jedfoundation.org