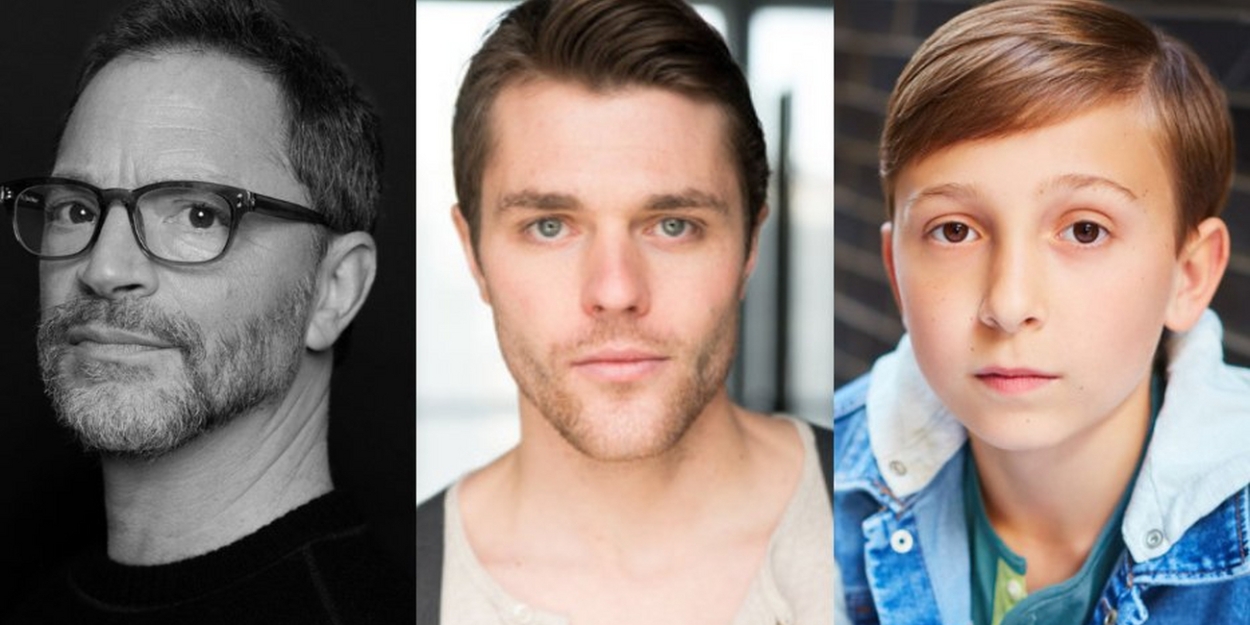 Joshua Malina to Join the Cast of LEOPOLDSTADT in March; David Krumholtz, Caissie Levy & More to Depart
Dave Register (Harry Potter and the Cursed Child) also joins the company in the role of Fritz, and Cody Braverman joins in the role of Young Leo in March.
New cast members will be joining Leopoldstadt, Tom Stoppard's Olivier Award-winning Best New Play, directed by two-time Tony Award nominee Patrick Marber, now playing through July 2, 2023 at the Longacre Theatre (220 West 48th Street) on Broadway.
Beginning Tuesday, March 14, Joshua Malina ("The West Wing," "Sports Night") will take over the role of Hermann. Dave Register (Harry Potter and the Cursed Child) also joins the company in the role of Fritz, and Cody Braverman joins in the role of Young Leo.
Leopoldstadt will also welcome current company members Jesse Aaronson in the role of Leo, in addition to his current role as Aaron; Charlotte Graham in the role of Nellie; and Sarah Killough in the role of Eva.
Ali Rose Dachis (Fish in the Dark, Usual Girls) also joins the company as an understudy.
Arty Froushan, David Krumholtz, Caissie Levy, and Tedra Millan will play their final performances on Sunday, March 12.
Set in Vienna, Leopoldstadt takes its title from the Jewish quarter. This passionate drama of love and endurance begins in the last days of 1899 and follows one extended family deep into the heart of the 20th Century. Full of his customary wit and beauty, Tom Stoppard's late work spans fifty years of time over two hours. "Tom Stoppard is endlessly intrigued by questions of fate, chance, coincidence, in history as well as in love, and in the epic, breathtaking Leopoldstadt, he examines the consequence of an entire people trapped in a common fate" (The Washington Post). With a cast of 38 actors and direction by Patrick Marber, Leopoldstadt is now playing on Broadway. This is a play that 'demands to be seen' (The Daily Beast).
Perhaps the most personal play of Stoppard's unmatched career, Leopoldstadt opened on October 2, 2022 to rave reviews. New York's critics said:
Leopoldstadt previously received the Olivier Award for Best New Play in October 2020. This production marks Tom Stoppard's 19th play on Broadway since his groundbreaking Rosencrantz and Guildenstern are Dead opened 55 years ago. Stoppard has won four Best Play Tony Awards, more than any other playwright in history.
The current cast of Leopoldstadt features Jesse Aaronson (The Play That Goes Wrong off-Broadway), Betsy Aidem (Prayer for the French Republic), Jenna Augen (Leopoldstadt in the West End), Japhet Balaban (The Thing About Harry on Freeform), Corey Brill ("The Walking Dead," Gore Vidal's The Best Man), Daniel Cantor (Tuesdays with Morrie off-Broadway), Faye Castelow (Leopoldstadt in the West End), Erica Dasher ("Jane By Design"), Eden Epstein ("Sweetbitter" on Starz, "See" on Apple TV+), Gina Ferrall (Big River, A Funny Thing Happened on the Way to the Forum), Arty Froushan (Leopoldstadt in the West End), Charlotte Graham (The Tempest at A.R.T.), Matt Harrington (Matilda The Musical), Jacqueline Jarrold (The Cherry Orchard), Sarah Killough (Travesties), David Krumholtz ("Numb3rs," Oppenheimer), Caissie Levy (The Bedwetter; Caroline, or Change), Colleen Litchfield ("The Crowded Room" on Apple TV+), Tedra Millan (Present Laughter, The Wolves), Aaron Neil (Leopoldstadt in the West End), Theatre World Award winner Seth Numrich (Travesties, War Horse), Anthony Rosenthal (Falsettos), Christopher James Stevens, Sara Topham (Travesties), three-time Tony Award nominee Brandon Uranowitz (Assassins, Falsettos, Burn This), Dylan S. Wallach (Betrayal), Reese Bogin, Max Ryan Burach, Remy Cohen, Calvin James Davis, Michael Deaner, Romy Fay ("Best Foot Forward" on Apple TV+), Pearl Scarlett Gold, Wesley Holloway, Ava Michele Hyl, Joshua Satine, Aaron Shuf, and Drew Squire.
Leopoldstadt's creative team includes scenic design by Tony Award winner Richard Hudson (The Lion King, La Bête); costume design by Brigitte Reiffenstuel; lighting design by three-time Tony Award winner Neil Austin (Harry Potter and the Cursed Child, Company, Travesties); sound and original music by Tony Award winner Adam Cork (Red, Travesties); video design by Isaac Madge; movement by Emily Jane Boyle; hair, wig & makeup design by Campbell Young Associates; casting by Jim Carnahan CSA and Maureen Kelleher CSA; and UK casting by Amy Ball CDG. The dialect coach is Kate Wilson.
Leopoldstadt is produced by Sonia Friedman Productions, Roy Furman, and Lorne Michaels, with co-producers Stephanie P. McClelland, Gavin Kalin, Delman Sloan, Eilene Davidson, Brad Edgerton, Patrick Gracey, Hunter Arnold, Burnt Umber Productions, Cue to Cue Productions, The Factor Gavin Partnership, Harris Rubin Productions, Robert Nederlander, Jr., No Guarantees, Sandy Robertson, Iris Smith, Jamie deRoy / Catherine Adler, Dodge Hall Productions / Waverly Productions, Ricardo Hornos / Robert Tichio, Heni Koenigsberg / Wendy Federman, Thomas S. Perakos / Stephanie Kramer, Brian Spector / Judith Seinfeld, and Richard Winkler / Alan Shorr.
TICKET INFORMATION
Tickets are on sale online or by phone at 212-239-6200.
For 10+ Group Sales information contact Broadway Inbound at broadwayinbound.com or call 866-302-0995.
A limited number of $47 digital lottery tickets are available for each performance of Leopoldstadt. For more information, visit Leopoldstadtlotteryandrush.com. A limited number of $35 rush tickets, and $25 student rush tickets (valid student ID required), are also available in person at the Longacre Theatre box office on the same day as the performance.
(Aaron / Leo) is thrilled to be making his Broadway debut! Off-Broadway: The Play That Goes Wrong (New World Stages). Chicago: Yen (Raven Theatre), A Christmas Carol (Drury Lane Theatre). Training: BFA, University of Michigan. Social media: @iced__americano. www.jesseaaronson.com
(Understudy) is thrilled to join the cast of Leopoldstadt. Broadway: Fish in The Dark. Off-Broadway: Usual Girls, The Wedge Horse, The Awesome 80s Prom. Ali has worked with The Guthrie Theater (a dozen shows), Fault Line Theatre, MCC, Labrynth, Second Stage, Roundabout, The Factory, New Georges, The Old Globe, Frantic Assembly, Backroom Shakespeare, and more. Film: Unicornland, Match Perfect, Magnificent Eve, The Last Breath. Television: "Fatal Encounters." Training: U of M/Guthrie Actor Training Program. For Baubie.
(Nellie). Broadway debut. New York: Merrily We Roll Along workshop (Roundabout), Amandine (Cherry Lane); Raising Jo (Theatre Row); Gin Baby (IRT); The Importance of Being Ernest Hemingway (Access Theatre). Regional: The Tempest (A.R.T.); Life Science (Brown/Trinity); Three Sisters, Build, Love's Labour's Lost (Chautauqua); Camelot (Trinity Rep). Television: "Gossip Girl," "Law & Order: SVU," "Hart of Dixie," "My Husband's Secret Twin," "Bad Twin" (Lifetime), "Joe Joe & Jane" (NBC pilot). Film: The Hot Flashes; Beijing, New York. MFA: Brown/Trinity Rep.
(Eva) (she/her) is honored to be a part of Leopoldstadt. Her past Broadway credits include: Tom Stoppard's Travesties, Long Day's Journey Into Night, and The Lehman Trilogy. In her day job as an audition reader for various casting offices, Sarah has read for a few Stoppard plays; her favorite experience being Roundabout's production of Indian Ink.
(Hermann). A co-star on NBC's "The West Wing" and ABC's "Sports Night," Joshua also appeared in Aaron Sorkin's The American President, Malice, and the Broadway production of A Few Good Men. More recently, he played David Rosen in Shonda Rhimes' "Scandal," and President Sieberton on "The Big Bang Theory." His 400 episodes of television include "Inventing Anna;" "American Horror Story;" "American Auto;" "Shameless;" and "The Larry Sanders Show." Joshua's film appearances include Bulworth, In The Line of Fire, and A Few Good Men. In 2022, he appeared in the world premiere of Nathan Englander's play What We Talk About When We Talk About Anne Frank at San Diego's The Old Globe.
(Fritz) will recur in the upcoming series "Fallout" for Kilter Films and Amazon. Broadway: original company of Harry Potter and the Cursed Child. Other theatre: Ivo van Hove's A View From the Bridge (Kennedy Center and Ahmanson Theatre), John Proctor is the Villain (World Premiere ,Studio Theatre), A Midsummer Night's Dream (CSC). TV: "Madam Secretary," "FBI," and season 2 of "Graves." Dave is the Founder and Artistic Director of the Portland Theater Festival in his home state of Maine. MFA: Columbia University.
CODY BRAVERMAN
(Young Leo). Broadway debut! Regional: Sound of Music (Kurt, Paper Mill Playhouse), A Walk on the Moon (Danny, George Street), A Christmas Carol (Tiny Tim, WPPAC). Film: The Harbinger. Dedicated to his great-grandparents. @codybraverman