Inwood Art Works Presents ALEXA At Culture Hub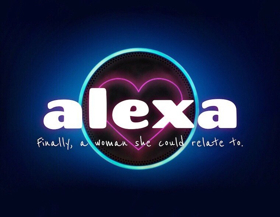 A brand-new dance narrative Alexa is coming alive at Inwood Art Works' Culture Hub on Friday, June 29th at 9pm, at 440 W. 202nd Street in Northern Manhattan. Alexa , a site-specific show based on the Amazon device, closes out the month-long programming at Culture Hub, a pop-up community arts center that is part of a vacant space activation program by Inwood Art Works. The Culture Hub is "Inwood's Creative Space" for the entire month of June, with the hope to eventually create a permanent space for arts and culture in the Inwood community.
Collaborators Roddy Kennedy (Hamilton), Alessandra Marconi, and Cassie Nordgren have teamed up with ThruLines, a dance initiative committed to the development of original dance narratives that are relevant and accessible to today's diverse audiences, to create Alexa . In this site-specific experience, Alexa takes an inside look at the relationships we deem "normal" today as virtual reality comes to life all around you. The invisibility of technology is both amazing and tragic when you're looking for new love in 2018.
"Inwood Art Works is excited to collaborate with this fantastic team of artists and help bring their work to fruition," said Aaron Simms, Inwood Art Works' Executive Producer and Curator. "This is what Culture Hub is all about, working with creative professionals in Northern Manhattan and creating a space for these artists to present their work."
"We are ecstatic for the opportunity to create in our own neighborhood and in a space as inspiring as the Culture Hub," said creative team member, Cassie Nordgren. "Our incredible cast and their willingness to explore has made this brand new piece of dance theater come live."
The cast of Alexa consists of 10 Broadway veterans, So You Think You Can Dance (SYTYCD) alum, and street dancers including Evan Kasprzak ( Newsies , SYTYCD), Morgan Unger, Roddy Kennedy ( Hamilton ), Megan Ort ( Cats ), Alessandra Marconi, Nicholas Ranauro, Jacob Melvin, Natasha McCandless, Claire Avakian, and Giorgia Vitali.
Individual tickets are now available for $15. Tickets can be purchased on Eventbrite or at the box office the day of the performance. For more information on Inwood Art Works please visit, www.inwoodartworks.nyc .
About Inwood Art Works:
Inwood Art Works is a nonprofit organization that works to create and curate professional performing and visual arts in Inwood and its surrounding community. IAW's vision is to establish a dedicated cultural arts destination that fosters a vibrant multicultural community nourished by local connectivity and sustained by artistic equity.
Inwood Art Works champions the craft and cultural diversity of local professional and emerging artists, and education of youth through the arts.
Follow Inwood Art Works on Facebook, Instagram and Twitter at InwoodArtWorks. ***
Alessandra Marconi is a Harlem based artist that creates, performs and teaches. Her experience ranges from local communities to international stages. Marconi is a graduate of Marymount Manhattan College (Communication Arts; Journalism and French). In the Spring of 2015 she lived in Kuala Lumpur, Malaysia while performing the role of "Ali" in iLuminate: Artist of Light at the Genting Highlands Resort. Since then Alessandra has been back in the States and blessed to have new writing and performing opportunities. She premiered Crystal Pite's Polaris at New York City Center in Lincoln Center's White Light Festival. In between projects she has continued to spend hours in-studio with Andy Blankenbuehler in preparation for his upcoming works Bandstand, CATS, Only Gold and a member of The Bring About, a collaborative team that brings movement to new musical theater and plays (Jennifer Jancuska). In 2016 Ali created HUSTLE SOCIAL, providing classes and social dance parties in unique public spaces. These events celebrate NYC's native partner dance and encourage intergenerational collaboration. Follow to see where Ali goes @ali_marco @hustlesocial.
Roddy Kennedy is a New York City based performer best known for - Broadway: Hamilton (Swing, Asst. Dance Captain). International Tours: Grease (Sonny), Fame (Dance Captain). National Tours: In the Heights (Graffiti Pete), Joseph and the Amazing Technicolor Dreamcoat (Directed and Choreographed by Andy Blankenbueler), Pajama Game (Steam Heat). Regional: Zelda: An American Love Story . Film: Waiting in the Wings (Co-Choreographer).
Cassie Nordgren was the 2017 recipient of the Danza Debuts commission from the United Palace of Cultural Arts. She is a two-time finalist for the Capezio A.C.E. Awards for Choreographic Excellence and was the SDCF Observer for Josh Bergasse for the 2014 Broadway Revival of On The Town. Her choreography can be seen in two feature films: Waiting in the Wings, the Musical (featuring Lee Meriwether & Shirley Jones) and its sequel, Still Waiting in the Wings (featuring Bruce Vilanch, Seth Rudetsky, & Chita Rivera). A California native, Cassie has remained bi-coastal and from 2011-2016 she was the director/choreographer for the Miss California Pageant. Other favorite credits include BC Beat, The Neighborhood Playhouse, Sierra Repertory Theatre, Center Repertory Theatre, Cabrillo Stage, and the NY Theatre Barn. Cassie is currently the Artistic Director and Curator of the Danza Highbridge Festival, an annual event where members of the Washington Heights community are treated to a professional dance performance in a drained Olympic size wading pool. As a lifelong advocate for arts accessibility with a true passion for storytelling, Cassie started ThruLines , a dance initiative dedicated to reaching those who may not have regular access to theatrical experiences. Through her work in Washington Heights, she continues to explore how narrative dance and movement can be used as a tool to unify isolated audiences. Most notably, ThruLines premiered Cassie's original dance narrative, The Last Bite , which she conceived, choreographed, directed, and produced at the 3,400-seat United Palace Theatre (NYC). @cassie_nordgren_choreo
Evan Kasprzak is ecstatic to be a part of Alexa . Recent credits include Cats (Broadway Revival); Disney's Newsies (Broadway); The New Yorkers (City Center Encores); Can-Can (Paper Mill Playhouse); and Guys and Dolls (The Old Globe). Evan is a proud Illinois Wesleyan University graduate.
Morgan Unger is a graduate of the Dance Theater Conservatory Program at AMDA NY. Originally from Ohio, Morgan currently resides in NYC. She has recently performed in an original production of "Beauty and the Beast" with Disney Cruise Line and has been a part of the making of the Broadway-bound production of Beetlejuice. As a choreographer and teacher, Morgan has given masterclasses at The Ohio State University, worked on film with recording artist Conor James, and choreographed for various competition teams such as Elite Dance Force and Dance 614.
Nicholas Ranauro is an NYC based dancer and choreographer with a BFA from The Juilliard School (2014). Some performance credits include iLuminate; Artist of Light , The Broadway Dance Lab, Joseph and the Amazing Technicolor Dreamcoat (US/Japan Tour), Seeing You , Keigwin & Company, and NYCC Encores! Production of Brigadoon . Nicholas has received choreographic residences at Nimbus Dance Works and Urbanity Dance Company and shared a piece in BC Beat Spring 2017. He is also a certified GYROTONIC trainer. Follow Nicholas on Instagram @dancecandy_
Jacob Melvin is a former student of Marymount Manhattan college. Jacob moved from his home in Raleigh, North Carolina to study dance performance as a BFA. Since leaving college Jacob has taken to studying street styles under the tutelage of Big Mike (Popping) and Ephrat Asharie (House). He also maintains his contemporary technique while training and performing with Kristin Sudeikis Dance. Blessed to have launched a career in teaching and performing (stage, film, and print modeling) in just a few years Jacob would like to thank Christy Curtis for her initial investment and exposure to the industry that would soon embrace him.
Claire Avakian grew up in Portland, OR where she found her passion for dance at an early age. She earned a BFA in Musical Theatre from the University of Oklahoma and moved to NYC in 2015. Some of her favorite theatrical credits include Millie in Thoroughly Modern Millie (Broadway Rose, OR), Young Frankenstein (MUNY), All Shook Up (MUNY), and West Side Story (Music Theatre Wichita). Claire is excited to join the cast of Alexa.
Originally from Torano Nuovo, a little town in Abruzzo (Italy), Giorgia Vitali started dancing at a very young age and moved to NYC to attend the Jazz and Contemporary Trainee Program at the Joffrey Ballet school and she graduated from the Certificate Program at Peridance Capezio Center with Excellence with Honors. Giorgia's featured in music videos and movies, a company member of Indorican Multicultural Project, Mystic India, DeFunes Dance and ThruLines and she's teaching at AYB - At Your Beat in Brooklyn.
Megan Ort is a New York based performer originally from Collegeville, PA. She received a BFA in Fine Arts Musical Theatre from Ithaca College. In 2017 Megan made her Broadway debut in Cats (u/s Grizabella, u/s Jellylorum). She recently made her actor/musician debut playing viola in Soul Doctor . Other favorite credits include the Evita 1st National Tour (Broadway Revival) and Sweeney Todd at Piper Theatre Company. Megan also spenttwo summers as a Young Artist at the Glimmerglass Festival in Cooperstown, NY. Follow Megan at www.meganort.com and on Instagram @megan.ort.
Natasha McCandless is thrilled to be part of Alexa ! This is her first show since moving to NYC in March. Natasha graduated from Penn State University in December of 2017 with a B.A. in Dance; she looks forward to pursuing a life in the world of dance and theatre. Favorite credits include performing in Steel Valley Rhythms (Dunleavy Dance Projects) and assistant choreographing American Idiot (Penn State Centre Stage) .
Related Articles
More Hot Stories For You