Industry Interview: Inside the All But Chill Life of Jennifer Ashley Tepper
Does anyone still wear a hat? Jennifer Ashley Tepper does... and this year she is wearing all of them.
As the leader of Feinstein's/54 Below's creative programming team, Tepper is responsible for programming every show at the Broadway supper club and concert venue. She has curated and overseen the production of over 3000 shows, ranging from musicals in concert, to original solo acts, to theatrical reunions, to songwriter celebrations, and beyond.
Tepper is also the author of The Untold Stories of Broadway- a multi-volume book series for which she has interviewed over 300 theatre professionals about the Broadway theaters themselves and their stories of working in each house. The books cover over 70 years of our theatrical history, shared through first-hand interviews with Broadway professionals who were there.
This season she adds another producing credit to her resume with the sold-out off-Broadway hit, Be More Chill, which plays through September 30 at the Irene Diamond Stage at The Pershing Square Signature Center.
Below, Tepper chats about how she manages to juggle her many projects!
---
Let me try to keep this all straight... so you're doing 87 things at the moment?
Yes. Truly.
Which is up from the normal 82 things.
Yes.
Let's start with your day job, you're still full-time at Feinstein's 54/Below and they're fine with you doing outside projects?
Yes, the owners of 54 have been nothing but supportive from the beginning, truly, of me doing other projects. When Be More Chill started happening, they completely understood that I was going to be less of a physical presence, but still book all the acts, and get all the work done for the club. They've been wonderful.
Does that mean you're working less from the venue and more e-mails from strange places?
Yes. One of our Be More Chill standbys just said to me "I see you every day. How are you still running 54 Below?" And I said, "When you see me running through the aisle on my phone, I'm running 54 Below!" It's pretty much just getting stuff done in weird places. I've been very present at the Signature, and during a lot of performances , I'll watch from the booth, and be answering e-mails and doing work while watching the show and talking to our team all at once. It's a lot of multi-tasking.
And no down time at all?
Very little, and honestly, I've truly never been happier to be doing a million things at once. It's like the magical summer of no relaxing.
From what I can tell looking at the calendar, there doesn't seem to be any relaxing on the horizon either?
There's really not right now. The second Be More Chill closes, The Jonathan Larson Project happens. We're going to be in rehearsals in September, and right now I'm working a lot on both at the same time.
There's a lot of speculation about the future of Be More Chill. I won't ask what's actually happening, but I will ask if you personally would like to see it on Broadway and think it can work there?
I would love to see it go to Broadway. I think that it's a Broadway show. I also could see other possible futures for it, but we'll see.
On some level with the online reaction to the show and how it built, it feels like it's both bigger and smaller than Broadway?
Totally. Even though it's so popular now, it feels like we did the show in such an outlaw way that kind of goes with our whole Be More Chill aesthetic of following your own rules. This show truly started catching on with zero marketing dollars. It was just the score, the characters, and the story. Now, every night at the theater, I'm, like, "Oh, how did you hear about it?" Everyone says "I found it on the internet. I loved it and now, I'm obsessed with the album and the show." It was an amazing miracle. Thank God it was recorded and produced in New Jersey and we're here now.
It reminds me of when concept albums were used as launchpads and with this one it just hit the Internet at the right time.
Well, people have been asking me a lot if this has happened before. Point blank: this exact thing has never happened before. But, there are certain similarities to the trajectory of other shows, like Songs for a New World. Right? We all know how Songs for a New World's original run was a short one. Only a certain number of people saw it and then, our whole generation of theater makers and theater lovers fell in love with that album. And now, Songs for a New World has this huge life. Be More Chill has had a somewhat similar journey. It just happened so much faster, because of how the Internet is these days. So that's one of the things I can compare it to, although it's also very different.
---
How are you harnessing all these people that fell in love with it online that may or may not be able to get to this particular run, or are seeing it sold out in 10 minutes?
That's a great question. Obviously, the rest of our run is sold out, but we have the TodayTix lottery and the cancellation line, both of which are access points for people who don't have tickets yet. Our whole cast and our entire team is truly so in love with this piece and so passionate about it.
Because of that, I think every piece of social media, and press, and just being out in the world that all these people are doing, is perpetuating this love for it in a way that we've also been doing for the last three years and that's kept people involved. So many people who fell in love with the album also started following the cast members on Instagram or came to concerts we did at 54 Below. And, that just kind of grew their love for it.
At the same time, I love that there's all these fans internationally that aren't going to be able to see it yet, but I think they will be able to at some point. The show is licensed by R&H and there's all these amateur productions and all of those people are spreading the love for the show too.
The fanbase is growing. I kind of love that it's endless amounts of young fans who brought their parents to it or their grandparents to it. And then, we're hearing - as the run goes on - the fan base seems to be getting older. The average age gets a little older, and we're finally getting in people around our age, average theater-goers. The references in the show and in our original book are so nineties, that there's this older generation that appreciates that, as well as the music. We're just trying to expand in all the directions.
I didn't realize I was in the older generation already.
Older than the main fanbase for the incredible youth and that generation!
Have even older audiences than us been embracing the show as well?
There was this amazing grandmother and granddaughter in the lobby the other night. The grandmother was, like, "I should tell you I didn't think I would like this. I loved it. This is the best thing I've seen in forever!" I took a picture with a large family that came from Japan together to see it. It's been very crazy!
What's it been like for you now as an Internet celebrity?
I love that I can be someone that people recognize who is not a performer. Young theater lovers, at intermission, will find me and ask me questions about producing, or about writing, or being a theater historian. I love being able to be visible to show people that there are so many things that they can do if they love theater but aren't performers. That means a lot to me.
Switching gears, what's been the genesis of the Jonathan Larson Project?
I've always just been obsessed with Jonathan Larson's work and musicals and songs. And a couple years ago, I did a mini lobby concert before a performance of Tick, Tick... Boom! at City Center during Encores. It was just a couple of Jonathan's unheard songs, and at that point, I started talking to the family and the estate about expanding that into a full evening, for which the seeds had been planted.
After that, I started doing research at the Library of Congress in D.C. and discovered that there are hundreds of hours of tapes of his unheard songs. I would pick up a tape labeled "1983 Tape 6", and click play and suddenly be listening to songs from Jonathan's unproduced musical Superbia, and standalone songs no one has ever heard. The multitudes of tapes are filled with gems.
There was so much more material there than I thought there would be. There's tons of boxes of lyrics, and scripts, and letters he wrote to people trying to get them to produce his stuff, and notes. It's just this treasure trove. I knew it could be an incredible evening of songs. It took a while to create, because I felt I owed it to the project to listen to every tape and read every paper.
What we've ended up with, is this as the song cycle that Jonathan never wrote but that he might of. It has a lot of connecting themes, and connecting characters, and stuff like that. The same way - not to bring up Songs for a New World over and over, but it's Larson's Songs for a New World or Larson's Closer Than Ever that he never actually put together. There are songs from unproduced musicals. There's songs that he wrote on spec. There are songs he wrote for the radio, pop songs. I'm super excited to finally do it on a stage after researching it for so long.
Are the connective tissues - was it like "this was written then and cut from that" or its own piece?
It's its own piece. I was going through the script yesterday and it's like, 'Oh, Martin Luther King Jr. is mentioned in three separate songs'. Not that the show is about Martin Luther King, but that's an example of how much of what Jonathan was writing about was very political, and the way that it threads through the piece as a whole.
All the songs are music and lyrics by him and a lot of them are about just what was going on socially and politically in the eighties, so that connects a lot of them. A lot of them have similar themes to Rent and Tick, Tick... Boom! about being an artist, or about not having money, or about living in New York. It's about him without actually being about him, because it's so many pieces of his brain in different songs, all threaded together.
It's a cast of five that are doing the whole thing, so it's not a concert where you're, like, here's a person singing a song, here's another person singing a song. It's all threaded together, and I'm super excited because it's kind of different than anything I've ever done. And yet, I feel like I've been preparing to do it with everything else I've ever done.
Is anybody representing him as a character in this cast of five?
Not really. Nick Blaemire, obviously, played Jonathan in the production of Tick, Tick... Boom! that was off-Broadway, and he has a few moments in the show that are close to the core of Jonathan. We're doing this song One of These Days from Superbia, which is one of my favorite unheard Jonathan Larson songs. It's from the musical Superbia, but it's one of those songs that I love where you can tell a musical theatre writer is writing about themselves. Like, the song is truly about their journey as a writer, even though it's literally about inventing gadgets or about being a cowboy or about whatever.
In that particular moment in the song cycle, I feel like Nick will be especially channeling Jonathan. But, everyone has kind of moments where they stand in for him, even if it's a female actor or -
It's like Lennon.
It is exactly like Lennon. I love that you said that because I was thinking that.
Are there hopes for a future life for this project?
We've been leaving that as kind of a question mark. It's the first time a lot of these songs are being performed, we just don't know what this is yet. Definitely, I hope it has some kind of future life. I would love a world where other people are seeing these songs or doing this as a show, but it's up in the air at the moment.
Will it be recorded in some way?
I hope so. We definitely are looking into that now. Some of the songs if you're truly a Jonathan Larson big fan, you might know them. There's a song Love Heals that's been recorded by Sherie Rene Scott and there's, obviously, One of These Days, which is out there because it's on a Jonathan Sings Larson CD. But, there's also songs in the concert that truly - when I listened to them at the library, I was, like, oh my God. I'm obsessed with this song. This song is amazing. And it's never been recorded or performed, other than one benefit Jonathan did it at in 1985.
I've been lucky enough to be in touch with the family and Jonathan's friends, who are such great stewards of his work, and know all of his work. And with a couple of the songs, they would tell me, "We don't know this one!" I really dug deep. And what was amazing was that at some point during my research, I found this song glossary that Jonathan had made in '94. Almost everything is categorized there by the project, the year. So I was able to use that in identifying what was on the tapes.
Was there sheet music or is all that being recreated and transposed from the tapes?
A lot of them are only in existence as a tape featuring Jonathan alone banging on a piano or a keyboard. Charlie Rosen is orchestrating and arranging. We've done a couple of what we call "reconstruction projects" together. So, it's like what year was it written? What kind of style are we getting from the demo? What kind of instrumentation? We're kind of trying to understand Jonathan's intentions with each song the best we can from the research and expand a lot of songs that only exist in the form of piano-only demos into a six-piece band version for a full cast. That's been part of it, too.
Have you been working with the family on this?
The family's been amazing. Truly, Jonathan's sister Julie is one of the coolest people I've met. I've become friends with Jonathan's nephews, Julie's kids. They've all been so supportive and involved and wonderful. And I'm also working on the Tick, Tick... Boom! movie, so we just spent some time together with that. They're amazing people.
That was my next question. How did you become involved with that project, and whatshisname who's directing it?
Lin-Manuel [Miranda] and I have known each other for a long time. The Producing Office was doing [title of show] back in 2007 and 2008 at the same time they were doing In The Heights. Even though I was 22, I was hanging out with all those people, which I feel very fortunate about. We've known each other for years and he knew that I was doing the Jonathan Larson Project, and that I had all this knowledge of Jonathan's work. And so, last year, he asked me to work on it. It was so exciting, and yet I kept it such a complete secret. I was proud of myself.
What have you done with the project so far that you're allowed to tell us about?
My title is Historian Consultant, which is not a title people have on movies. That's a cool thing!
A lot of what I've been doing has been giving information about the actual real-life events and characters and context of the story. And every movie adaptation is different than the show itself, so I've been doing historian work in conjunction with things that are specific to the movie.
Where in the process is that currently?
There's an incredible screenplay by Steven Levenson, and they're working on it. It'll happen soon.
And that photo we saw of you at the Library of Congress...
Lin and Steven and I went down to DC together to do some research at the Library of Congress. It was really great because I had been there six times already for The Jonathan Larson Project, so I knew the library collection and the staff and was kind of able to be a tour guide for them. My favorite thing during this process is when Lin or Steven will ask me a question, like "When was the last time this was performed?" And I'll be like, "September 14th, 1986!" I have this weird specific knowledge of all-things Jonathan that has lent itself to the project really well.
It hasn't frightened them yet?
No. Yeah. Good question! I don't think so.
Are you also working on your next book or is that on hold?
You know, when all of this started happening in the beginning of the year with Be More Chill, I talked to my publishers. I was halfway done with the fourth book, because it was supposed to come out this holiday season, but I knew I couldn't do it all. Their reaction was great - they totally understood and were happy for me. It'll happen at some point. Definitely, I'm going to get to all of the theaters, but there's no book being written right now. Thank God.
Is your schedule planned all the way into 2019...?
No. There are a couple of shows that I'm working on with Joe Iconis that are percolating in various ways, and I hope that everything going on with Be More Chill gets people excited about all these other shows we're working on. We did this musical Love in Hate Nation in February at Penn State, directed by John Simpkins, that we're hoping we'll bring to a regional theater next. There's other stuff of his too, that I'm so passionate about and I hope we finally have a chance to bring to a New York stage too.
You're working as a producer in that capacity?
On Love in Hate Nation, I was the dramaturg, but it was the Penn State Developmental Production, it was commissioned by Penn State thanks to John Simpkins. They did it with the students and now, the next step is the professional world. Definitely, I hope to be a producer on it and on many other Joe Iconis shows.
Let's move back to the day job - what's happening on the 54 Below front?
What's great is that we're in our sixth year now and I've been there for a while now. And yet, there's still always exciting programming to do. There's still always, "Oh, my God, I'm so excited for that artist to be here for the first time" or bring this new emerging writer in, all of it really.
How many of these shows are things that came to you or you came to them?
It's always a combo. Lindsay [Mendez] did a show that was incredible with us right before Carousel. When I found out it was closing, I was, like, "You're coming back. Please come back to us." It's a combo of me reaching out to artists or their teams and them reaching out to me, whether with solo shows or musicals in concert or anything else.
How do you work to sort of make stuff that appeals to different demographics?
That's been a key of our programming: to have the 7:00 p.m. shows where an older crowd can come, and the food is great and the atmosphere is classy.
But, even Laura Osnes and Tony Yazbeck, who are of a younger generation, are also at 7:00 p.m., because of the kind of audience that wants to come to see that kind of entertainment specifically. I love the fact that we also have 9:30's, where we can have younger actors and different genres of music, and emerging writers, and new musicals, and all kinds of stuff like that. Then 11:30's are often an entry point for much younger theater-goers.
Of course there's certainly cross-over. It's not like people at 7:00 are a certain group and 9:30 is completely different, it just skews younger as the night goes on. I think that the key to our programming is making sure there's something for everyone, and that there are a lot of different options.
How much does "How many tickets are going to sell?" factor in towards booking? What do you do with ideas you love that you know are going to be a tough sell?
It always does. I always try to make it work if it's a show we really feel is worthwhile and high quality, so I'll program it, but say: let's make sure we give it six months to sell. Or let's make sure we help them get some special guests. Or let's put them at 11:30, and then, next time they can be at 9:30, and all of that. There's a strategy in that regard, but certainly, we have to look at every artist in terms of how many tickets we can sell. Also, there's 18 shows a week, so there's a lot of spots to fill that we have to figure out strategically how to make successful, because they all have to be filled.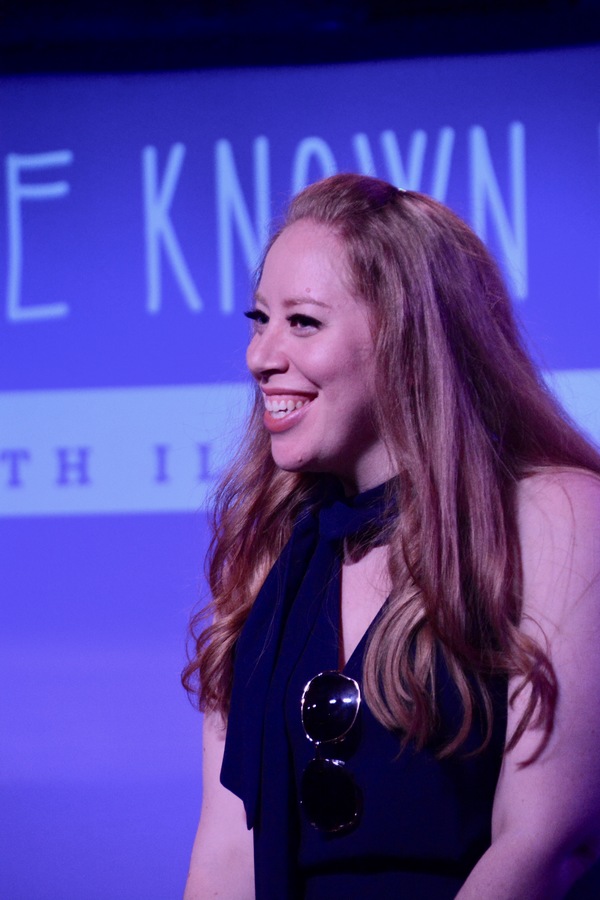 How do you evaluate how many tickets you think somebody will sell?
It usually involves looking at their show history, with us or elsewhere, and learning more about that. Looking at their following both on social media and in real life is something we do, but we know that such-and-such Tony Award winner might not have a million Twitter followers, but she is such-and-such Tony Award winner. She's going to sell a million tickets, because of her Broadway following.
It's kind of instinct to a degree. You can't commodify my knowledge, but at this point, I can pretty much look at someone and go, they're going to sell that many tickets to their audiences at that price. It's just this combination of knowledge that I've gained over knowing the players and the industry for so many years.
What do you do to help when a show is struggling?
First of all, with some of the artists that are one performance, we know it's going to be mostly a family and friends' audience, and we just try to give them all the tools that we can to help them tell their own networks about it. We'll also do things ourselves, like social media advertising to share a video about them, so if you don't know them, you might be attracted to the show anyway, because you're engaged with the video.
In a larger sense, we work with partners to get the word out - if an actor has just done a show at a specific New York Theater, the New York Theater might work with us to promote it. We try to be as creative as we can with each individual show, while at the same time, there are 400 shows coming up, so we can't give them the attention that we would give if they only had three shows coming up.
Do you ever wish you were working on 3 shows instead of 400 shows?
No, I kind of love that about 54 Below. I really do. I love that it's a revolving door of artists and I get to work with so many different people. And one of my favorite parts of my job is that I get to match up artists, who then go on to work with each other more on other concerts or on shows. That's the kind of thing that happens - someone will have this song and need someone in the concert to sing it. I'll be, like, "Oh, yeah, this person will be amazing." Or someone will be, like, "Oh, our musical director just dropped out," and I'm, like, "This person's great for what you're doing."
Here's 900 musical directors...
It's such a different animal than when you're working on a couple of shows. I kind of like that fast-pace where there's tons of stuff to do, and I like having a little bit of involvement with a bunch of different projects.
You're a musical matchmaker!
Yeah! Then, also, it's just the variety of it. I love old musical theater. I love new musical theater. I love getting to work with Alice and Emily and Norbert, these people like that I loved on cast recordings growing up. And then with new artists. That variety is the amazing thing about it, where we have so many spots, we have so many options.
Is there any kind of musical theater you don't like?
There definitely is. There are musicals I don't like, but mostly, I always think that "this is for someone. It might not be for me, but it's for someone." There are shows that I don't like, that I will end up recommending even! What mostly offends me is when a new musical that I think is of tremendously low quality gets a big platform, when I see so many other, more worthwhile musicals, not getting that. But to a degree, it's just different tastes, and there's room at the table for a lot of different shows.
What tools do you use to juggle all these projects? When you're up in the sound booth, what are you working on?
Everything. I mean, the best tool I have is that I just don't procrastinate. I bet that you're like this too, I'm so passionate about everything I'm doing. Yes, I get exhausted sometimes and, yes, things are hard work, but I'm so passionate about all of it, that that drives me to just get shit done. I feel like if I'm not doing anything, then I'm going to miss an opportunity later to do something I want to do, because I did nothing now, and that stresses me out more than anything. So, I don't do that.
When you're working with all of your best friends, and all of the things you do to relax, involves socializing with people that you're also collaborating with, it gets to be: are we relaxing? Are we working? What's going on? But that's a magical thing, too.
So, what was the answer? You have a laptop?
Right now I bring my laptop to the tech booth at Be More Chill and I get a ton of work done that way. I do a lot of work on my phone, while running down the street. Truly, I do. If I have to walk 20 blocks to a meeting, I walk 20 blocks and answer 20 e-mails on the way. It's always just taking advantage of time wherever I am. The laptop in the booth is awesome. I'm watching the show, too. And it's fun to kind of be, like, okay. I'm setting this 54 Below show up, and then be, like, oh, that was a different reaction to that moment in Be More Chill. My brain can accommodate a lot of tabs.
In tech, I was doing that all the time. Like, every 5 minutes someone would come over and talk to me about a concern, or a moment, or something we needed to do, and I would truly be typing about a 54 Below artist or writing something for The Jonathan Larson Project and listening to them simultaneously. Then I would start solving that Be More Chill problem while at the same time having a headphone in listening to a certain part of a Larson song.
Are you using Google Docs or Apple tools then?
A lot of it is in Notes on my phone. I definitely have a lot of Google Docs with various projects. Right now, with The Jonathan Larson Project, we have a different special guest at every performance separate from the show itself, who's singing a totally different song of Jonathan's that's not in the concert proper. Right now, that's my big organizational project, because it's a lot of asking different people. You know those logic puzzles that you probably did in high school of: so and so can come before 4:30 but after 1:15, if they're in the library and have either the candlestick or the rope. It's like that, but with songs, which dates the people can do, and who they are, and then fitting that into a puzzle. Right now, that's my fun game I'm playing.
Is that a spreadsheet?
Totally a spreadsheet, Google spreadsheet. I love that you want to know so specifically what it is.
I do! I'm a happy tech geek at heart.
Totally. I mean, I'm a big fan of super-organized Gmail folders and sub-folders too. There's a sub-folder for the show that you're working on and then, within that sub-folder, it's things pertaining to general management, things pertaining to tickets, things pertaining to marketing all in different folders. I'm a big fan of organizing in that way.
My close friends know that I prefer an e-mail to a text, because an e-mail can be in a place where you can access it and search it later. Joe is my closest friend and collaborator, and we really only text if it's something super random and funny or, hey, I'm here. Nothing related to projects we're working on or anything even slightly important is in text. So, when I'm, like, oh my God, when was the first time he sent me that Be More Chill song? Or when did we discuss that aspect of it? I can look it up and I have it in an e-mail. I love that as an historian.
I tell people the same thing, please don't text me anything important...
Even when you text me - saying I saw so and so walking down the street, they said this... I'm, like, I don't know, it may be relevant later! I want it in an e-mail. I hate Instagram stories. I never do them, because I hate that they're temporary.
It seems like it can be a lot of work for content that just goes away, which as a content creator is frightening.
One of my friends posted something ysterday on Instagram stories about Sondheim being at a show at the Delacorte. I was like, don't you think you're going to want to know in five years that you were sitting behind Sondheim at the Delacorte last night? That would be nice if you made it permanent, but it's gone.
And people are like, "But isn't that like theater?" I'm like, "It's not like theater. Okay? Instagram stories is not like theater, but thank you!"
---
Jennifer Ashley Tepper is the Producer of the new musical Be More Chill, currently playing off-Broadway. She is also the Creative and Programming Director at Feinstein's/54 Below, where she has curated or produced over 3000 shows, including musicals in concert, original solo acts, theatrical reunions, songwriter celebrations, and more. Tepper's leadership at the venue has gained praise from publications including The Huffington Post, The New York Times, Buzzfeed, Playbill, Newsday, the New York Post, and more. She is the creator of The Jonathan Larson Project, a song cycle celebrating Larson's unheard work that will premiere at the venue in fall 2018.
As a writer, Tepper has authored three volumes of The Untold Stories of Broadway series, published by Dress Circle. For these books, Tepper has interviewed over 300 theatre professionals about Broadway theaters themselves and their stories of working in each house. Each volume has occupied the #1 spot on Amazon.com's Best Sellers List in Broadway & Musicals. NBC New York has called the books an "inspiring Must-Read".
On Broadway, Tepper has worked on [title of show], The Performers, Godspell, Macbeth, and The Parisian Woman. She has also worked at off-Broadway and at regional theaters, on shows including Smokey Joe's Cafe and venues including Second Stage Theatre, Ars Nova, The York Theatre, Weston Playhouse, and Goodspeed. Other credits include projects, shows, and educational initiatives with Encores!, The National Alliance for Musical Theatre, The Producing Office, PBS, The Rodgers & Hammerstein Organization, TEDx Broadway, The Dramatists Guild, Broadway Cares/ Equity Fights AIDS, the New York Public Library, The Actors Fund, New York City Center, the Broadway Green Alliance, the New York Musical Theatre Festival, and New York University, where Tepper is a proud graduate.
In addition, she's the co-creator of the Bistro Award- winning concert series, If It Only Even Runs A Minute, now in its 9th year. ...Runs A Minute celebrates short-lived Broadway and off-Broadway musicals in concerts that feature photos and research as well as songs. Each concert also boasts original cast members and writers telling stories, as well as songs that have never been recorded. The series thus far has comprised over 250 performers and over 200 'under-appreciated' shows. AM New York has called the series: "Artistically compelling... displays the blood, guts, sweat and tears that go into making Broadway shows."
As a public speaker and theatre historian, Tepper has delivered celebrated talks, including at TEDxBroadway. As an educator, she has been involved with Florida Thespians, New York Thespians, Texas' Joci Awards, and the St. Louis Cabaret Convention, and given master classes at several universities and high schools. She is a consultant for BroadwayCon and working as Historian Consultant on the upcoming film, tick, tick...BOOM!
Tepper has collaborated for almost a decade on musicals, concerts and other projects with the group known as Joe Iconis & Family. She was named one of the 10 professionals on Backstage Magazine's "1st Annual Broadway Future Power List", which stated: "Proving herself both a zeitgeist predictor and theatrical historian with her eclectic programming, Tepper is leading the conversation on contemporary musical theatre."