Industry Interview: Get Situated with Damian Bazadona- President of Situation Interactive!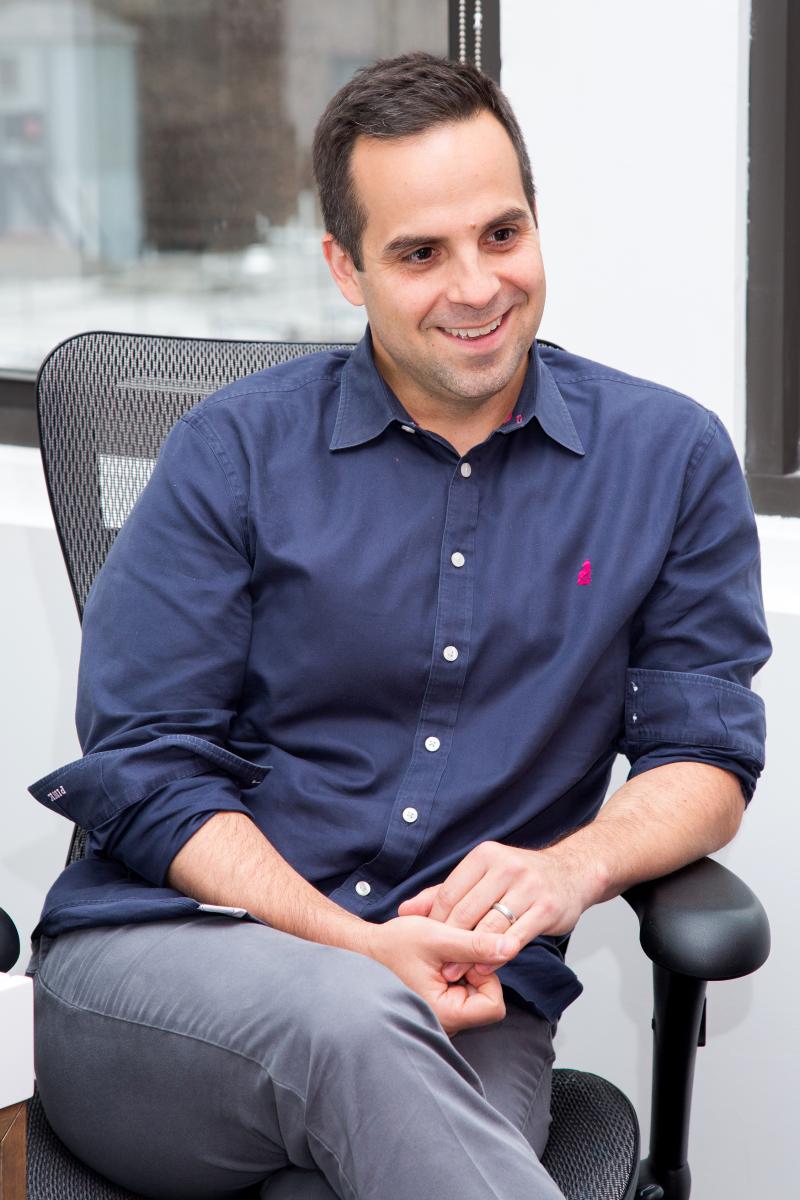 Situation Interactive is a digital-first marketing agency that works with many of the world's leading arts, entertainment and media brands including a slew of Broadway shows and institutions, Major League Soccer, Bravo TV, and the Metropolitan Opera.
Since its inception in 2001, Situation has invested in policies and perks that aim to promote a culture of respect, trust, and fun. These investments have paid off - Situation has been named to more "Best Places to Work in NY" lists than any other privately held digital agency in the city. Below, BroadwayWorld checks in with President and Founder Damian Bazadona to find out how he built the company from the ground up.
---
So, it's been 16 years, do you remember your original vision?
I like doing what I do. I love digital- I find it fascinating. I was a one-man band, so I was kind of doing everything. I fell into Broadway by accident, but I love live experiences. I love the feeling of an audience. I would say for me, it was more of a love for live experiences and a love for creating digital. It was a natural extension from the very beginning and I thankfully tripped into this. In some respects, it's totally unbelievable and in other respects it's kind of like fate. I love Broadway, because I quickly saw how there's no bureaucracy. It's a heart-driven business, and data can have more of a meaningful impact on the business now. I wouldn't say it's maturing, because the Broadway business is very mature, but it's just evolving in an exciting way.
How many people are working for you now?
Roughly 80.
Did you think you would have 80 people?
No. In fact, I didn't set out to have 80 people. It's awesome because we've been doing this for 16 years and every year we've grown one by one. So it's truly an organic growth. I had another company before this, and I remember being very stressed. I had other business partners and I had to cover payroll for employees and it was very stressful. When I started this, the ideal starting situation was to be by myself, and let's just see where that goes... Then you start getting more work, so you start to grow and one by one start to get more people around you.
What's amazing is, our entire leadership team has been here for over ten years. In some respects, I didn't set out to have a lot of people because I didn't want to carry the stress of a large company. But in hindsight, we've been doing this for so long that it's like "Sure, we need 80 people, why wouldn't we?"
For you, having gone from doing everything yourself to now managing people, how much do you still get involved in the dirty work?
I get involved a lot where I'm most needed. I deal with emergencies that no one else can solve. The second thing is the vision for the agency and where is it going. The field of digital has been changing pretty dramatically in 3-5 year cycles. My job is: "How do we continue to innovate in that type of environment?" Then the last piece is that I stay very close to our clients at a strategic level. When they're at a key moment in its life cycle, I'll usually be very present. I try to give space though. I want to give my team room to be great. They're better than I am at it. The more I insert myself, the more it does not bring out our best work. That has been hard. Right now there are meetings happening in conference rooms, and for a moment I'm like, "Wow there are people talking on my behalf!" That's a fascinating idea considering where we started.
You wrote a blog a few weeks ago saying there are people in the hallway who's names you don't know. How do you make sure that you have the DNA or the vision you started it with?
I think part of it is the leadership team as a whole. We make major investments in talent. It's one thing our team does very well- we have a lot of accolades on best places to work and our work on promoting social good, etc. I think part of that glow attracts a certain group of people that want to work here. So we have a lot of talent to choose from. We've also created a culture of people who have been here a long time, which sort of sets the framework for how you're supposed to act. There's a way of acting here. The culture takes care of itself in that way. Just do the right thing. It starts there.
We have a program called Situation Connects. We have people who apply for a job and there is a full time recruiter for our company, in house. I've worked with him for over a decade and I hired him full time two years ago because we have a lot of job applications coming in and we want to make sure we're getting it right. Essentially we have a whole process. Every person is interviewed by 3-5 people. You go through 3 interviews with 3 different departments, which is right away, setting the groundwork. If they come to me by the 4th interview, my job is to tell them why they don't want the job. I tell them point blank: "Here are all the things that you might not like about it." Right away there's that transparency.
What percentage of people are you able to frighten off with that?
Most people, by the time they get to me, they've already been told this stuff. What I say to them is, "I'm telling you everything right now." So three months in, if someone says they don't feel like they have a voice, I'm telling them that they have a voice. My door is open. You come and talk to me any time you want to talk to me.
So there's that. When you come in, we have an outside management training company that we've been working with in essentially all levels of our company. Most people when they come into a job want to understand what are the benchmarks of success. We're far from perfect at that, but we've made a lot of investments in it. I have a monthly state of the union, where I stand in front of the whole company and say, "Here's what's happening."
How do you encourage someone who starts on day one, but has a great idea to make sure that idea filters up appropriately?
It's usually not a day one thing. First of all, it's understanding that everyone's got ideas. First, take some time to understand the system. Understand the agency and understand the people in the room. The most important way to succeed in any collaborative environment is to be the person that people want in the room. We don't hire shining stars. We hire people who help us create shining stars. If you have a really great idea, find other people to share your idea with and make it a collaborative effort. The second thing is be patient. I've had people say "I had an idea, I told someone I had an idea, we should be doing this differently." They say it once and no one fully listens and they say no one is listening. I tell them that the burden is on you. You need to communicate and speak up and work hard. Part of the challenge is figuring out how to push ideas into execution and across the finish line. We try to nurture an environment where people are empowered to do that themselves, and they're not just waiting for someone else to do it for them.
Everything in this agency is a result of the people in the agency. That's what's amazing. We've been in this new office for a year and everything you see comes from the people here. As the owner of the company, one of the most fulfilling components is that this is well beyond me at this point. It gives me space to not have to worry at night like "What do I need to do tomorrow?" There are people who make me better. I'm inspired by the people I work with and that's awesome. If you're by yourself or a smaller company, you are the driver of the innovation. My job now is to hopefully steer it and get the resources that allow people to thrive.
How has your work life balance shifted?
I struggle with this topic because I view it as an unanswerable question. It's more of the meaning you get in the time that you have, and the time that you spend. I think anyone can relate to this. I can have a day that I feel so great at my job and then get home and go, "You know what, I'm not spending enough time with my kids." The next morning, wake up, hang out with my kids, and go, "Oh my god, I'm not focused on work." I try to get rid of the empty calories in time and make sure that whatever I'm doing I'm getting the most out of whatever I'm doing in that moment. Generally, I feel pretty fulfilled between the two. It's a mind over matter thing. I feel like I've gotten better at it.
Do you shut off work when you leave or does it come with you?
Well, I don't have the auto-receive on my email turned on. There are certain things I try to do. What's most concerning is that we live in a world that, there are no more stopping cues, which is sort of a remarkable phenomenon if you think about it - and highly dangerous. It's unlimited scrolls, unlimited TV, and that's by design. I'm trying to be more mindful. I don't ever shut off. I think this business is a fundamental part of who I am. I don't want to shut off.
We have a policy here that we've been working on at the leadership level: Don't send an email off hours unless you absolutely need to. For example, I get up Saturday morning because I just can't sleep. But instead of firing off emails I just save those emails in a draft folder and Monday morning I get up and people get a lot of emails from me. We're trying to get better at giving boundaries and space because we want to give people space and time to think.
For someone who's working on optimizing his time management, what made you start blogging?
I'm not one for brevity. I think being forced to think in a concise manner is extraordinarily healthy for my brain. I need it. So every time I'm writing I always feel good.
Do you edit yourself while you're writing or afterwards?
I will write and my team will clean it and make it better. I've got teams that help me. But I'll essentially write it and say "just keep it in my voice." I'm not a good writer but I'm honest. What you're reading is what you'd imagine me saying out loud. For better or worse, I recognize where my real limitations are.
What goals do you have for the next, decade, or how far have you set goals for?
What's important to me is that I like what I do... a lot. I've been doing this sixteen years, and I'm not tired of it. So selfishly, I want the agency to keep doing the work that it's doing and for me to stay inspired while it does. As a company, we're beginning to see an unbelievably exciting merge between creative and media and how those worlds come together - the integration of how creative and content is driving media and business intelligence like it's never happened before. So the investments we're making internally are bridging that divide. Band-aids and butterflies are what I'm looking for. I like to fight and I like to have butterflies in trying different stuff. Band-aids for The Bruises along the way from trying new things and butterflies from the feeling of going somewhere you've never gone. That is extraordinarily healthy for the company. Once we lose that, we're going out of business.
Before we go, tell us about Situation Project which we've been following closely and admiring how much good it's doing in the world these days...
Situation Project is the most exciting facet of all the philanthropic work that I'm personally involved in. If you ask me the biggest change over the past eight years, I'd say it is the industry's understanding and willingness to think longer term on audience development that is happening right now. And it is so exciting to be a part of those conversations. Look at the work that the Broadway League is doing, and Broadway Bridges, and what Roundabout Theatre Company is doing and TDF is doing. There is a lot of movement on that, which is awesome. There is a big heart toward what they are trying to do. It's not easy, there's a lot of political issues to make it happen, but it's awesome to see the conversation begin to coalesce around this idea of "How are we playing out the longer term of audience development?" For someone who's in business and wants to stick around for many years, watching people take the long term seriously is promising. It would be exciting to see that come together. That's why Situation Project and the stuff that we're doing right now is the work that I am personally proudest to be involved in. That's the stuff I enjoy doing the most.
The average person who graduates from Situation Project school sees an average of 6-8 Broadway shows. . There have been thousands of students we've helped over the time we've been doing this. 95% live in poverty. They would never have been given that access. For us, we benefit because these are high-performing schools in underserved areas. You look at all of the performance reports from the shows that the students attend, and they consistently comment on how awesome the kids are in the venues. People are often nervous about bringing kids into the theatre. So many of these organizations have debunked so many of those theories. It's just the right thing to do and the smart thing to do for the industry. The two million empty seats that go dead every year, there are people taking a swing at that.
---
From the Super Bowl to Broadway's biggest brands, Damian's worked on NYC's most epic events. He created an experiential workplace that's won five best places to work in NYC awards, and Cynopsis also honored him with two awards: Social Good Leader of the Year Award and HR Visionary of the Year.
Outside of Situation, Damian acts as a speaker at a variety of different universities including NYU, Columbia, Yale, and SUNY Albany. He writes too, contributing in the past to Ad Age, AdWeek, and The Huffington Post. Damian's most recent accomplishment? Participating in the White House's inaugural SouthxSouthLawn.
For the past seven years, Damian's organized one of the longest running TEDx events-TEDxBroadway. He also passionately invests in the future of arts-he founded the 501(c)(3) corporation Situation Project, the Situation Cares/Ian Bennett Memorial scholarship, and the Situation Interactive Prize for Experience Research at SUNY Albany.
Photo Credit: Jennifer Broski