Click Here for More Articles on IDINA MENZEL
Idina Menzel to Guest Mentor Disney Night on AMERICAN IDOL!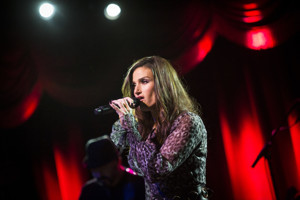 According to Variety, Tony Award-winner and Frozen's Queen Elsa, Idina Menzel will pay a visit to ABC's AMERICAN IDOL as a guest mentor on a Disney-themed night of the show.
Menzel, who joined the Disney ranks with Frozen, will be on hand to guide the Top 10 singers through a Disney themed competition in the April 29th episode.
Tony Award-winning icon Idina Menzel has a diverse career that traverses stage, film, television and music. Menzel's voice can be heard as Elsa in Disney's global box office smash "Frozen," in which she sings the film's Oscar-winning song "Let It Go." After Menzel's performance of the multi-platinum song at the 86th Annual Academy Awards, she made history as the first person with both a Billboard Top 10 hit and a Tony Award for acting. She was most recently seen in Lifetime's remake of Beaches, which premiered January 2017, in which she portrays the role of 'CC,' made famous by Bette Midler.
Menzel earned her first Tony nomination as Maureen in the Pulitzer Prize winner "Rent," and won the award for her performance as Elphaba in "Wicked." Other notable projects include "Glee" and Disney's "Enchanted." She embarked on a worldwide tour in 2015 that included Asia, UK and North America. In addition to cast albums, Menzel's prolific recording career includes the solo albums "I Stand," "Here" and "Still I Can't Be Still."
The sixteenth season of AMERICAN IDOL premiered on March 11, 2018, on the ABC television network. Although this is the sixteenth overall season, it is the first season of AMERICAN IDOL to air on ABC, and is considered season 1 of the revival series. Ryan Seacrest continued his role as the show's host, while Katy Perry, Luke Bryan, and Lionel Richie joined as judges.
The official "American Idol" app is available on iOS and Android devices. Using the app, fans can play along with the show in real time guessing which contestants will go to the next round, "IDOLize" their selfies with "American Idol" filters and stickers, answer trivia questions and track what's trending with judges, contestants and fans. Later this season, fans can vote for their favorite contestants on the app, as well as on AmericanIdol.com/vote or via text.