Click Here for More Articles on MY ONE AND ONLY
Heidi Blickenstaff, Michael Park & More Join Sutton Foster and Gavin Creel in MY ONE AND ONLY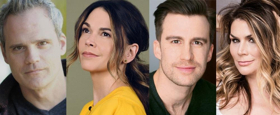 Roundabout Theatre Company (Todd Haimes, Artistic Director/CEO) has just announced that Heidi Blickenstaff ("Mickey"), Ted Louis Levy ("Mr. Magix"), Michael Park ("Prince Nicolai") and Lance Roberts ("Rev. J.D. Montgomery") have joined Sutton Foster ("Edythe Herbert") and Gavin Creel ("Captain Billy Buck Chandler") in a special one-night-only Benefit Musical Performance of My One and Only, the award-winning musical comedy by Peter Stone and Timothy S. Mayer with music and lyrics by George and Ira Gershwin.
The cast of My One and Only will also include Darius Barnes, Joe Beauregard, Ward Billeisen, Jessica Bishop, Preston Truman Boyd, Maria Briggs, James Brown III, C.K. Edwards, Shonica Gooden, Robert Hartwell, Eloise Kropp, Ross Lekites, Kevin Munhall, Noah Ricketts, Allison Semmes, Avery Smith, Dennis Stowe and Yuka Takara.
The Benefit Musical Performance will take place on Monday, November 12, 2018 at 7:30 PM at the Stephen Sondheim Theatre.
Gavin Creel was last seen on stage at Roundabout Theatre Company in the 2016 revival of She Loves Me. Sutton Foster has been a friend of Roundabout since her Tony Award-winning performance as "Reno Sweeney" in Anything Goes (2012), followed by her Tony-nominated performance as "Violet" in Violet (2014). Foster and Creel last appeared on Broadway together in the Tony Award-winning Best Musical, Thoroughly Modern Millie. Lance Roberts and Michael Park also return to Roundabout's stage, in The Robber Brideroom and Little Me, respectively. Roundabout is also thrilled to welcome back Rob Ashford to direct and choreograph this one-night-only special event. Ashford choreographed Roundabout's first musical at the American Airlines Theatre, The Boys From Syracuse in 2002.
From the airfield to the aquacade, this smash musical transports you across the carefree, jazz-charged world of 1927. A songbook of 16 of George and Ira's classics-including "Funny Face," "Nice Work If You Can Get It," and "How Long Has This Been Goin' On?"-launches the story of a heartsick aviator (Creel), a cross-channel swimmer (Foster), and the hilarious highs and lows of their unstoppable romance. He loves, and she loves, and they'll cross land, sea and sky to find a way to be together. 'S wonderful, 's marvelous-and 's taking flight for one night only. My One and Only won three Tony Awards when it was originally presented in 1983 starring Tommy Tune and Twiggy.
The creative team includes: Derek McLane (Sets), Jeff Mahshie (Costumes), Paul Miller (Lighting), Brian Ronan (Sound) and John Barrett Salon (Hair & Make-up Design).
Proceeds from My One and Only will benefit Roundabout's Musical Theatre Fund which is dedicated to preserving this great American art form by bringing familiar and lesser-known works to a new generation of theatregoers, like this spring's Kiss Me, Kate.
Generous underwriting support is provided by Roxanne and Scott Bok, Susanne and Douglas Durst, Tom and Kitty Patterson Kempner, Diane and Tom Tuft, Michael T. Cohen, Colliers International NY LLC, Samantha Rudin Earls and David Earls, Sylvia Golden, Kiendl and John Gordon, Stephanie and Ron Kramer, and Cynthia C. Wainwright and Stephen Berger.
The Post-Show Party is sponsored by TV Land's "Younger."
There is limited availability at the $150 and $500 ticket levels, by calling Audience Services at (212) 719-1300 or online at roundabouttheatre.org/myoneandonly.