Full Cast and Creative Announced for JERRY SPRINGER - THE OPERA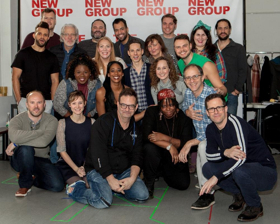 The New Group has announced full casting for the Off-Broadway premiere Jerry Springer - The Opera with Jennifer Allen, Florrie Bagel, Brandon Contreras, Sean Patrick Doyle, Bradley Greer, Luke Grooms, Nathaniel Hackmann, Billy Hepfinger, Justin Keyes, Beth Kirkpatrick, Elizabeth Loyacano, Tiffany Mann, Jill Paice, Kim Steele and Nichole Turner joining, as previously announced, Terrence Mann and Will Swenson. Jerry Springer - The Opera features Music by Richard Thomas and Book & Additional Lyrics by Stewart Lee and Richard Thomas, with Choreography by Chris Bailey. John Rando directs. This production includes Set Design by Derek McLane, Costume Design by Sarah Laux, Lighting Design by Jeff Croiter, Sound Design by John Shivers, Projection Design by Olivia Sebesky, Orchestrations by Greg Anthony Rassen and Music Direction by Michael Brennan. Previews begin January 23 in advance of an Official Opening Night on Thursday, February 22. A limited Off-Broadway engagement is slated through March 11 at The Pershing Square Signature Center (The Romulus Linney Courtyard Theatre, 480 West 42nd Street).
Jerry! Jerry! Jerry! It's "The Jerry Springer Show" as you've never seen it before, with passionate arias, soaring ballads, and giant production numbers. While the studio audience cheers, a parade of bickering guests fight and curse, until violence breaks out and Jerry (Terrence Mann) must face his trickiest guest ever, the devil himself (Will Swenson). Deeply in tune with the chaos and unrestrained id of our times, Jerry Springer - The Opera, a gleefully profane musical by Richard Thomas (Music, Book, Lyrics) and Stewart Lee (Book, Additional Lyrics) is an outrageous celebration of our national ritual of public humiliation and redemption. Jerry Springer - The Opera, winner of numerous awards including an Olivier Award for best new musical, will have its Off-Broadway premiere in this production from The New Group, choreographed by Chris Bailey and directed by John Rando.
Jerry Springer - The Opera features Jennifer Allen (Irene / Mary), Florrie Bagel (Peaches), Brandon Contreras (Ensemble), Sean Patrick Doyle (Tremont), Bradley Greer (Ensemble), Luke Grooms (Dwight / God), Nathaniel Hackmann (Chucky / Adam), Billy Hepfinger (Steve), Justin Keyes (Montel / Jesus), Beth Kirkpatrick (Zandra), Elizabeth Loyacano (Andrea / Valkyrie), Terrence Man (Jerry Springer), Tiffany Mann (Shawntel / Eve), Jill Paice (Baby Jane), Kim Steele (Ensemble), Will Swenson (Warm-Up / Satan), Nichole Turner (Ensemble); and Michael Brennan (Music Direction / Keyboard), Rick Bertone (Keyboard), Harry Hassell (Woodwinds) and Adam Wolfe (Drums). Orchestrations by Greg Anthony Rassen. This production features Set Design by Derek McLane, Costume Design by Sarah Laux, Lighting Design by Jeff Croiter, Sound Design by John Shivers and Projection Design by Olivia Sebesky. Casting by Telsey + Company, Cesar A. Rocha, CSA. Production Stage Manager: James Harker.
Jerry Springer - The Opera premiered at the National Theatre in London directed by Stewart Lee (April 29 - September 30, 2003), and played on the West End at the Cambridge Theatre (October 14, 2003 - February 19, 2005).
The New Group's 2017 - 2018 season launched with the world premiere of Seth Zvi Rosenfeld's Downtown Race Riot, directed by Scott Elliott, with Cristian DeMeo, David Levi, Moise Morancy, Josh Pais, Sadie Scott, Chloë Sevigny and Daniel Sovich (November 14 - December 23, 2017). Following this production of Jerry Springer - The Opera, the season continues with the New York premiere of David Rabe's Good for Otto, directed by Scott Elliott, with F. Murray Abraham, E. Harris, Amy Madigan, Rileigh McDonald, Rosie O'Donnell and Michael Rabe (begins February 2018). In Spring 2018, the company presents the world premiere of Lily Thorne's Peace for Mary Frances, directed by Lila Neugebauer, featuring Lois Smith (begins May 2018).
Productions in The New Group's 2017-2018 Season take place at The Pershing Square Signature Center, 480 West 42nd Street.
Subscriptions and memberships for The New Group's 2017-2018 season are available now. For subscription purchases and season info, please visit www.thenewgroup.org. Subscriptions can also be purchased by calling Ticket Central at (212) 279-4200, or in person at 416 West 42nd Street (12-8pm daily).
Tickets for Jerry Springer - The Opera are on sale now. General playing schedule: Tuesday - Friday at 7:30pm; Saturday at 2:00 & 8:00pm; Sunday at 2:00pm. Regular tickets start at $85. For single ticket purchases, please visit www.thenewgroup.org. Single tickets can also be purchased by calling Ticket Central at (212) 279-4200, or in person at 416 West 42nd Street (12-8pm daily).
Additionally, The New Group and TodayTix have announced a digital lottery for Jerry Springer - The Opera. Offering wide access to this production, the lottery will offer a limited number of $35 tickets for performances excluding opening night. TodayTix allows you to enter the lottery via the mobile app, available for download in the App Store or Google Play Store, or through the TodayTix website. The entry period begins each day at 12:01am for a selected performance, and continues until winners are notified via push notification and email 2-4 hours before the selected performance begins. Winners are offered the opportunity to purchase $35 tickets, and can pick up their tickets at Will Call beginning one hour prior to curtain. Lottery tickets and seat locations are subject to availability.

The New Group's productions are supported, in part, by public funds from the New York City Department of Cultural Affairs in partnership with the City Council.
Jerry Springer - The Opera is made possible by the New York State Council on the Arts with the support of Governor Andrew Cuomo and the New York State Legislature.
The New Group (Scott Elliott, Artistic Director; Adam Bernstein, Executive Director) is an award-winning, artist-driven company with a commitment to developing and producing powerful, contemporary theater. While constantly evolving, the company strives to maintain an ensemble approach to all its work and an articulated style of emotional immediacy in its productions. In this way, The New Group seeks a theater that is adventurous, stimulating and most importantly "now," a true forum for the present culture.
The New Group's 2016-2017 season launched with Sweet Charity, choreographed by Joshua Bergasse, directed by Leigh Silverman and starring Sutton Foster, which enjoyed three extensions and received Drama Desk, Drama League and Lucille Lortel Award nominations for Outstanding Revival; and continued with the recent U.S. premiere of Wallace Shawn's Evening at the Talk House, directed by Scott Elliott, featuring Matthew Broderick, Jill Eikenberry, John Epperson, Larry Pine, Wallace Shawn, Claudia Shear, Annapurna Sriram and Michael Tucker; the world premiere of All the Fine Boys, written and directed by Erica Schmidt, with Abigail Breslin, Isabelle Fuhrman, Joe Tippett and Alex Wolff; and the world premiere of Hamish Linklater's The Whirligig, directed by Scott Elliott, with Noah Bean, Norbert Leo Butz, Jon DeVries, Alex Hurt, Zosia Mamet, Jonny Orsini, Grace Van Patten and Dolly Wells.
In summer 2016, The New Group was represented in the West End by the acclaimed production of Jesse Eisenberg's The Spoils, and more recently, by the company's hit production of Sam Shepard's Buried Child, starring E. Harris and Amy Madigan (November 14, 2016 - March 4, 2017). For his performance, E. Harris received a 2017 Olivier Award nomination in the Best Actor category. Director Scott Elliott helmed both productions at London's Trafalgar Studios, presented by Lisa Matlin and Adam Speers for Ambassador Theatre Group.
Notable productions include David Rabe's Sticks and Bones, with Holly Hunter and Bill Pullman; Joel Drake Johnson's Rasheeda Speaking, with Tonya Pinkins and Dianne Wiest, helmed by Cynthia Nixon; Jesse Eisenberg's The Spoils, with Jesse Eisenberg and Kunal Nayyar; Ecstasy, This is Our Youth, Aunt Dan and Lemon, Hurlyburly, Abigail's Party, Rafta, Rafta..., The Starry Messenger, A Lie of the Mind, Blood From a Stone, Marie and Bruce, The Jacksonian, Intimacy and many more. The company has received more than 100 awards and nominations for excellence. The New Group is a recipient of the 2004 Tony® Award for Best Musical (Avenue Q). In 2011, The Kid received five Drama Desk nominations and the Outer Critics Award for Outstanding New Off-Broadway Musical. That year, The New Group and Scott Elliott were honored with a Drama Desk Special Award "for presenting contemporary new voices, and for uncompromisingly raw and powerful productions."
The Pershing Square Signature Center, the permanent home of Signature Theatre, is a three-theatre facility on West 42nd Street designed by Frank Gehry Architects to host Signature's three distinct playwrights' residencies and foster a cultural community. The Center is a major contribution to New York City's cultural landscape and provides a venue for cultural organizations that supports and encourages collaboration among artists throughout the space. In addition to its three intimate theatres, the Center features a Studio Theatre, rehearsal studio, a bookstore, and the Signature Café + Bar, open to the public from noon-midnight Tuesdays-Sundays. For more information on renting the Center, please visit www.signaturetheatre.org/rentals.
TodayTix is an international ticketing platform on a mission to redefine the way people see theater. Through effortless access to the best shows, insightful guidance to the world of theater, and thoughtful service at each moment along the way, TodayTix enables people to discover the best that their city has to offer. As the first and only free mobile app for iOS and Android connecting the next generation of culture lovers to theater, TodayTix is disrupting an established industry that is ripe for innovation. Operating in the world's most iconic theater markets, TodayTix secures the best discounted and full price tickets available for the hottest shows in New York City, London's West End, Toronto, the San Francisco Bay Area, Los Angeles, Seattle, Philadelphia, Connecticut, Boston, Washington DC, and Chicago. Since launching TodayTix in New York City in December 2013 by life-long friends and Broadway producers Merritt Baer and Brian Fenty, the company has welcomed nearly 4 million users, sold over 2 million tickets, and assembled one of the largest networks of performing arts organizations in the world, working with more than 725 theater institutions globally. These include but are not limited to: The Public Theater, MSG Entertainment, Roundabout Theatre Company, Cirque du Soleil, Blue Man Group, The Metropolitan Opera, BAM, English National Opera, Delfont Mackintosh Theatres, Really Useful Theatres, The Royal Shakespeare Company, The Young Vic, National Ballet of Canada, Canadian Opera Company, Goodman Theatre, Lyric Opera, The Second City, The John F. Kennedy Center for the Performing Arts, Signature Theatre, Center Theatre Group, LA Opera, the LA Philharmonic, SHN, Curran, American Conservatory Theatre, The 5th Avenue Theatre, Seattle Repertory Theatre, Pacific Northwest Ballet, The Kimmel Center, and American Repertory Theater. To learn more, please visit www.todaytix.com or download TodayTix for iOS or Android.
PHOTO CREDIT: ERIK CARTER
Second Row: Tiffany Mann, Beth Kirkpatrick, Kim Steele, Sean Patrick Doyle (plaid), Jennifer Allen, Elizabeth Loyacano, Brad Greer (green)
Back Row: Justin Keyes, Billy Hepfinger, Terrence Mann, Luke Grooms, Brandon Contreras, Nathaniel Hackmann, Florrie Bagel (plaid), Will Swenson
---
Shop BroadwayWorld

Shop this season's new musicals! Get dressed up for a night at the theatre, or just a night at home, with merch from some of Broadway's biggest hits including SOME LIKE IT HOT, KIMBERLY AKIMBO, and more!
---
Related Stories