Click Here for More Articles on INDEPTH INTERVIEWS
Exclusive InDepth InterView: Jason Alexander Talks Reprise!, LUCKY STIFF, TWO BY TWO, SEINFELD, Sondheim & More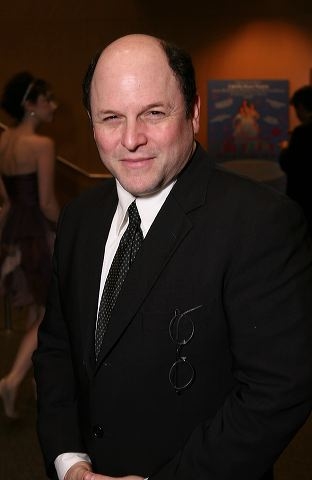 Today we are talking to a Broadway and Hollywood notable all about his terrifically theatrical background - having appeared in musicals ranging from his debut in the ill-fated MERRILY WE ROLL ALONG to his Tony Award-winning work in Jerome Robbins' BROADWAY to A FUNNY THING HAPPENED ON THE WAY TO THE FORUM on Broadway and THE PRODUCERS in LA to his most recent role as the artistic director of LA's lauded Reprise! Theatre Company - the one and only Jason Alexander. Expounding upon his big Broadway break in Stephen Sondheim & Harold Prince's MERRILY and what it was like to witness the two titans as they developed the backwards musical, Alexander shares his insights into the art of Broadway and also casts a glance back at his roles in Kander & Ebb's THE RINK, Mel Brooks's THE PRODUCERS and directing Sondheim's musicals himself (such as SUNDAY IN THE PARK WITH GEORGE with frequent InDepth InterView participant Kelli O'Hara). Alexander also opens up about some of his most celebrated dramatic and comedic work to date - to say nothing of the iconic TV dynasty of SEINFELD, we also touch upon the TV movie musical adaptation of A CHRISTMAS CAROL (with a score by Alan Menken & Lynn Ahrens) and Rodgers & Hammerstein's CINDERELLA (with fellow InDepth InterView participant Bernadette Peters). Plus, Alexander outlines his featured role in the forthcoming Christopher Ashley-directed feature film adaptation of the Ahrens & Flaherty musical comedy LUCKY STIFF, as well as the future for a revival of the Richard Rodgers/Martin Charnin Bible-based Noah/Ark musical TWO BY TWO (co-starring SMASH's Megan Hilty once again, perhaps?) and all about his new animated feature DELHI SAFARI - and much, much more!
More information on LA's Reprise! Theatre Company is available here.A Hum-mum-mum-mum-able Melody
PC: Do you enjoy having your first professional credit being on the final Sondheim/Prince collaboration, MERRILY WE ROLL ALONG? It's a show that has certainly improved in its reputation since its stormy debut in 1981, wouldn't you have to say?
JA: Oh, yeah. Really, though, the whole thing was like a whirlwind for me. You know, I was only 19 or 20 when I did it, so, I think that for half of it I wasn't even in my own body! I was the teenage kid growing up in New Jersey watching the Tony Awards and thinking, "Oh, maybe if I'm lucky I'll make it to Broadway by the time I'm 40!" And, there I am, suddenly standing in a room with Sondheim and Prince and
George Furth
and
Ron Field
and I feel like, "What just happened?! I fell through the rabbit hole! This is amazing!"
PC: A true thrill.
JA: But, then, pretty quickly, it became noticeable that we were not a... [Pause.] strong ship yet. [Laughs.]
PC: There were some telling signs...
JA: There were problems - there were issues! But, for me, what I remember most was that, when I was cogent enough to do so, I would stop and tell myself "Remember all of this!" because, you know, it's really a fascinating life-lesson to see your idols sweat - and see your idols fail.
PC: Indeed.
JA: And see how your idols respond to that kind of challenge, too. And I did. So, yeah, with MERRILY, while it was not the response I would have wished for the show, necessarily, it probably had more value as an event in my life going the way it went than had it been a great success.
PC: You learn more from failures than successes, no?
JA: Absolutely - absolutely, you do. Always.
PC: I'm sure that was the case with MERRILY for the creators.
JA: It was really, really eye-opening. And, in a way, the company did not all stay together as they would had the show been a success, but there was something incredibly bonding about it for all of us. So, even though we do not see all of each other very often - most of the people who were involved are no longer in the business even - but, when we do see each other, it is a profound experience for us because of what we all went through together.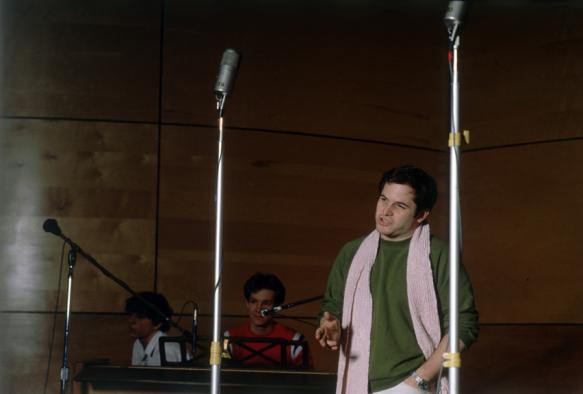 PC: You also performed one of the only outright Rodgers & Hammerstein references in all of Sondheim's oeuvre in MERRILY...
JA: [Laughs.] Right! Right. I did. That's true. That was fun to be a part of.
PC: Lonny Price has a documentary on MERRILY he is currently working on. Have you participated in it?
JA: Yeah, yeah - I know about that and I talked to him about it and I think I will be in it, but I guess we'll see when it comes out.
PC: What do you think the future is for that show? Do you think Broadway will see it again someday soon in some form or another?
JA: Well, listen, to me, I think that, ultimately, the most essential problem with MERRILY - and there are several; and many brilliant people have tried to address them - is that: if Frank and Charley had a partnership that involved any other business, I think the show would resonate more.
PC: What an interesting insight.
JA: You know, if they were setting out to be journalists or if they were setting out to be just about anything else - if they had been engaged with something that actually had resonance in society and actually had resonance in the world, it would have a different effect, I think; as opposed to, I guess, their character arc being people who write songs or write musicals that they hoped would really change the world. While that is a very romantic notion... [Laughs.] it's not a very practical one.
PC: The notion fails to hit home for most people who are not in the arts.
JA: I mean, when Frank sells out, it's like: what's the big deal? What difference does it really make? It hasn't cost the world in a way that I think the average person could relate to, you know? So, I think that the show is just set in the wrong world - that is the real problem with it.
PC: They recently staged it with a lot of success at Encores!
JA: I know. I think that MERRILY is one of those shows that people will continue to try to crack the code on.
PC: Would you consider it to direct yourself at Reprise! someday, perhaps?
JA: Well, not necessarily - you see, the new mandate for Reprise! is to do pieces that we think will engage the audience in a subliminal conversation about something they are currently interested in discussing; something in the zeitgeist.
PC: Timely pieces.
JA: Right. Things that have something to say to our specific community. We want there to be a real reason for us to look at a piece that we do, and, right now, I don't think MERRILY really contains that for us.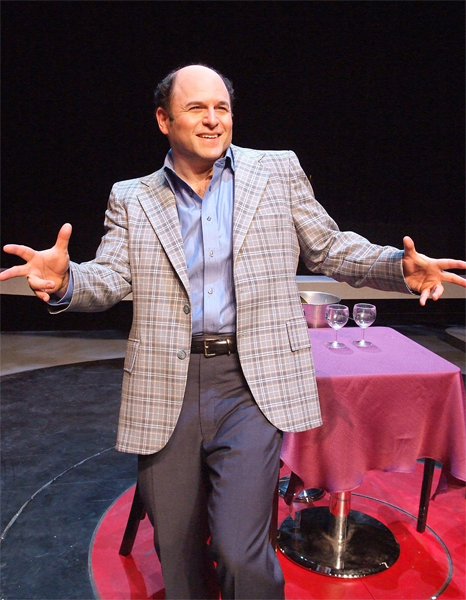 PC: It isn't the right fit.
JA: It's never a great idea in LA - it's different in New York because New York is a theatre town; LA is not - to set out on a project that you know is not a successful project to begin with.
PC: The odds are stacked against you from the outset with a flop.
JA: Exactly. Unless I had some fabulous idea of how to make MERRILY work, to my mind, better, I don't think I would touch it as a director. Although, if I did do it, I would try to showcase what I think is most glorious about it, which is the score.
PC: One of Sondheim's most melodically rich, I'd say.
JA: Yeah, I agree. As a theatre piece, though, I don't think it works - the story it tells and the way that it tells it doesn't quite work. And, also, I will be, hopefully, complimentary in saying that I think we were closer with our original production than where it is now.
PC: Do you think star casting can fix a show?
JA: No. Of course not.
PC: Having been a star replacement in Sondheim's own A FUNNY THING HAPPENED ON THE WAY TO THE FORUM and Mel Brooks's THE PRODUCERS in LA, what are your thoughts on star casting in general?
JA: I think that the truth is that the reason the people who play those roles tend to become stars is because it takes an incredible amount - and it sounds like we are patting ourselves on the back now - of talent, charisma, charm; whatever you want to call it; to make those roles really work. FORUM, GYPSY, THE PRODUCERS. And, the people that have it to that capacity do tend to become notable in the business anyway.
PC: Shows can make stars but stars can't make shows.
JA: Yeah - I don't think so. You know, I don't think you have to be a star to get the audience - I don't think most of the audience is going to say, "I want to see this star and that is the only reason I am coming to see the show." I do think that those people have to have the talent, charm, charisma, whatever-it-may-be to make those roles fly in the first place, so that's the real reason.
PC: An illuminating differentiation to make.
JA: And, to use your example, I don't think you need two stars to make THE PRODUCERS work - I think you need two great vaudevillians.
PC: What are your memories of working on Rodgers & Hammerstein's CINDERELLA, featuring many big stars? Did you get to work at all with Whitney Houston onset?
JA: Well, I had very little time with Whitney - I actually didn't have any scenes with Whitney, really, so the only time I got to spend time with her was at the photo shoot, unfortunately.
PC: What about Bernadette Peters?
JA: Oh, well, Bernadette and I got to spend quite a bit of time together on that one - and I love Bernadette, of course. It was great, great fun.
PC: It's a remarkable film.
JA: It is. I have to admit, though, at first, I didn't know how it was all going to work! [Laughs.]
PC: It was pretty radical - especially at the time and especially for Disney, in many respects.
What are your memories?
JA: Well, I mean, you know, I was a big fan of the colorblind casting of it. We had
Whoopi Goldberg
and
Victor Garber
playing queen and king to a Filipino son as their prince! The scene where I kind of just lost it laughing, though - I just couldn't make heads or tails of it all - was when I was trying the glass slipper on all the girls of the kingdom to find Cinderella and they had black girls, white girls, Asian girls, you-name-it - everybody. I just started to crack up laughing - I said, "I understand that race and color don't matter in this world, but we all saw that Cinderella was black! Why am I trying these shoes on all these white girls and Asian girls too? She was black!" [Laughs.]
PC: That's hilarious.
JA: I just couldn't understand it! But, then, when I saw the finished product I realized what they were doing and I said, "Aww, this is great."
PC: That was the first major TV musical after GYPSY to really find an audience and we have seen that genre explode since with GLEE and SMASH and so on.
JA: Oh, yeah - totally. Totally. Right.
PC: To further that point, what do you think of the new movie theater showings of theatrical endeavors such as PHANTOM 25 and COMPANY and so on?
JA: Oh, certainly, I think in general it's fabulous! On the positive side, you are bringing shows to people who otherwise might not get the opportunity to see them and you are creating a revenue stream for a theatrical production that it otherwise never would have - it makes the doing of the piece more financially viable. The negative side is that, though, for me, I have never seen anything that was created for the stage and then the stage production was filmed where it worked for me as a piece of film, do you know what I mean?
PC: The media jump doesn't usually work for you.
JA: The world of the stage and the performance on the stage usually does not tend to translate very well - it doesn't tend to hold very well - once cameras are on it; it's not like it's terrible or embarrassing or bad anything, but, I, as an actor, would perform a role differently for an audience than I would for just cameras. It's true with SEINFELD, even...
PC: How so?
JA: Well, for me, I had to learn how to do SEINFELD - there was this wall of cameras there, but you're also performing for a live audience. It was two things at once.
PC: Simultaneously.
JA: Simultaneously. So, really, it took me the better part of two seasons before, I think, I developed what I thought to be a reasonable compromise of how to play to both.
PC: Situation comedy has developed even further with Larry David's CURB YOUR ENTHUSIASM - where you of course appeared. It's even more cinematic, but also more theatrical, in a way, than SEINFELD was - largely improvised, as well.
JA: Sure. As you know, sitcoms began, of course, as filmed plays, essentially - THE HONEYMOONERS. Then, eventually, it branched out to be more and more filmic like it is now, but it's always been based in theatre, I think.
PC: Essentially, they are almost like 30-minute filmed plays - GOLDEN GIRLS seems to hold up like SEINFELD and THE HONEYMOONERS do for the same reason.
JA: Exactly! Exactly. That's another good example.
PC: MURPHY BROWN, MAD ABOUT YOU and even FRIENDS and a lot of the most popular sitcoms of that era don't hold up as well. SEINFELD is quite special in that regard.
JA: Yeah, it doesn't show its age at all, really, does it? It still works.
PC: When Jane Krakowski and Ruthie Henshall did this column we discussed a holiday favorite of many, A CHRISTMAS CAROL. I've heard that was sort of an interesting shoot, no?
JA: It was filmed over in Budapest, Hungary - yes. It was a little crazy, yeah - especially for me.
PC: Why, in particular?
JA: Well, I had to go over their twice, actually - very briefly each time. So, I went over once for like a week and then I flew back and stayed here for three weeks and then I went back again for a few days again later on.
PC: Did that all tie into the effects-heavy nature of your role?
JA: All the effects work was laid in after, mostly, actually. My big number as the ghost was done with almost no regard to the effects - there were very, very few things that depended directly on the effects; we had some flying rigs and some sort of green screen effects, but those were all added later on mostly. So, we did not need to perform that scene at all in a green screen environment - they did it very cleverly.
PC: It all holds up very well, even a decade later, so that was definitely for the best.
JA: [Laughs.] So, you know, unlike a film like ROCKY & BULLWINKLE that I did, which was all in front of green screens, this was pretty naturalistic filming in comparison, I think, looking back.
PC: Did your affiliation with Lynn Ahrens through that project lead to your involvement in the new LUCKY STIFF film?
JA: Well, this is how I got involved with Lynn and subsequently Stephen: first of all, we had known each other for years and years - I was working like a dog to get a movie musical of ONCE ON THIS ISLAND going for a long time...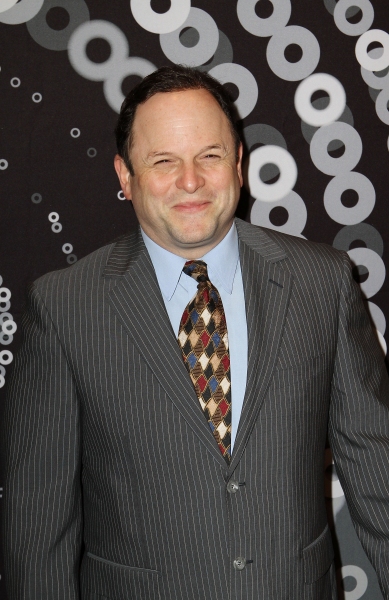 PC: I've heard that's been a personal passion project of yours.
JA: Oh, it is! It is. I just love it! Love it.
PC: It's a great score.
JA: I think it would make the most fabulous film and they've had so many offers to do it - they've been offered to do it in animation and they turned it down, which I think was smart; they've had offers where people said, "Oh, let's make it like THE WIZ and set it in modern-day New York!"
PC: That's wild!
JA: Yeah, right? That doesn't make any sense! And, they've had offers to do it if they would make the peasants black and the grand dames white, but, then it's about race and this is technically a story that not's about race at all - it's about culture and class.
PC: Precisely. So, what happened to the project?
JA: I wanted to do it exactly as it was written - just the way they wrote it. And, over the years, I have had various and sundry, wonderful people say, "We really wanna do this!" but, we could never put together a package that closed the deal. So, yeah, to answer your question, that is how I began my involvement with Lynn and Stephen that led us now to LUCKY STIFF.
PC: Rosie O'Donnell has been a big celebrity proponent of ONCE ON THIS ISLAND in addition to you, as you may know. Perhaps there is a shot for it still.
JA: Oh, it's a near-perfect musical! It really is. You know, I just can't believe that Disney has not snapped it right up! It is a perfect live-action musical film just as it is.
PC: So, what can you tell me about LUCKY STIFF, which is set for release next year?
JA: Well, I have not seen a single frame of it yet, so I can't tell you if it's good, bad or indifferent. It was a hoot to work on, though, I can tell you that!
PC: That's always a good sign. Cheyenne Jackson said much the same to me.
JA: Yeah - Chris Ashley was just terrific. He came in so well-prepared and he is such an easy, fun guy to work with.
PC: What about the cast?
JA: Oh, the cast was just yummy! You know, I will be honest with you - and I bet Lynn and Stephen feel the same way - it's not a project that anyone would have immediately thought of, I don't think.
PC: A little unlikely.
JA: I mean, I barely knew the show, let alone, "Let's take this one and make out a movie out of it!" But, I have to say, it's got a really great sensibility and the lead, Dominic Marsh, from London, is an extremely talented actor and I think this might make something of a name for him; and, we have
Nikki M. James
, as well. It's a great cast. So, we'll see - it was done on a comparatively shoe-string budget, but onset it looked very full and very rich in its way. So, if it is shot as well as we think and hope, then it will be good - you know, it's always such a hard thing with a project like this.
PC: An independent movie musical based on an obscure show.
JA: You know, I just never know if there will be an audience for something like this - it's a hard sell. I mean, I'm somebody who is one of the biggest names in it and I am in the fourth or fifth role, so I just don't know you market something like this.
PC: Do you have any scenes with Cheyenne?
JA: No, I didn't do any that I know of! I didn't know he was even in it, actually! [Laughs.]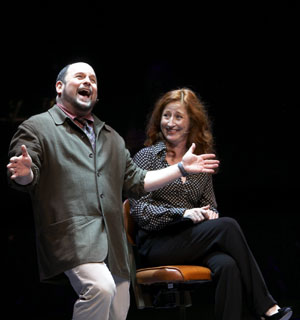 PC: You have some great material, based on your character in the stage version, at least.
JA: Oh, yeah! It was a lot of fun to do - I've got the telephone call number, of course; and, I've got a duet with Pam Shaw, too, that is just wonderful.
PC: You have some other films coming out, as well, next year. First up: STARS IN SHORTS?
JA: Oh, yeah! STARS IN SHORTS was a little short film I was a part of - it's sort of a taped-together mini-festival of short films in which each short film has somebody that's notable in it. But, I've done enough short films recently that I forgot which one is in there. I think Ken Branagh's in it and
Judi Dench
, too, though, so it will be fun to see.
PC: What a cast! What about CLIPAHOLICS?
JA: CLIPAHOLICS is something that I narrated on Spike TV, but I don't think they are going to be doing it anymore, unfortunately.
PC: Will you be back on CURB YOUR ENTHUSIASM next year?
JA: Well, I don't even know if CURB is coming back! But, if nominated, I will run. If elected, I will serve. [Laughs.] It's worth it alone just for Larry's pleasure.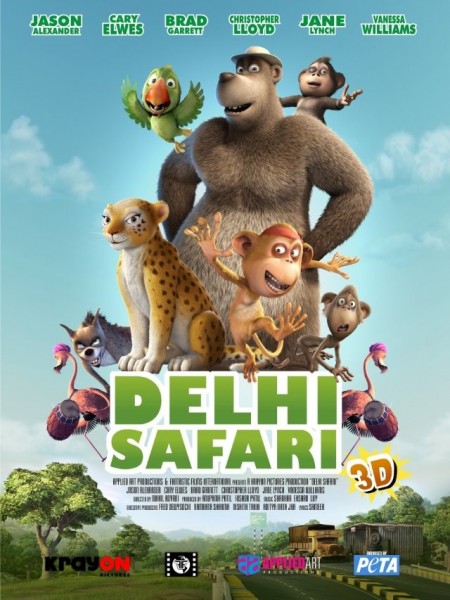 PC: What can you tell me about your upcoming animated film, DELHI SAFARI?
JA: Oh, yeah - the Delhi thing. That's a sweet project to me - it's out of India itself, this great animation company who is kind of the Indian version of Pixar, and, so, they made this great little film and asked me to be in it. It's sort of like their version of MADAGASCAR in a way - very sweet and a little more educational than the average picture for kids; the aveage Pixar thing.
Jane Lynch
is in it, too, and I just love her.
PC: As such a song and dance man, you seem destined for GLEE and SMASH someday...
JA: Oh, well, I totally agree with you, Pat! [Big Laugh.]
PC: Would you like to appear on either one in particular?
JA: It would be my privilege to do GLEE at any spare moment that Ryan [Murphy] can have me. I don't know what is going on on the story of SMASH anymore - I have to say, though I love the people on it, I haven't been watching. If nothing else, though, I love the show for making Megan Hilty the star that she should be.
PC: She's so unbelievably talented. Did you two ever work together?
JA: Yes. She did one thing with me once. Actually, I first met Megan when Stephie Block and she were doing WICKED together out here because Stephie is a friend and so I met Megan backstage - she was a glorious, glorious Glinda. We did a concert reading for Reprise! Of TWO BY TWO - and I am coming to New York to do one, too.
PC: The Danny Kaye/Noah role is perfect for you.
JA: Right! It's a great role and I am really excited about it. Anyway, in that reading, Megan did the
Madeline Kahn
role.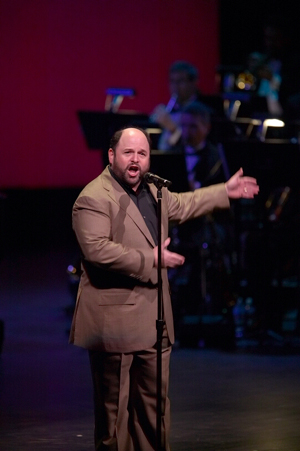 PC: Great casting.
JA: Oh, she was terrific - that's how I first got to really spend some time with her. I hope I get to again, too, because it was a real pleasure.
PC: What is the future for a revival of TWO BY TWO, then, as far as you know?
JA: Well, I am coming to New York in February to do a week of concert readings at the York, I believe. You know, Marty Charnin and I are seeing if there is enough of a show there that's worth bringing back to New York.
PC: Do you think we will see a revival of THE RINK someday soon, another short-lived cult show from your youth?
JA: Well, I have to tell you, Pat, going back to what we were discussing earlier: THE RINK really is a star vehicle, I think.
PC: I totally agree.
JA: I think you really need two stars for that show, actually - you really need two powerhouse women for those roles.
PC: And how to top Chita Rivera and Liza Minnelli, no less?
JA: Of course: Chita and Liza. But, then, also, remember, Liza had two great understudies - I guess she missed like a dozen performances over the course of the run, so they both had to go on at one point or another; one was
Lenora Nemetz
and one was
Mary Testa
.
PC: Pretty impressive understudies, right?
JA: Yes. But, in both cases, despite the enormous talent of both girls, the show simply did not work.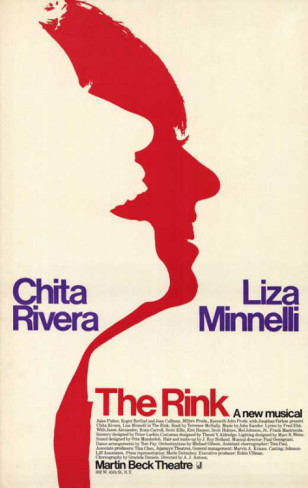 PC: Why do you think that was?
JA: Well, it was for a variety of reasons, I think. First, in the case of THE RINK, when one of them is a star and the other is not, then the audience picks alliances that the show does not necessarily offer. So, you need two equally matched women who can both be sympathetic and who can both rip your head off at the same time.
PC: Which is not easy to cast.
JA: No, it is not. You know, I think that in my career, of all the shows I've ever been in, THE RINK is the one that surprised me most on opening night.
PC: Why so?
JA: I thought that, based on the show that we were rehearsing and the reaction that we were getting from the preview audiences that we had a perfect little musical - and, as you know, the reviews across-the-board were not kind at all, with the exception of in regards to the performances of Chita and Liza. So, had Liza not been in the show, I don't know if we would have had a run of the show at all, really.
PC: She sold tickets.
JA: Yeah - and, you know, I was shocked by the reaction. I think it's a lovely little show, really entertaining and really engaging, and I am not sure why they didn't like it - I mean, for a lot of people, it is a tug-of-the-heart-string show. I think that you do need two powerhouse women to lead it, though, or else it will not work.
PC: Who could do it now, in your estimation?
JA: Patti [LuPone] could do the Chita role - no question.
PC: You actually directed Patti LuPone in a film once upon a time, did you not?
JA: Yes, I did! We had a blast working together - I love Patti and I think Patti would be really great in that role. I don't know who they could get to play the Liza role. Who is Liza at this point? There are some awfully good young women out there, though. Stephie Block?
PC: Sure! Or, perhaps your SUNDAY IN THE PARK WITH GEORGE star Kelli O'Hara.
JA: Oh, I love Kelli, too! She is wonderful.
PC: She spoke so favorably of working with you on that Reprise! SUNDAY production when she did this column.
JA: I gotta tell you, Pat: she and
Manoel Felciano
were so, so glorious in that show. When the British version was coming in after it, I called Steve [Sondheim] and I said, "Look, I don't know if you have to do it with the Brit actors, but, if you don't, I think you really should have a look at these two. They are really glorious." I think they should do it together again, actually - they were just so phenomenal together. [Sighs.]
PC: Hopefully with you directing it!
JA: [Laughs.] Hopefully!
PC: So, what's next for Reprise! next year?
JA: Well, we are getting all of our ducks in a row right now - it is all very positive, but we are still on spec until we get our plan approved. So, until then, we can't say anything for sure. But, I am very optimistic that we are coming back and I am very excited about the things we are cooking up. It could be very, very exciting.
PC: Thank you so much for this today, Jason, it was superb.
JA: Thank you, too, brother. Happy Holidays. Bye bye.
Photo Credit: Water McBride, Masterworks Broadway, etc.