EVERYBODY'S TALKING ABOUT JAMIE Screenings Begin Tomorrow!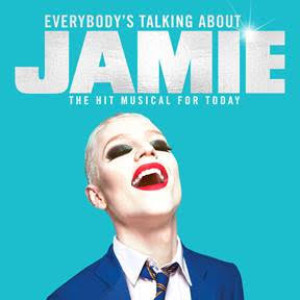 Cinema screenings of the award-winning five-star hit West End musical, Everybody's Talking About Jamie begin tomorrow, November 7, in hundreds of theatres across North America through Screenvision Media, in collaboration with More2Screen and Nimax Theatres. Additional screening dates are November 11 and 14.
Excited fans can find cinema locations and purchase advance tickets at www.jamieincinemas.com.
London producer Nica Burns said: "Thanks to our wonderful, enthusiastic audiences and their nightly ovations, Everybody's Talking About Jamie just celebrated its first birthday in the West End. We have enjoyed welcoming many visitors from the US and Canada who have loved the show and have asked us 'When are you coming to North America?' The answer is: for starters, this November at a cinema in your hometown! Then you will find out what everybody is talking about..."
Inspired by a true story, winner of three WhatsOnStage Awards including Best New Musical and nominated for five Olivier Awards, this funny, fabulous musical sensation has thrilled audiences and critics alike since opening in 2017. Fresh and contemporary with an extraordinary mother and son relationship at its center, Everybody's Talking About Jamie celebrates acceptance, belonging, the power of unconditional love of a mother for her child and how good life is when everybody is the best they can be.
Jamie New is a 16-year-old from Sheffield, England who doesn't quite fit in. Supported by his brilliant, loving mum and surrounded by his friends, Jamie overcomes prejudice, beats the bullies and steps out of the darkness, into the spotlight.
"Everybody's Talking About Jamie is a feel-good, coming of age musical that champions diversity and we're thrilled to bring it to audiences throughout North America," said Darryl Schaffer, executive vice president of operations and exhibitor relations, Screenvision Media. "We've already had an incredible response from exhibitors across the country, which is a true testament to the wonderful nature of this performance."
The Original Cast Recording for Everybody's Talking About Jamie is now available in stores and as a digital download at www.broadwayrecords.com.
For more information on Everybody's Talking About Jamie please visit London production: http://www.everybodystalkingaboutjamie.co.uk/. Cinema Information and ticket purchase: www.jamieincinemas.com.