DVR Alert: Tune In to GREAT PERFORMANCES Tonight to See Renee Fleming, Jessie Mueller and More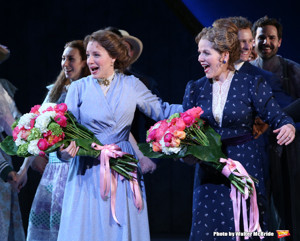 Tune in to your local PBS station tonight, August 10th, at 10 PM ET to catch Great Performances: Chicago Voices, the gala held at Chicago's Lyric Opera in 2017. The evening was hosted by Renee Fleming who will be joined on stage by Carousel co-star Jessie Mueller and more!
Led by award-winning music director Doug Peck, the concert features additional performances and unique collaborations by Beverly Sills Award-winning tenor Matthew Polenzani, blues singer Shemekia Copeland, alternative country duo The Handsome Family, Voices of Trinity Mass Choir, Terrence Howard (Empire, Hustle & Flow) and Jussie Smollett (Empire). Civil rights activist and founder of Operation PUSH Rev. Jesse L. Jackson, Sr., serves as special guest presenter during the concert.
Songs featured include:
Preview the event in the trailer below!
Lyric Opera Creative Consultant Renée Fleming along with Lyric Unlimited, Lyric Opera's department dedicated to education, community engagement and new artistic initiatives, joined forces in February 2017 to create Chicago Voices. The multi-year initiative celebrates Chicago's vibrant and diverse vocal music culture, with the Chicago Voices concert as one of its signatures events.
Photo Credit: Walter McBride / WM Photos