Click Here to Visit the College Center
BroadwayWorld Seeks College Student Bloggers for Spring 2021
Want to join our student blogger team? Apply today!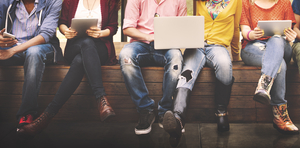 Calling all theatre-loving college kids! We're looking for Sophomores, Juniors, and Seniors to share their knowledge with Freshman with recommendations and school tips in blogs for BroadwayWorld. Find out more about how you can blog for us below!
This is not a paid position.
How can I get involved as a Student Blogger?
All applicants should have excellent writing skills and an enthusiasm for sharing their educational experience with BroadwayWorld.com - the largest theater site on the net! This is the perfect opportunity to show off your school's program and highlight what makes it unique.
As a Student Blogger, you will be responsible for submitting at least two blog posts per month for at least four months. Performers, techs, designers, writers, and directors are all welcome!
We're specifically looking for upperclassmen interested in writing about how they're coping with the current global health crisis and give insight on their school's performing arts programs.
Some Ideas To Get You Started:
-How you're adapting to courses online
-How performing arts events are happening online
-How your plans are or aren't changing for the upcoming semester
-What is your college's performing arts program like? (online or in general)
-What classes are you taking pertaining to theater or your major?
-Student life on your campus
-Surviving midterms/finals/performance evaluations/exams
-How you balance school/work/theater
-Thoughts on ongoing theater news
Posts will be written from February to May with the option to continue into the spring semester.
Being a Student Blogger offers you the opportunity to be published under your own byline and publishing profile on both the local and Student Blog pages!
To apply or for more information, fill out our application form below. Please include which school you are currently attending in the 'About' section.
Deadline to apply is Wednesday, January 27 at 11:59pm ET.
If you have trouble with the form or additional questions, please email taylor@broadwayworld.com. (Applications are only accepted via the form, not via email.)
Featured This Week on Stage Door
Shoutouts, Classes, and More from Your Favorite Broadway Stars
Related Articles
More Hot Stories For You
NYTW Gala To Celebrate 25th Anniversary Of RENT Featuring Original Cast Members Anthony Rapp, Adam Pascal, Idina Menzel, and More!
Today marks the 25th Anniversary of RENT's first performance at New York Theatre Workshop. The NYTW has announced that its 2021 Annual Gala will celeb...

Final Lineup Announced For SAVE BIRDLAND: A Celebration Of Music, History, And Community
The fundraising campaign for Birdland Jazz Club will conclude on January 24th with a free streaming concert titled Save Birdland: A Celebration of Mus...

VIDEO: Broadway Jumps on the BRIDGERTON Musical Bandwagon
The new Netflix series Bridgerton has been gaining popularity since its premiere in December of 2020. Part of that popularity comes from the clever mi...

VIDEO: Chita Rivera, Bebe Neuwirth, and More Perform 'All That Jazz' During SAVE BIRDLAND Fundraiser
Notables from President Bill Clinton and Whoopi Goldberg to musicians Wynton Marsalis and Sting joined together on Sunday, Jan 24th to "Save Birdland"...

VIDEO: On This Day, January 24- Happy Birthday, Daveed Diggs!
For his performance in Hamilton, Daveed won the 2016 Tony Award for Best Featured Actor in a Musical, as well as a 2016 Grammy Award for the cast albu...

RENT Original Cast and Crew Members Reflect on the Show's Premiere and Losing Jonathan Larson, 25 Years Ago Today
On January 25, 1996, Rent premiered at the New York Theatre Workshop. Earlier that morning, the show's writer and creator, Jonathan Larson, died of an...