Click Here for More Articles on Podcasts
Bianca Marroquín, Jaime Lozano, Dan Domingues and Others Share Their Stories On WHY I'LL NEVER MAKE IT Podcast
Guests join host Patrick Oliver Jones to share their experiences as Hispanic and Latinx artists.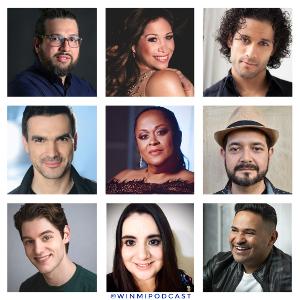 As Hispanic Heritage Month comes to a close, previous guests join host Patrick Oliver Jones to share their experiences as Hispanic and Latinx artists in a special two-part series, featuring one episode in English and one in Spanish.
Off-Broadway actors Dan Domingues (Caesar and Cleopatra, Wild Goose Dreams) and Matt Zambrano (Accomplice the Show) come back to the podcast having been in Season 2 and Season 1, respectively. While they know Spanish, it is not their first language and share how that assumption has affected auditions and the roles they are brought in for.
In the English episode, Domingues and Zambrano open up about their distance sometimes from the Hispanic community due to the lightness of their skin or not being fluent Spanish speakers. They can feel left out of the struggles and experiences of other Hispanic actors. In the audition rooms, there is often a disconnect between their last names and how they are perceived by casting directors and producers. "It's hard to know sometimes where you fit in that picture," says Zambrano.
Similar experiences are also shared in the Spanish episode. It features Broadway performers Bianca Marroquín (Chicago) and Luis Salgado (On Your Feet) as well as composer Jaime Lozano (Yellow Brick Road), singer and photographer Roberto Araujo (Do You Dream in Spanish?), Orlando regional actress Alina Alcántara, recent SMU graduate Tadeo Martinez, and BroadwayMania founder and director Cecy Trevino. Each of them recount stories of how being Hispanic has affected their careers, the obstacles and opportunities they have faced along the way.
While Jones himself is not Hispanic nor does he speak Spanish, he wanted to give these former guests the chance to describe and communicate personal experiences in their native language. As a New York native of Dominican heritage, Alcántara played a big part in helping Jones make these episodes a reality. She says, "It's important that our voices are heard. It's important that people know what it means to us to be part of the arts."
Why I'll Never Make It is a weekly theater podcast hosted by actor Patrick Oliver Jones and features conversations with fellow creatives about the realities of a career in the arts. In addition to the Hispanic artists mentioned above, previous guests also include actor/singer Mykal Kilgore (Motown), associate director David Ruttura (School of Rock), and producer Hal Luftig (Kinky Boots). Find these episodes and more at whyillnevermakeit.com.
Related Articles
More Hot Stories For You
VIDEO: First Look at Matthew Morrison in DR. SEUSS' THE GRINCH MUSICAL!
Dr. Seuss' beloved classic children's book "How the Grinch Stole Christmas!" has become a Christmas staple for generations and NBC is bringing the sto...

THE SPONGEBOB MUSICAL is Now Available For Licensing Through Concord Theatricals
The Spongebob Musical is now available for licensing through Concord Theatricals! The production is available for schools, colleges, universities, and...

THE SHOWS MUST GO ON Presents 42 STREET Starring Bonnie Langford
Join The Shows Must Go On from this Friday 4th December for the multi-award winning production of 42nd Street starring stage legend Bonnie Langford! T...

Alan Menken, Glenn Slater, and More Sign On for ANIMAL FARM Musical Adaptation
Composer Alan Menken and lyricist Glenn Slater are teaming up with playwright James Graham on a new musical adaptation of George Orwell's classic nove...

VIDEO: Watch Nicole Kidman Give It Some 'Zazz' in Netflix Adaptation of THE PROM
Nicole Kidman and Jo Ellen Pellman are giving us some Zazz in this first look at the number from Netflix's upcoming adaptation of the Broadway hit The...

Signature Theatre Announces 2021 Five-Show Season, Featuring Norm Lewis, Solea Pfeiffer, Daniel J. Watts and More
Signature Theatre has announced the full lineup for Signature Theatre's 2021 Signature Features season, five fully-staged plays and musicals, made exc...