Review: The Mint Rescues Four Teresa Deevy One-Acts From Storage as THE SUITCASE UNDER THE BED
While the underrepresentation of women playwrights in contemporary American theatre remains an important issue, the Mint Theater Company, those invaluable specialists in rediscovering interesting obscurities from authors who are no longer with us, continue their practice of highlighting their seasons with contributions from a rich theatrical legacy of nearly forgotten women writers of the past.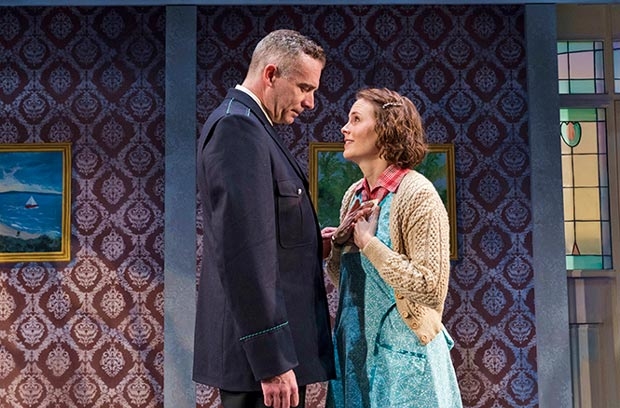 Ireland's Teresa Deevy, whose plays regularly premiered at Dublin's Abbey Theatre during the 1930s, has gained a new generation of admirers, thanks in part to the Mint's productions of KATIE ROCHE, TEMPORAL POWERS and WIFE TO James Whelan.
Their new Deevy program, titled THE SUITCASE UNDER THE BED, consists of four one-acts, whose scripts indeed remained for decades in such a suitcase under the bed of a family home in Waterford. Three of them have gone unproduced until now.
With designer Vicki R. Davis' versatile set providing a quartet of interiors, artistic director Jonathan Bank's graceful production embraces these varying portraits of romance.
The evening starts strong, thanks to the spunky and endearing performance of Ellen Adair as Sara Meade, the central character of "Strange Birth." As a boardinghouse housekeeper who spends her days observing the disappointing lives of the tenants she serves, Sara seems happy to be unwed and free. But when the mailman (a sweet, sincere Aidan Redmond) confesses a long-time affection for her and proposes marriage, she's both shocked and fascinated by this new possibility in life.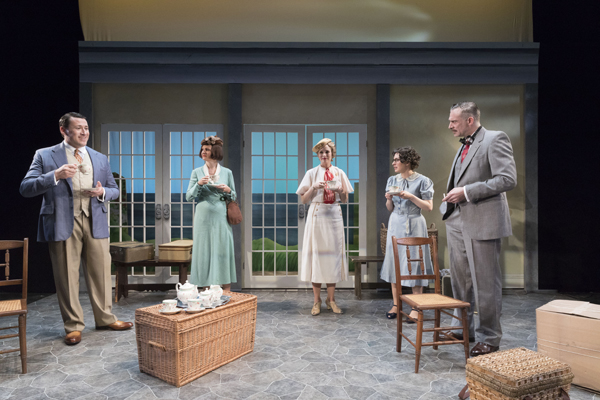 In "In The Cellar Of My Friend," Belle (Sarah Nicole Deaver) is looking forward to a life as the wife of her childhood friend Barney (A.J. Shively), but her love has something unexpected to tell her and soon she winds up reconsidering the proposal she declined from Barney's barrister father (Colin Ryan).
The only comedy of the quartet, "Holiday House," takes place at the summer home of a family matriarch (Cynthia Mace), whose three children, Hetty (Deaver), Derek (Ryan), and Neil (Redmond) have gathered for a bit of time together. Also along are Derek's wife, Jil (Gina Costigan), and Neil's wife, Doris (Adair), who was previously engaged to Derek. Civility just barely masks old emotions and new jealousies.
"The King of Spain's Daughter," which premiered at the Abbey, has the working-class Annie (Deaver), an adventurous young spirit with ambitions in life, being forced by her abusive father (Redmond) to either accept the hand of his love-struck co-worker, Jim (Shively), or go work in the town factory.
As a collection, the plays of THE SUITCASE UNDER THE BED reveals a community of stories that hide beneath the unremarkable façade of everyday life. The charming, well-acted evening makes one hope the Mint has even more from the Deevy collection to remove from storage.