Review: Sarah Jones' SELL/BUY/DATE Takes A Futuristic Look At Sex Work
Though solo performer Sarah Jones is rightfully celebrated for her exacting skills that quickly morph herself into a seemingly limitless collection of female and male characters of diverse ages, ethnicities, nationalities and personalities, she doesn't seem to get proper credit as a playwright.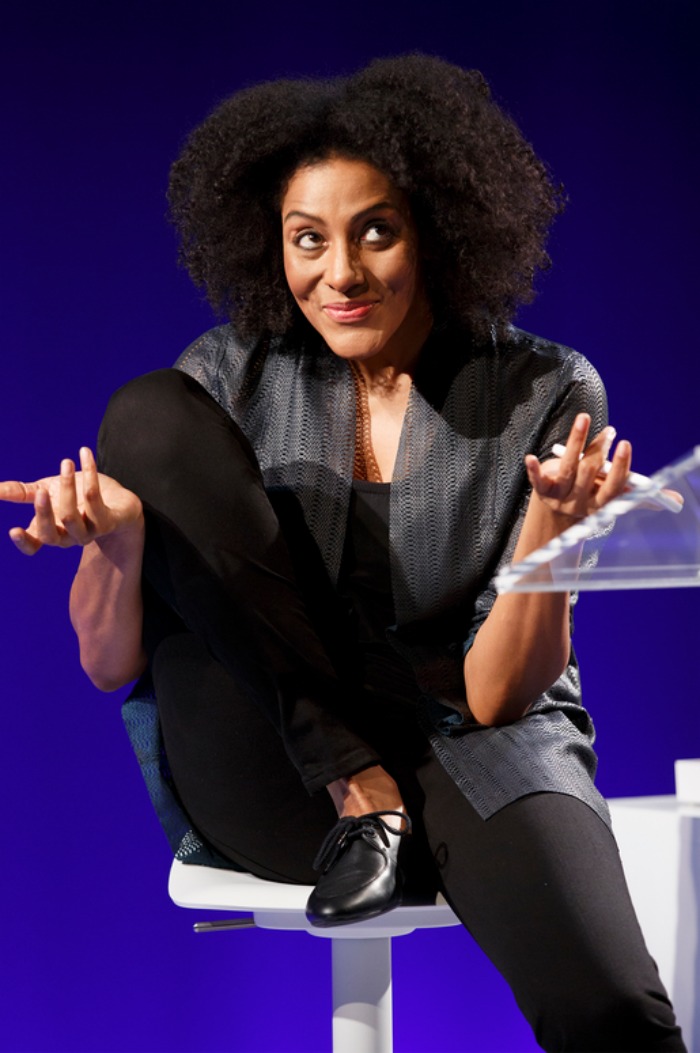 Her sole Broadway entry, BRIDGE AND TUNNEL, where immigrants at a Queens poetry reading express their uneasy assimilation into America, was granted a special Tony Award, taking it out of the running to be nominated as Best Play. (It also dropped her extraordinary performance from being considered for Best Actress.)
Like BRIDGE AND TUNNEL, her new SELL/BUY/DATE, directed by Carolyn Cantor, has a thin plot that connects ninety minutes worth of vividly realized character monologues. While each can stand on its own, they gather strength together as an exploration of the play's subject.
That subject is attitudes about sex work as expressed by the people who do it, the people who buy it and the people who benefit from it.
Our tour guide for the evening is a posh British lecturer from a future century, Dr. Serene Campbell, who addresses the audience as her class for a presentation of interviews using a device first developed in 2017. Bio-empathetic Resonant Technology, better known as BERT, not only allows viewers to see and hear the subject, but to feel their emotions; something unique in a world where people regularly utilize devices to keep their feelings in check.
The first subject, an 88 year old Jewish bubbe, is meant to contextualize the lesson by presenting someone removed from the world of commercial sex. She describes the time she considered helping her husband get aroused by showing him an adult movie on the Internet. After previewing the flick herself, she abandoned the idea. ("It was all very 'extreme' like you would say, like the extreme sports.")
From there the assemblage of characters, through interviews that take us up to the middle of this century, are more intimately involved in the subject. College freshman Bella (named after Abzug), who speaks with a pronounced vocal fry, is a "sex work studies major, minoring in social media with a concentration on notable YouTube memes" and self-described sex-positive feminist who, when she's not actively involved with securing the legal rights of sex workers, co-hosts a bi-weekly feminist pole-dancing party.
"Jamaican No Fakin'" is the professional name of an immigrant who quit her job as a home care attendant for the financial security of sex work. Conversely, a 67-year-old Irish woman recalls the lack of guidance and caring in her upbringing, which led her to a life of following the directions of controlling men. She marries one of them and becomes a prostitute to support his heroin addiction.
Other characters include a frat boy at his bachelor party who, despite his claim to support women's rights, will categorize them based on their sexual activities, a pimp turned motivational speaker and a Russian businessman who owns a chain of legal brothels.
Judging by Dr. Campbell's comments, these personalities from our near future seem somewhat quaint to their world. She reminds her students that the early 21st Century was a time when women who had a lot of sex were called sluts and men who had a lot of sex were called men. She also explains the strange practice of "dieting" in order to conform to accepted female standards of attractiveness.
SELL/BUY/DATE, envisions a world where prostitution is legal and commercial sex is normalized because there is no subjugation of women, everyone is born into a lifetime of equality and financial security and people are freely allowed to cross borders at will.
But things may not be as perfect as all that, as we learn through private communications Dr. Campbell has with her dean as she's being vetted to head up the new commercial sex department. It seems a secret the doctor has been keeping has caught up with her, leading to a visit with a final character that brings the evocative piece to a poignant finish.