Review: Sarah Burgess' KINGS Explores The Volatile Relationship Between Elected Officials and Lobbyists
It was nearly two years ago when The Public Theater opened the first major New York production penned by the relatively unknown Sarah Burgess. Her tersely scripted and aridly humored DRY POWER delved into the cutthroat world of corporate takeovers, and director Thomas Kail's bracing production matched the playwright's vicious verbal chess match with the same abundance of pop and vibrancy.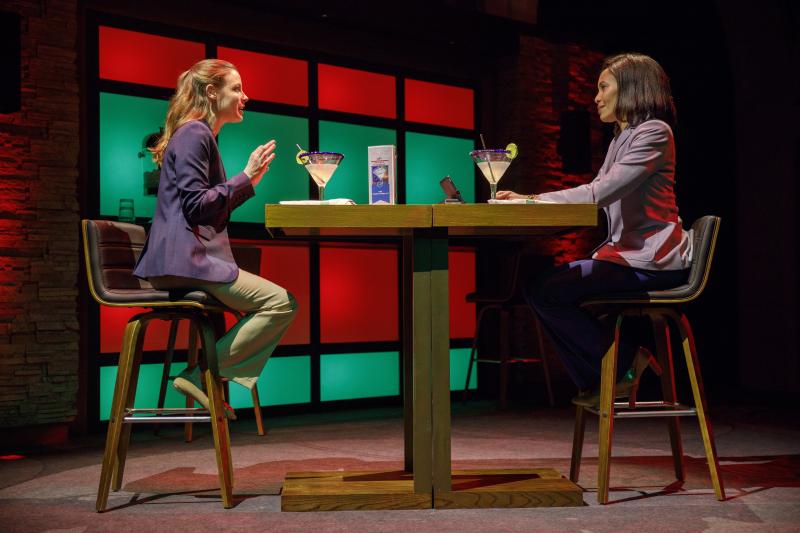 Burgess and Kail are back at The Public, now taking on the volatile relationship between elected officials and the lobbyists who attempt to control them in Kings, a play with great potential that, for various reasons, doesn't quite produce that same crackle.
At a ski lodge bar in Vail, high-powered DC insider Lauren (Aya Cash) greets her less-accomplished colleague, Kate (Gillian Jacobs). They're both attending a fundraising weekend, mapping out plans to chat up the choicest members of Congress and secure their votes.
A former staffer for Texas Senator and prospective presidential candidate John McDowell (Zach Grenier, looking and acting the model of grizzled white male political privilege), Lauren's goal is to secure enough "No" votes to take down a bill eliminating the carried interest that helps make the rich just a little bit richer.
Kate, on the other hand, has the less-glamorous task of gaining support for legislation that would require patients on Medicare or Medicaid to see a podiatrist before receiving a prescription for an opioid-based painkiller.
Both target the new representative from Texas, Sydney Millsap (aloof, but sincere and likeable Eisa Davis), a Gold Star widow and political newbie who won her seat in a special election.
Lauren is annoyed that Millsap has been keeping her distance, even skipping the afternoon's make-your-own-smore event. When the congresswoman does decide to meet her social obligations, though quick to add that she finds spending seven hours every day attending cocktail parties and luncheons humiliating, Lauren goes into her act.
And this is where Kings starts to falter. Though we're led to believe Lauren is a polished professional, her casual, perky demeanor with Millsap makes her seem immature and her attempt to seem non-confrontational ("I'm just here to say hi, hear what's on your mind.") is ridiculously transparent, as is her practice of ego-stroking.
"You're the first woman and the first person of color ever to represent your district? Is that right?," she asks, forcing wide-eyed admiration.
Kate doesn't seem much better at her job, desperately trying to deflect Millsap's questions in order to get her into a private meeting with the president of the American Podiatric Medical Association.
The point, of course, is that the new representative is determined to serve with her conscience rather than play the game that's securely in place. As the 100-minute play progresses, there's an unexpected alliance formed, a past relationship revealed, a confrontation between the congresswoman and the senator that threatens his presidential hopes, a restaurant scene that seems scripted as an advertisement for Chili's (including the dramatic entrance of a plate of sizzling fajitas) and an excellent speech where Kate angrily explains her view that lobbyists like her are the ones doing the real work of government, doing the hard research on issues and educating the representative they wish to influence.
But while Burgess' storytelling and dialogue does provide the required bite now and then, the characters of Lauren and Kate, perhaps more because of the way they're interpreted than the way they're written, lack the nuance shown by Millsap and McDowell, making any influence they have seem to lack credibility. It's as though half the cast is in a drama and the other half is in a sitcom.
Kail's staging is uncharacteristically awkward. With designer Anna Louizos' set placing the audience on two sides of the stage, there are too any scenes where visibility and balance are compromised. In one scene, two characters sit across from each other at a small table that spins around (way too fast) in what appears to be an attempt to give all the customers a decent view.
But with Broadway hits like HAMILTON and IN THE HEIGHTS to his credit, as well as impressive work Off-Broadway in plays like TINY BEAUTIFUL THINGS and BROKE-OLOGY, Thomas Kail will certainly continue to help provide some great evenings of theatre. And Sarah Burgess is still a sharp and talented voice worthy of attention.